Nigel Farage fatigue? Half of voters 'immune' to Ukip's appeal
Findings will act as a reality check for Ukip which has ridden a wave of popular support over the last 18 months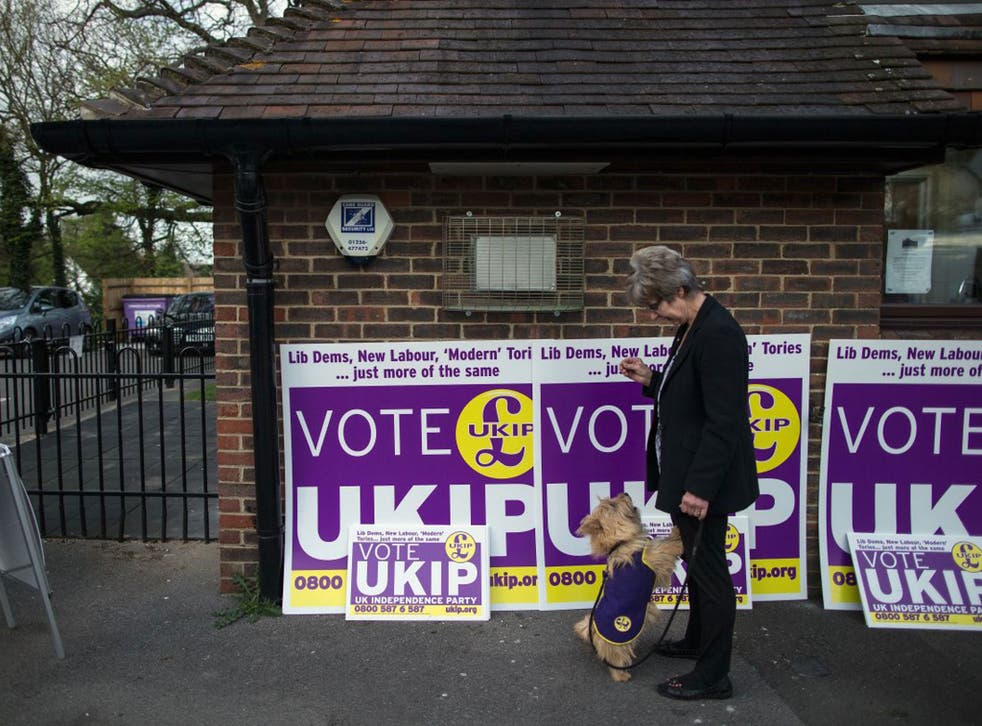 More than half the electorate remains resolutely immune to the appeal of the UK Independence Party and has no intention of supporting it, according to a new survey.
The ComRes poll for The Independent found 51 per cent of voters did not believe Nigel Farage's party offered a "realistic political vision", while 54 per cent said they were not attracted by Ukip's plain-speaking style.
The findings will act as a reality check for Ukip which has ridden a wave of popular support over the last 18 months and is battling it out with Labour for first place in the European parliamentary elections in five weeks' time.
The ComRes survey also dashed George Osborne's hopes of achieving a concerted boost for the Conservatives following his well received Budget last month.
It put the Conservatives on 30 per cent (down one point since last month), with Labour unchanged on 36 per cent. Liberal Democrat fortunes show no sign of recovery with the party languishing on nine per cent (unchanged).
Ukip support edged up by one point to 12 per cent following Nigel Farage's two televised clashes with Nick Clegg, which snap polls of viewers concluded had been easily "won" by the Ukip leader.
However, despite the recent surge in the anti-EU party's popularity, less than one third (32 per cent) of the public believed it offered a "realistic alternative political vision of Britain", while 51 per cent held the opposite opinion.
There was greater sympathy for its outlook among Tory voters, 38 per cent of whom said Ukip had a realistic vision, than among Labour voters, only 26 per cent of whom took that view.
One third of voters (33 per cent) said they were attracted to Ukip "because they say what they think" with more than half (54 per cent) disagreeing.
Overall the electorate is divided on whether Ukip is a party of the far right, with 40 per cent agreeing and 38 per cent disagreeing. But Labour supporters regarded it as being on the far right by a majority of two to one (55 per cent to 28 per cent).
The suggestion that Mr Farage is a danger to Britain – an accusation levelled by opponents after he expressed admiration for Russian President Vladimir Putin's leadership skills – is dismissed by voters by a majority of two to one (49 per cent to 24 per cent), with the remaining 27 per cent saying they did not know.
The findings on the parties' popularity suggest the Tories' recent modest recovery over the last year has stalled, possibly because of last week's adverse publicity over the expenses claims of Maria Miller, the former Culture Secretary. Party strategists would have hoped for a sustained bounce in the polls following the Budget.
On a uniform swing, a six-point Labour lead would be enough to propel Ed Miliband into Downing Street with a large Commons majority of 74. The finding will steady Labour nerves, although many MPs believe it should be much further ahead in the polls to be certain of victory.
The Conservatives would lose 70 MPs, while Liberal Democrat representation would more than halve to 23 seats.
ComRes interviewed 1,000 adults by telephone between 11 and 13 April. ComRes is a member of the British Polling Council and abides by its rules.
Join our new commenting forum
Join thought-provoking conversations, follow other Independent readers and see their replies