Nigel Farage dismisses 'extremely doubtful' claims that he is FBI person of interest in Russia-Trump probe
Former Ukip leader denies any claims with Russia, calling them 'hysterical'
Lizzie Dearden
Thursday 01 June 2017 13:46 Comments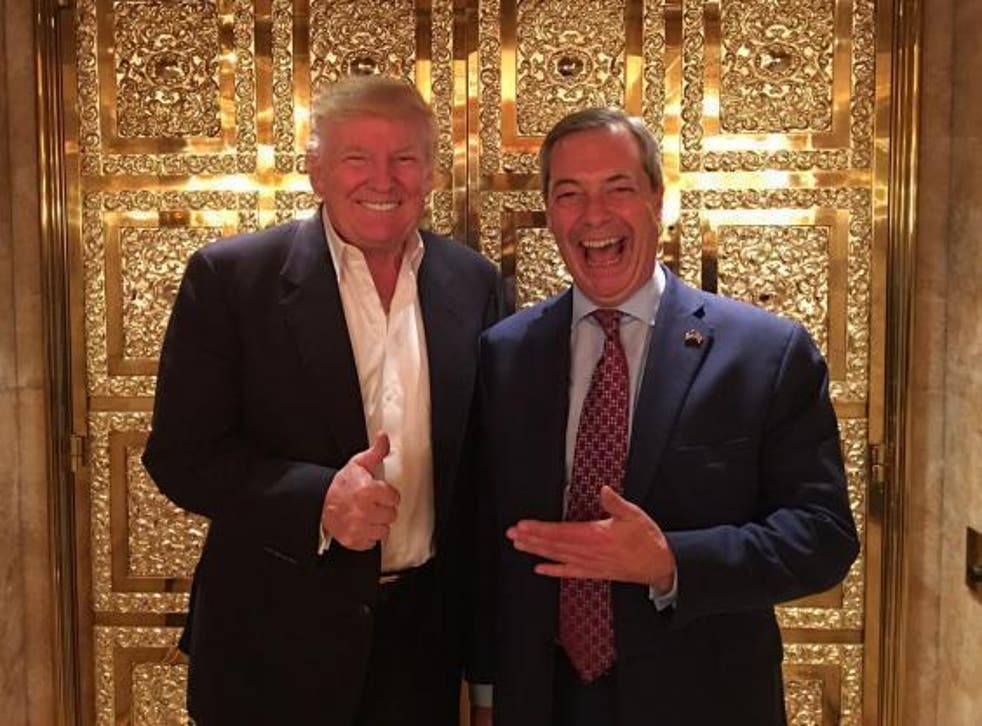 Nigel Farage has dismissed reports he is being considered a "person of interest" in the FBI's investigation into alleged links between Donald Trump's campaign team and Russia as "extremely doubtful".
The former Ukip leader described the Guardian's report as "fake news" claiming it took him a long time to finish reading it as he was "laughing so much".
"This hysterical attempt to associate me with the Putin regime is a result of the liberal elite being unable to accept Brexit and the election of President Trump," Mr Farage said in a statement.
"For the record, I have never been to Russia, I've had no business dealings with Russia in my previous life and I have appeared approximately three times on RT (Russia Today) in the last 18 months.
"I consider it extremely doubtful that I could be a person of interest to the FBI as I have no connections to Russia."
The unconfirmed report said Mr Farage had been drawn into the probe because of his relationships with Mr Trump's aides and Julian Assange.
The FBI declined to comment when contacted by The Independent.
The biggest names involved in the Trump-Russia investigation

Show all 17
Mr Farage met the WikiLeaks founder at the Ecuadorian Embassy in March, months after the campaign group released hacked DNC emails, an event which is credited by many with turning the US election in Mr Trump's favour.
He said the visit was organised by LBC Radio "with a view to conducting an interview," which has not emerged.
Being a "person of interest" in the ongoing probe does not imply wrongdoing, and is used to describe people who have information that can assist an investigation.
Mr Farage was the first British politician to meet Mr Trump after his election victory, making a high-profile visit to Trump Tower in New York.
He also has links with Breitbart founder and White House strategist Steve Bannon, as well as other Trump campaigners and aides.
The FBI's investigation is under fresh scrutiny after the firing of the agency's former director, James Comey, after he reportedly refused Mr Trump's request to drop an investigation into Michael Flynn.
It is running alongside separate probes in Congress into alleged Russian interference in the presidential election, which Vladimir Putin has repeatedly denied.
US intelligence agencies have accused Mr Putin of personally commissioning the DNC email hack and other interference helping Mr Trump to victory, although the President has dismissed the report.
Additional reporting by PA
Register for free to continue reading
Registration is a free and easy way to support our truly independent journalism
By registering, you will also enjoy limited access to Premium articles, exclusive newsletters, commenting, and virtual events with our leading journalists
Already have an account? sign in
Join our new commenting forum
Join thought-provoking conversations, follow other Independent readers and see their replies