Nigel Farage insists he has 'unanimous support' from Ukip after Douglas Carswell calls for leadership change
Mr Farage suggested that he was considering expelling Mr Carswell from the party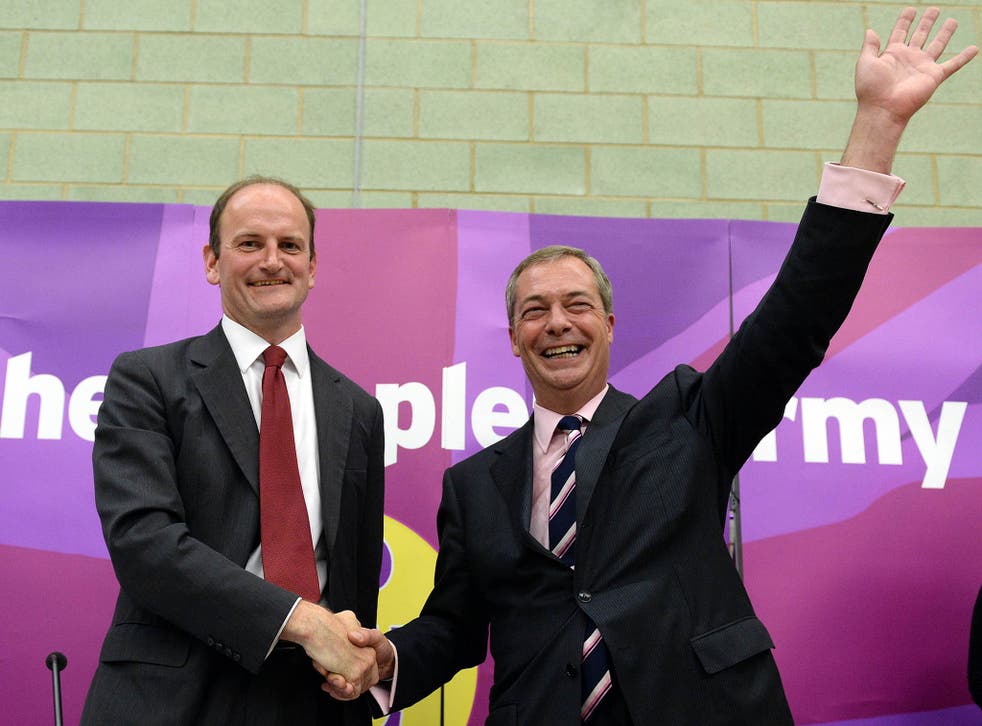 Nigel Farage has insisted he has "the unanimous support" of the party's ruling council, its MEPs and the vast majority of its voters, after his only MP Douglas Carswell called for a change of leadership.
As an acrimonious split between the leader and his parliamentary party of one burst into the open, Mr Farage challenged Mr Carswell to "put up or shut up" and suggested that he was considering expelling the MP from the party.
Mr Carswell had told the BBC that UKIP needed "to change gear and change its management if it's to go to the next level" and said the party's disappointing result at the Oldham by-election had revealed the need for a "fresh face".
Mr Farage reacted bluntly, saying that the party's National Executive would not allow "one individual to give an impression…that UKIP is divided".
A guide to Ukip policy as told by Nigel Farage's facial expressions

Show all 15
"The people's army is growing with every month that goes by and he's been a part of that but he must decide whether he wants to continue to be a part of it," he told the BBC's Daily Politics programme.
Divisions between Mr Farage and Mr Carswell have been growing since the General Election in May. Mr Farage intends to take the party into the EU referendum campaign with controls on immigration as its key message. Mr Carswell however, wants the party to focus on the economic case for leaving the EU and in an interview with BBC Essex, said that UKIP needed to ensure it was not seen as an "unpleasant" and "socially illiberal" party.
He said that to achieve an electoral breakthrough above its 13 per cent share of the vote it needed to be an "optimistic, sunshine, smiley, socially liberal, unapologetically free market party".
But Mr Farage said that Mr Carswell felt controlling immigration was "a bit too awkward to talk about".
"Either he accepts that UKIP is unified not just behind its leadership but behind believing that controlling our borders and dealing with immigration is a fundamental issue in British politics and not something we should shy away from, either he will have to accept that or do something different," he said.
The UKIP leader attacked David Cameron's EU renegotiation strategy saying the Prime Minister had abandoned any attempt to achieve greater border controls and criticised Mr Carswell for causing "a rumpus" within the party "on the very morning the PM looked at his most vulnerable on this renegotiation".
Join our new commenting forum
Join thought-provoking conversations, follow other Independent readers and see their replies