Nigel Farage warns: Let Ukip into studio for TV election debates or I'll take you to court
Tories threaten to pull the plug on live broadcast if Ukip leader is included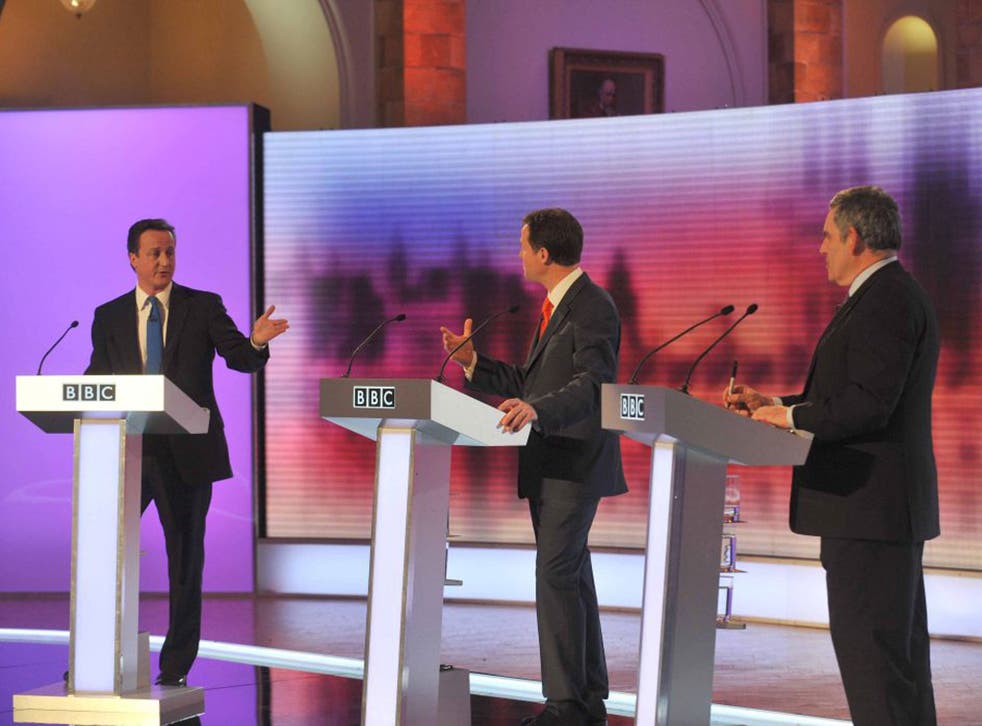 Ukip is prepared to take legal action if any attempt is made to exclude the party from television debates ahead of the next general election, Nigel Farage has warned.
Amid increasing signs that the Conservatives would pull the plug on televised leaders' debates if Mr Farage was included, the Ukip leader said he would be prepared to challenge efforts to stop him taking part in the courts.
He also revealed that he had been approached by a major TV company, understood to be Sky News, to appear in a mooted leaders' debate ahead of the European elections next May.
Broadcasters are believed to have already made a preliminary approach to the three main political parties about repeating the live televised debates, which took place for the first time in 2010, in 2015.
But while Labour and the Liberal Democrats are in favour of repeating the exercise, senior aides to David Cameron have strong reservations.
Focus groups conducted by the Tories are understood to have re-enforced the arguments of those in Downing Street who say they could give Ed Miliband an electoral advantage.
Party strategists showed short clips of Mr Miliband taken from news programmes and asked voters to rate the Labour leader. The groups were then shown longer videos of his speeches and question-and-answer sessions and asked whether it had changed their views.
Sources said that voters in the focus groups had an overwhelmingly more positive view of Mr Miliband when shown the longer films.
A Downing Street insider said: "If you only watch Miliband for a couple of minutes the first thing you think is that he looks a bit odd and sounds a bit odd and you don't really listen to what he says.
"But when you see him for longer you start listening properly and he tends to have a more positive response."
Downing Street could use any potential inclusion of Ukip – possibly after a court battle – as grounds to pull out.
Scottish Nationalist leader Alex Salmond went to court in 2010 for the right to join the debates but was turned down because his party was only running in Scotland.
Mr Farage said: "He only contested 60 seats, we're intending to contest 630 or 640. It would be expensive to go to court but I would not preclude it."
The Ukip leader said his main focus was to have debates ahead of next year's Euro elections.
"We're having a national election next May. People are wrongly obsessing about what will happen in 2015. But there is a more pressing debate. We couldn't not be included in that as we came second in 2009 across the UK."
Labour sources said they would be in favour of debates with or without Ukip. "We'd be perfectly happy either way," they said. "He's more of a threat to Cameron but he would obviously try and portray himself as the anti-politics candidate just as Nick Clegg did successfully in 2010.
"We are going to be presenting Ed as the real change candidate at the next election and, frankly, Farage would be a distraction."
They added that they were also keen not to allow Ukip to be used as an excuse by the Tories to avoid the debates. "We will be flexible on this and won't let David Cameron use Ukip to get off the hook."
A Liberal Democrat source said that the subject of debates was "beginning to rise up the agenda".
But they added: "Our understanding is that the Conservatives have strong reservations about taking part and are looking for an excuse to get out of them.
"Last time round for different reasons it was in the interests of all the party leaders to take part. This time it's not so clear that it is.
"From our point of view we want them to go ahead but the negotiations can get so tortuous that it if a party wanted to sabotage them they could by putting up so many objections and demands that it becomes impractical."
Jon Rentoul's ratings: What the leaders would gain – or lose
David Cameron:
Plus Chance to remind people of the effortless authority and ability to memorise hour-long speeches and deliver them naturally that we once liked.
Minus Everyone knows he got squished last time. Plus, he's been PM long enough to be blamed for almost everything.
Nick Clegg:
Plus Nothing to lose. Hyperactive Blairite sincerity about absolutely any old rubbish.
Minus Can't pull off the look-straight-into-camera trick for the first time again. Hyperactive Blairite sincerity about absolutely any old rubbish.
Ed Miliband:
Plus Flat-faced persistence in exceeding low expectations. Still standing at Prime Minister's Questions after two and a half years.
Minus People's first reaction is always the same: they got the wrong brother!
Nigel Farage:
Plus Engaging plausibility of a cheeky uncle. Everyone agrees with Ukip policies to spend more, cut taxes and pay off the national debt.
Minus Like a pub bore, you suddenly realise after the third drink that you have nothing in common with him at all.
John Rentoul
Join our new commenting forum
Join thought-provoking conversations, follow other Independent readers and see their replies