Ninety per cent of junior doctors would resign over new contract, poll finds
Online poll reveals depth of disillusionment within profession as second period of strike action begins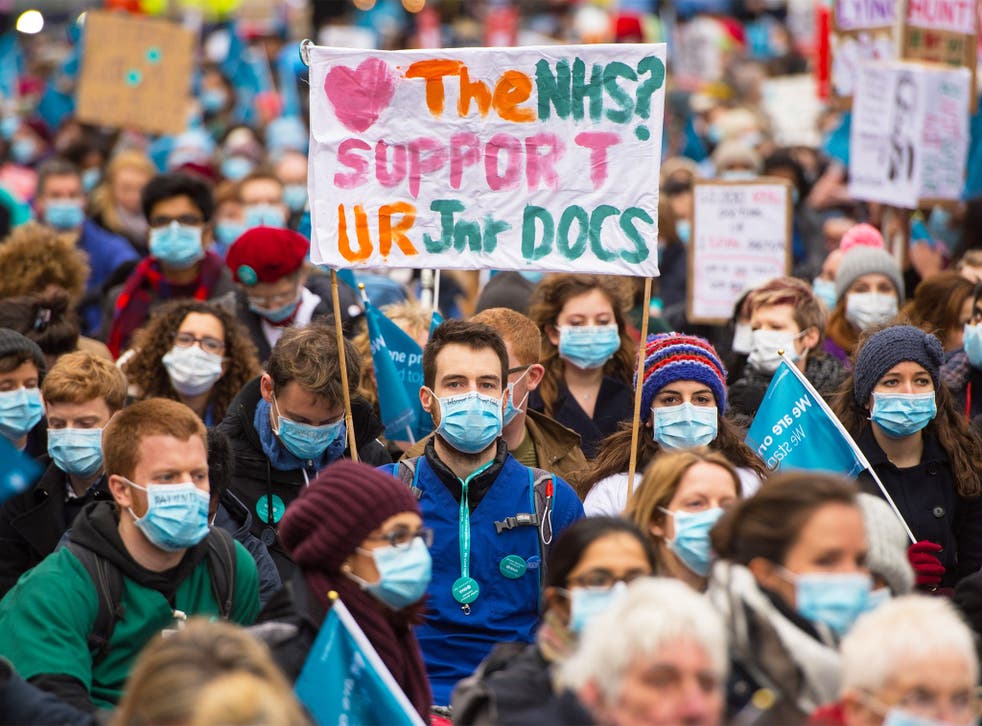 Nearly 90 per cent of junior doctors would consider resigning from the NHS if the Government follows through on its threat to impose a new contract on them, according to a poll of more than 1,000 medics.
As thousands of junior doctors commence their second strike on 10 February, the survey, seen exclusively by The Independent, reveals the depths of disillusionment within the profession and will increase pressure on the Health Secretary Jeremy Hunt, who indicated he was ready to impose the contract.
Doctors' union the British Medical Association (BMA) entered into last ditch talks with the NHS on 9 February to avert a strike, but long-running negotiations over the new contract appear to have it an impasse.
If no breakthrough is reached, ministers could unilaterally impose the new contract within days.
Mr Hunt has called imposition his "nuclear option" and on 9 February said that failure to deliver the new contract, which would cut junior doctors' weekend pay and set a precedent for other staffing groups in the NHS, would be to "give up on seven-day care for the most vulnerable patients."
The poll, which was conducted via an online junior doctor network, independent of the BMA, asked whether medics were "prepared to consider resignation in the face of imposition of the contract in its current form". Of 1,045 junior doctors who responded, 922 said they would.
Hunt on junior doctors' strike
Responding to the poll, the Department of Health said medicine was "an attractive career" and assured junior doctors the new contract included safeguards and better training opportunities.
However, the BMA said the result was a foreseeable response to the threat of "unfair contracts" being imposed.
Dr Mark Porter, chair of the BMA council told The Independent: "Junior doctors already work weekends for patients and the government's recognition of this in England is to propose cutting fair weekend pay rates in the very medical specialties where patients rely most on weekend working.
UK news in pictures

Show all 49
"In putting politics before common sense, the government has given young, committed doctors no choice other than the last resort of industrial action. It is not surprising that many junior doctors are thinking of leaving an NHS where the government threatens to impose such unfair contracts."
NHS England has said that 2,884 operations have been cancelled as a result of today's strike action, which affects non-emergency services. However, public support for junior doctors remains strong, according to a new IPSOS MORI poll, which found that 66 per cent support strike action that excludes emergency care.
The poll, for the Health Service Journal, also found that 64 per cent think the government is more to blame for prolonging the dispute than junior doctors.
Mr Hunt was challenged in the House of Commons on 9 February on claims, reported by The Independent, that he personally vetoed a major proposal from the BMA that might have resolved the dispute.
The proposal would have seen Saturday pay rates reduced, but crucially continued to recognise that Saturday working would attract pay premiums. It is understood it would have included a cut to the basic pay rise the Government has offered junior doctors, would have been "cost-neutral", and that NHS officials considered it a possible basis for resolving the dispute and averting the strike.
Asked by Labour's shadow health minister Justin Madders to confirm whether the Government had "at any point rejected a cost-neutral proposal from the BMA on the junior doctor contract", Mr Hunt again blamed the BMA for "refusing to negotiate" on Saturday pay "despite previous assurances".
Labour's Shadow Health Secretary Heidi Alexander has urged Mr Hunt not to impose a contract, warning that to do so could risk a prolonged period of industrial action.
But the Health Secretary hit back, accusing the Labour party of backing unions over patients.
Andrew Marr reads junior doctors' letters to Jeremy Hunt
"The Labour party is saying that if a negotiated settlement cannot be reached, we should not impose a new contract—in other words, we should give up on seven-day care for the most vulnerable patients," he said.
Ms Alexander told The Independent that the new survey "illustrates in stark terms why it is so important Jeremy Hunt doesn't impose a new contract on junior doctors".
"Contract imposition risks months of disruption to services, further damage to staff morale and long-term loss of staff to other countries – none of which would be in the interests of patients," she said.
"Whilst the current arrangements aren't perfect, the risk of imposing a new contract, which doesn't have the confidence of junior doctors, could have very serious consequences."
A Department of Health spokesperson said: "Medicine is an attractive career and we've already agreed improved safeguards and better training and education for junior doctors with the BMA – but the BMA continues to refuse to talk through the outstanding issue of unsocial hours pay, despite their agreement to do so in ACAS talks in November."
Join our new commenting forum
Join thought-provoking conversations, follow other Independent readers and see their replies