Northern Ireland political crisis: Secretary of State announces dissolution of Stormont after power-sharing collapses
A snap election will be held on 2nd March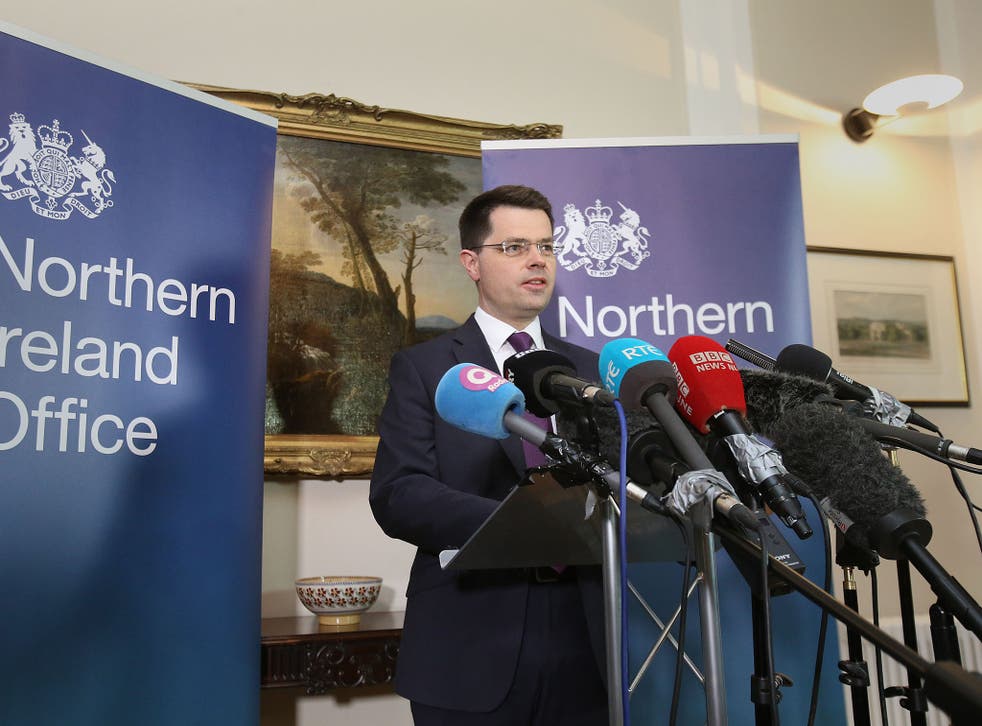 The Secretary of State for Northern Ireland has warned the challenges faced by Stormont "should not be underestimated" after power-sharing collapsed in the region, following an escalating political crisis. The historic announcement ends over a decade of joint rule between nationalist and unionist politicians.
Secretary James Brokenshire announced he will dissolve the parliament and has set an election date of 2 March. It is hoped fresh elections will return a new government who will be willing to move back to power-sharing, in order to revive the institutions.
Last Monday, Sinn Fein pulled out of power-sharing to protest an ongoing financial scandal in which the Democratic Unionist Party's leader is allegedly implicated. Under power-sharing procedures at Stormont, Sinn Fein were given a seven-day period in which to return to government, however, they confirmed that they will not do so, meaning the power-sharing executive officially ended.
Sinn Fein said they have resigned to protest what they see as "arrogance" from the Democratic Unionists over how their party leader Arlene Foster, who is also Northern Ireland First Minister, has responded to allegations she was implicated in a financial scandal.
The Renewable Heat Incentive, set up in 2012 when Ms Foster was an executive minister, was designed to encourage local businesses to use renewable heat sources. However, the scheme appears to have been badly designed and actually paid businesses money to burn fuel pointlessly. It is estimated that mismanagement of the scheme will cost the taxpayer £490 million.
Ms Foster denies any wrongdoing and has resisted calls to step down. Sinn Fein's Martin McGuinness, who is Northern Ireland Deputy First Minister, resigned last Monday in protest. Under power-sharing rules, both parties must be in power at all times, for the other to remain. Mr McGuinness' resignation therefore meant Ms Foster lost her position too.
It is the first time that power-sharing has collapsed in the region since the St Andrews Agreement in 2006 which restored institutions.
If a new government returned to Stormont after fresh elections will not engage with power-sharing, the prospect would be raised of Northern Ireland being run directly from London. However, the main nationalist opposition group, Social Democratic and Labour Party, has said they would not accept British rule as they feel Theresa May's government no longer has any legitimacy after Brexit.
Announcing fresh elections, Mr Brokenshire said: "No one should underestimate the challenge faced to the political institutions here in Northern Ireland and what is at stake. While it is inevitable that debate during an election period will be intense, I would strongly encourage the political parties to conduct this election with a view to the future of Northern Ireland and re-establishing a partnership government at the earliest opportunity after the poll."
He added that Ms May is determined the political crisis will not be allowed to derail or delay her plans to trigger Article 50, the formal mechanism by which the UK could begin to leave the EU. He told local politicians the Conservatives remain committed to triggering the clause by the end of March.
UK news in pictures

Show all 50
Leader of the Alliance Party, Naomi Long, told The Independent the Prime Minister could face a legal challenge if she attempts to enact Brexit while Stormont is collapsed, as it would mean Northern Irish politicians would have no say in EU withdrawal negotiations.
Join our new commenting forum
Join thought-provoking conversations, follow other Independent readers and see their replies