Owen Smith: Labour must be pro-immigration even if it means losing votes to Ukip
The comments could unnerve some Labour MPs whose constituents backed Brexit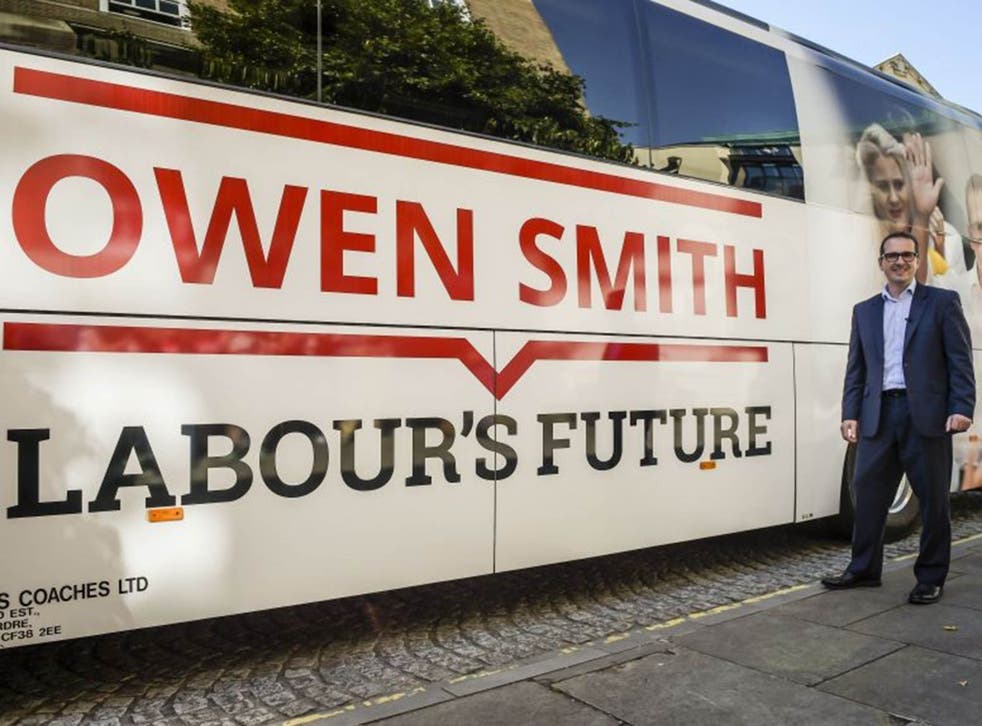 Labour must take a strong pro-immigration stance even if it means shedding votes to Ukip, leadership contender Owen Smith has said.
Speaking to The Independent the Labour MP said that his party needs to be positive on immigration regardless of whether it leads to "electoral damage".
His unequivocal position will unnerve Labour MPs whose constituents overwhelmingly backed Brexit following a Leave campaign built on blocking further EU immigration.
Mr Smith also said it would be "absolutely scandalous" if Prime Minster Theresa May attempted to trigger Article 50, starting the formal Brexit process, without putting the issue to a Commons vote.
But he reserved his most scathing criticism for rival Jeremy Corbyn, whose leadership he branded a "cataclysmic failure" that had left the party "teetering on the brink of obscurity".
The leadership-hopeful also promised tougher action on racial equality, branding the House of Commons as "so white" and signalling his backing for all-ethnic-minority shortlists for MP selections.
Mr Smith has previously suggested there are too many migrants in some parts of Britain where "a rapid influx in particular of Eastern European" people had put pressure on wages.
Owen Smith and Jeremy Corbyn clash at latest leadership debate
But an apparent shift to a more overtly pro-immigration position has come after Mr Smith said he had thought about the issue deeply during his leadership campaign.
He said that would mean the party telling people that immigrants played a key role in economic growth and pulling the country out of recession, pay more in taxes than they took in benefits and play a critical role in delivering public services – even if it meant putting some voters off.
Mr Smith added: "I think even if there was some electoral damage, we should be clear about it.
"There have been moments when Labour has sent mixed messages about this and I think the time has come to be absolutely clear about it."
Explaining his view, he said: "The conclusion I have come to is that in politics you get the politics you deserve.
"We've had a really ugly debate about immigration in Britain and crucially I think Labour, which is the party that always has to speak to the best of people's value and always has to speak for decency in Britain and tolerance and diversity, needs to be much more straight forward about our views on immigration."
He also said that people's fears about immigration were a "proxy" for anger about the decline of some areas in post-industrial Britain.
The difficulty of the issue for Labour was exposed in 2010 when Gordon Brown was caught calling voter Gilliam Duffy a "bigot" after she complained to him about immigration.
During the EU referendum while the party officially backed the Remain campaign, many of its voters and party members did not, with immigration at the heart of many people's opposition.
In some northern seats party officials said members were planning to vote Brexit by a margin of two to one, leaving some MPs more willing to talk about the pressure immigration puts on public services than its positives.
Mr Smith tried to play down the threat from Ukip in Labour's northern heartlands, claiming it was possible to "overstate" it.
But his apparent willingness to forgo votes over a matter of principle comes as he tries to reach out to left wing members of the party, which many believe are lining up behind Mr Corbyn.
Labour leadership contest: Jeremy Corbyn vs Owen Smith

Show all 8
He was recently accused of trying to "out-Corbyn" Mr Corbyn by suggesting that Isis could be brought round the negotiating table to end the civil war if they renounced violence.
But Mr Smith was clear on his views of the Corbyn leadership in his interview, saying: "One of the fundamental failures of Jeremy is that he has failed to hold the Labour party together. Labour's always been a coalition since our inception
"The job of the Labour leader is to recognise that, hold it together, keep it united, moving the party forward and attacking the Tories. It's fallen apart as never before under Jeremy's watch – it's a really cataclysmic failure."
He said the shadow cabinet in general had "not been very evident" in holding the Government to account, but that "featherweight" Mr Corbyn bore responsibility for the performance.
He said the vote to leave the European Union had weighed particularly heavily on him and was adamant the party should not give the Tories "a blank cheque" to implement a "hard Brexit".
On claims that Theresa May could trigger Article 50 without a Commons vote, he said: "I think that would be absolutely scandalous. To be honest I don't think they will be able to do it.
"I've seen legal opinion from three or four QCs and legal chambers suggesting that you would have to have a parliamentary vote on it.
"I suspect there would need to be a parliamentary vote on it. There absolutely ought to be a parliamentary vote on it, it's an advisory plebiscite that we held in the country and we ought to make sure it was properly debated in Parliament not least because we still don't have a clue what Brexit is going to look like."
Mr Smith has already pledged to use more all woman shortlists, achieve parity in the top jobs in the shadow cabinet and committed to ensuring either the Leader or Deputy Leader is a woman.
Asked about whether he backed all ethnic minority shortlists, he said: "There is a case for making that, yeah. We've not been effective enough at supporting people from ethnic minority backgrounds into politics.
"There are still whole communities that are un-represented in Parliament and they should be.
"There is an important signal that we can send by making sure ethnic minorities are represented in Parliament, and I don't think we've thought deeply enough about that and the signal it sends that Parliament is so white."
Mr Smith said he had taken two mornings off campaigning to spend time with his sons as they received exam results last week.
Join our new commenting forum
Join thought-provoking conversations, follow other Independent readers and see their replies