Owen Smith commits to equal representation of women in Labour with all female shortlists
Jeremy Corbyn, meanwhile, will address a rally of supporters in Salford as he launches his campaign to the public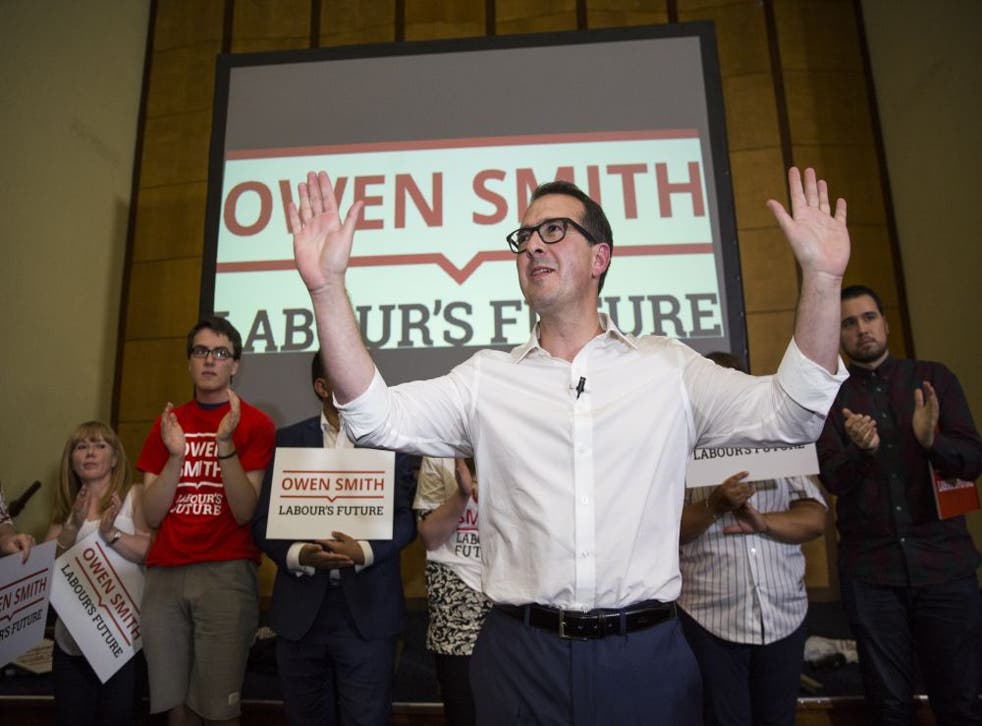 Owen Smith has pledged that half of the shadow cabinet and half of the party's MPs will be women if he succeeds in toppling Jeremy Corbyn in the Labour leadership race.
Mr Smith, who is hedging his bets in the contest as the party's "unity" candidate, has commited to using all women shortlists in targeted seats until half of Labour MPs are women. At a speech in Lewisham the former shadow work and pensions secretary also promised to make sure that at least half of the great offices of state are held by women.
On Friday the leadership challenger, who has attempted to assure members of the party that he is just as radical as the Labour leader, hired a former member of Mr Corbyn's inner-circle to be his chief policy adviser in a significant defection.
Neale Coleman, who was in charge of a policy and rebuttal in Mr Corbyn's office, stepped aside from his top role in January due to the "pressures and demands" of the job on his family life. The Labour veteran was an early recruit to Mr Corbyn's office and is credited with getting the then new team off the ground. Mr Coleman was also one of the few advisers to former London mayor Ken Livingstone to stay on at City Hall after Boris Johnson's election as in 2008.
Mr Corbyn, meanwhile, is due to rally his supporters in Salford with a call for a new wave of grassroots activism to propel Labour to victory at the next general election.Speaking at the public launch of his campaign to retain the party leadership on Saturday, he will tell activists "victories are not won in Parliament alone".
While he will acknowledge that Labour has "a mountain to climb" if it is to regain power in the general election, he will say that campaigning as a "social movement" will be the key victory. "We are a social movement and we will win the next general election only as a social movement," he is expected to say.
"Some people don't get this yet. They think a movement is something instead of parliamentary politics. It's not. It's what will make a Labour government possible.
"We have lost the last two general elections. We cannot carry on as before. No one underestimates the scale of the task in front of us. We have a mountain to climb to win a general election and that's why we have to change how we do things."
"Victories are not won in parliament alone. They are won because of public outrage. That outrage is being organised by you - party members, trade unionists - and it is only when we come together and campaign we win," he will tell them.
"This party is changing. Politics is changing - and it needed to. You are that change, you are the ones who will change politics and I want to make sure that you are empowered to do that. "And then together we can oust this Tory Government and start building the fairer decent society we all want." Amid complaints that critics of Mr Corbyn – particularly women – have been subjected to bullying and abuse, he will say there is no place in the party for intimidation and – in a comment at the MPs seeking to oust him – no place for "coups".
"We have to be disciplined. I make it clear today as I have made it clear many times before - I don't do personal abuse, I don't respond to personal abuse, I condemn any abuse from others. It has no place in our party," he will say. "I know some people are angry at the actions of some MPs but where we have disagreement in the Labour Party we settle it through democratic means - not coups, not intimidation, and not abuse."
His commets come after 44 women Labour MPs wrote to him in a letter organised by backbencher Paula Sherriff complaining at his "inadequate" response to the abuse. "Rape threats, death threats, smashed cars and bricks through windows are disgusting and totally unacceptable in any situation," they wrote.
"This is acknowledged by all factions, yet the simple words of condemnation offered in response are inadequate. We expect swift and tangible action against those who commit such acts."
Join our new commenting forum
Join thought-provoking conversations, follow other Independent readers and see their replies