Paul Nuttall criticises Donald Trump over sexual assault comments
But the Ukip leader still thinks the 'Anglophile' Republican will be 'good for Britain'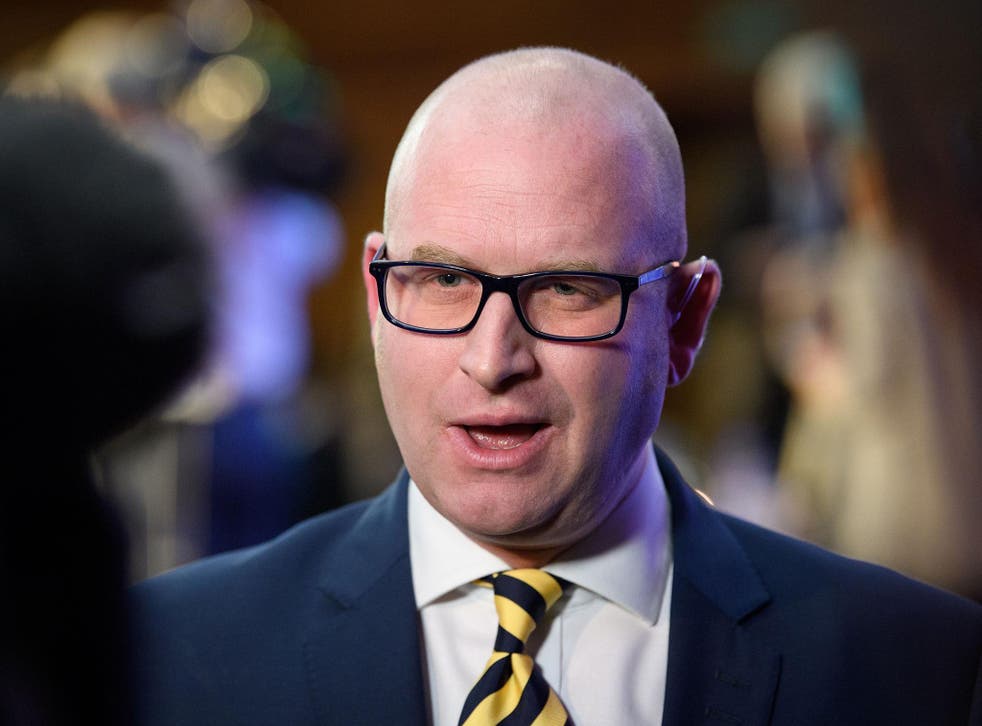 Paul Nuttall, the leader of Ukip, has criticised Donald Trump, calling previous comments by the US President "way above and beyond the pale".
The condemnation marks a clear break with the position of Mr Nuttall's predecessor, Nigel Farage, who travelled to the US to campaign for Mr Trump and was the first British politician to meet with the Republican following his election.
During the presidential campaign, footage emerged showing Mr Trump boasting that being rich made it easy for him to sexually assault women. Mr Farage dismissed the comments at the time as "alpha male boasting" and "the kind of thing men do".
Despite his criticism of the new President's comments, Mr Nuttall said he believed Mr Trump would be "good for Britain".
"He's clearly an Anglophile. The bust of Winston Churchill is back in the Oval Office and he has said Britain will be at the front of the queue for a trade deal", he said.
In another shift in position, and a possible rebuke to Mr Farage, he also signalled that Ukip under his leadership would no longer involve itself in other country's elections, including the French presidential election in which far-right Marine Le Pen has emerged as a front runner.
"This leader of Ukip is not interested in foreign elections", he said. "I will not be going out to campaign for anyone…and none of my MEP colleagues will be doing out to campaign for Marine Le Pen."
The Ukip leader is standing as his party's candidate in the upcoming Stoke-on-Trent by-election. In the interview with ITV's Peston on Sunday programme, he refused to say whether he believed Ukip would take the seat.
"We are going to come very close", he said, promising Ukip's most professional and well-resourced campaign yet.
The by-election is seen as a tight race between Ukip and Labour, with the outgoing MP, Labour's Tristram Hunt, having had a majority of just over 5,000.
Key Faces of UKIP

Show all 11
Mr Nuttall also launched a withering attack on Theresa May, claiming she has a record of not delivering on her promises.
"She's always been very good at talking the talk but when it comes to walking the walk, it always fails", he said. "Whether that's tackling radical Islam as Home Secretary or indeed getting immigration figures down to the tens of thousands – both of which she promised to do and did absolutely nothing."
The Ukip MEP was equally dismissive of the Labour Party under Jeremy Corbyn, accusing it of being obsessed with issues such as Israel-Palestine and fair trade that he claimed are important only to people at "the Islington dinner party table" and not to working people.
Mr Nuttall confirmed he had a stronger relationship with his party's only MP, Douglas Carswell, than his predecessor did. Mr Carswell and Mr Farage had a tempestuous relationship that included a number of public fallings-out.
"I have a better relationship with Douglas Carswell than my predecessor did, which isn't hard, by the way", he said.
He also reaffirmed his party's commitment to cut the UK's foreign aid spending.
"I'm not in favour of the status quo, I want to see more money put into the NHS. We have a foreign aid budget which at the moment is costing the British people £30m every single day. We believe that should be slashed and that money should be put into the NHS.''
Describing current aid spending as an "absolute outrage", he added: "I want to see British taxpayers' money spent here in our country, on our own people."
Join our new commenting forum
Join thought-provoking conversations, follow other Independent readers and see their replies