Paywall UK: Nick Clegg's security bonds for immigrants attacked as 'unworkable, impractical and discriminatory'
Visitors from 'high risk' nations to be asked for deposits of £1,000 or more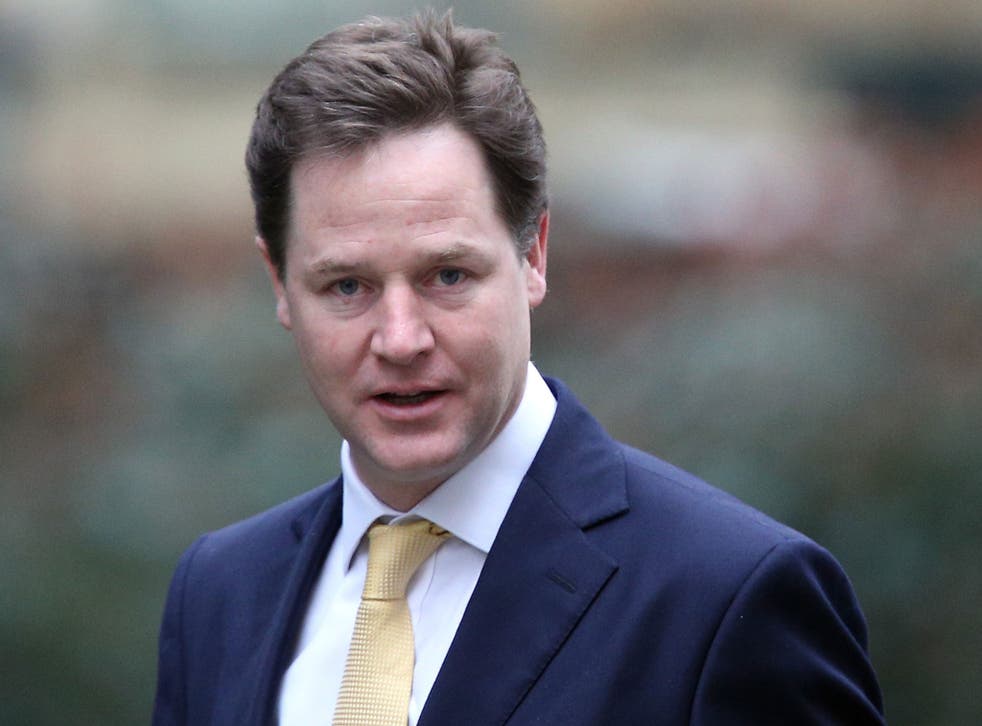 Nick Clegg's plans to require overseas visitors from certain countries to pay "security bonds" of at least £1,000 were widely attacked tonight for being "discriminatory".
The Deputy Prime Minister also toughened the Liberal Democrat message on immigration by announcing the party was dropping its policy commitment to offer an amnesty to foreign nationals who had been living illegally in Britain for ten years.
Under Mr Clegg's proposals, visitors would have to put up a bond which would be forfeited if they failed to leave the country when they promised. The UK Border Agency has yet to draw up a list of which "high-risk" countries to which it would apply, but it is likely to include India, Pakistan, Bangladesh and African nations.
Mr Clegg said the idea appealed to him and the Government planned to run a pilot into the scheme this year.
But Keith Vaz, the chairman of the Commons home affairs select committee, was scathing about the likelihood of the scheme getting off the ground, denouncing it as "unworkable, impractical and discriminatory".
As a Foreign Office minister under Tony Blair, Mr Vaz rejected the scheme when it was examined by the last Government.
He told The Independent: "You have to decide which countries it applies to. If you do this worldwide, other countries will retaliate and ask UK citizens to pay bonds.
"If you choose your countries, you have got to have good reasons for that … if as suggested it would apply predominantly to south Asian countries, then that is discriminatory."
He contrasted the cost of bonds with the £18,000 cost of removing illegal immigrants.
"Those determined to abuse the system will be able to do it very successfully", Mr Vaz said.
He added: "You are creating a whole new bureaucracy under this system – that's why we found it to be unworkable."
The Joint Council for the Welfare of Immigrants said it would take court action over any list that omitted "white Commonwealth" countries. A spokesman said: "It is extremely discriminatory. We would be definitely looking at the legality of that with a view to challenging it."
Enam Ali, the chairman of the Guild of Bangladeshi Restaurateurs, said: "There should be a level playing-field. Whether they are African, Bangladeshi, Pakistani or Indian they should be treated similarly."
The Liberal Democrats' support for an amnesty - which it argued would enable people living here unlawfully to take their place in society - came under sustained fire from the Tory and Labour parties at the last election.
Mr Clegg said it had been an "honest and pragmatic solution given the chaos in the Home Office". But he added: "It risked undermining public confidence in the immigration system - the very public confidence that is essential to a tolerant and open Britain."
Writing on the Indy Voices website, Nick Thornsby, of the Liberal Reform internal party pressure group, said: "Clegg is understandably bruised from his experience in 2010, but Liberal Democrat immigration policy should not be formed based on the likely reaction of the Daily Mail. These sections of the media will ultimately always find sticks with which to beat the Lib Dems when they think we pose a threat to the Conservatives."
Join our new commenting forum
Join thought-provoking conversations, follow other Independent readers and see their replies