PC Keith Palmer's funeral: Officers and tourists line the streets of London to honour Westminster's terror attack hero
When the Carriage Gates opened at half past one and PC Keith Palmer's coffin drove out, it was Portuguese and Chinese, Italian, Romanian, German, Japanese, Korean, Lithuanian and plain old old London hands that broke into spontaneous applause, clapping the cortege onward past the Victoria Tower and over the Thames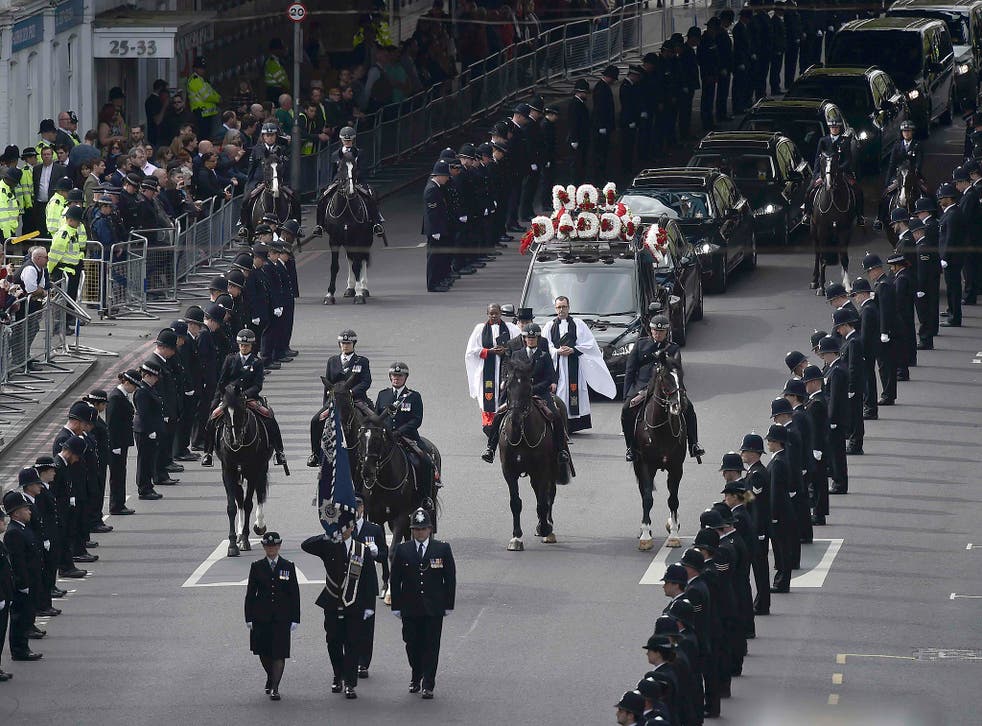 They were tourists, mainly, standing in quiet rows behind the rows of flowers on Parliament Square. They'd turned up at Westminster on a sunny Monday lunchtime to take photos of themselves beneath the clock tower and now they were surprised, pleased almost, some of them, to find the streets closed off, the barriers up – and that they would bear witness to a little bit of history.
When the Carriage Gates opened at half past one and PC Keith Palmer's coffin drove out, it was Portuguese and Chinese, Italian, Romanian, German, Japanese, Korean, Lithuanian and plain old old London hands that broke into spontaneous applause, clapping the cortege onward past the Victoria Tower and over the Thames.
It was appropriate enough. Ruck-sacked Italians waggling selfie-sticks, Korean schoolgirls giggling into smartphones; from the Tesco Metro to Westminster Abbey and all the way back to Caffe Nero these are Westminster's permanent residents. Today they stood in silence beneath whirring helicopters. Three weeks ago on Wednesday, Marcelino Rodrigues from Porto might have been wandering past the Carriage Gates and asked PC Palmer the way to Trafalgar Square.
"We just came here to go on the wheel," he told me. "We didn't know this was happening. But we wanted to stay and see. These people who died, they were tourists, right? From America, France, wherever. They just come here for taking pictures. This could be us, you know."
Among the political giants that stand in bronze formation around Parliament Square, it is the war leaders that get pride of place. Churchill and Lloyd George have the finest vantage point over the spot where PC Keith Palmer, as so many have since said, "died to protect our way of life" or "gave his life in the defence of democracy."
But the sentiment spelled out in white carnations and red roses over the hearse were altogether less grandiose. They just said: "Number 1 Daddy."
And as the crowds clapped it onward, dotted among the hoodies and the selfie-sticks and the half eaten packed lunches poking out of backpacks, were ordinary men and women. Men mostly, middle aged, in dark suits and ties, their eyes suddenly moist: coppers, clearly.
There were thousands more of them lining the full two miles to Southwark Cathedral, where the coffin was carried in under the blue insignia of the Metropolitan Police, to receive a "Full Force" funeral. These are the customary trappings afforded to any officer killed in the line of his or her work.
One among the crowd was Gregory Skinner, a police chief from New Jersey, the Peapack & Gladstone Police Department to be precise. He said he was "here to honour the police officer that was killed here three weeks ago, to honour PC Keith Palmer."
Another was Steven Lane, who said: "London is a city that accommodates people from all ages, all backgrounds and when something of this nature occurs it's right and proper, I believe to show support as a community for people who put their lives on the line everyday."
In the late afternoon, after the crowds had gone home and the streets reopened, the funeral moved on to a private, family internment. And quite right too.
PC Keith Palmer will be remembered as a brave officer killed in the line of duty. But he was a Number One Daddy first.
Join our new commenting forum
Join thought-provoking conversations, follow other Independent readers and see their replies