Planned £12bn Tory welfare cuts will lead to two million a year using food banks, says study
The research was seized on by Labour as evidence that David Cameron's welfare cuts will have far-reaching consequences for family budgets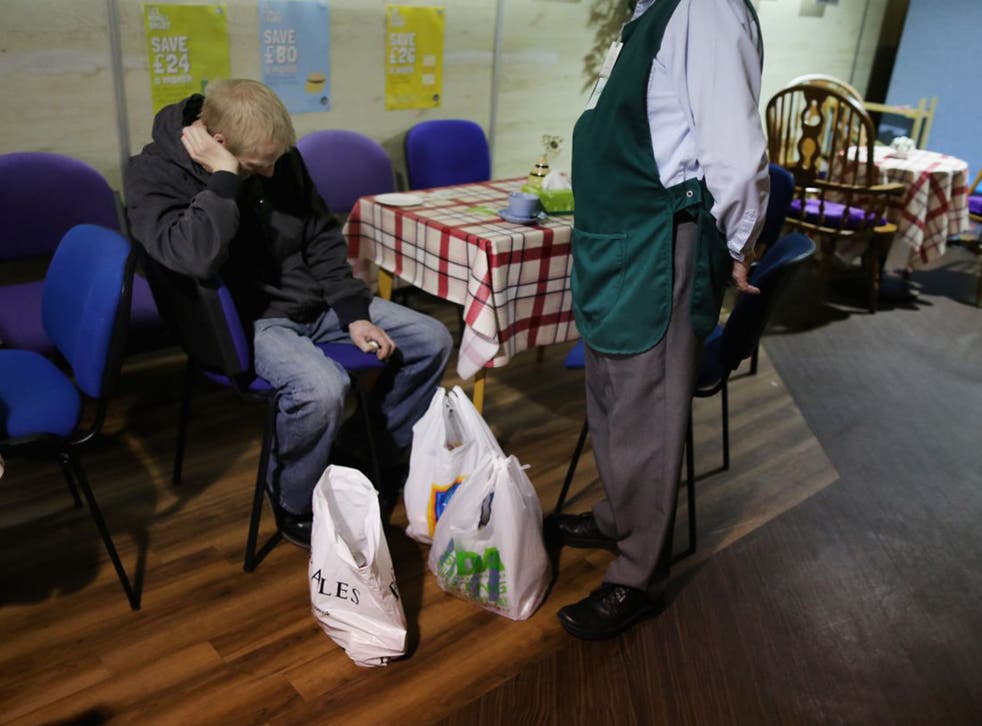 The number of people using food banks will double to more than two million a year under the Conservatives' plans for £12bn of welfare cuts, an academic study by Oxford University suggests.
The research was seized on by Labour as evidence that David Cameron's welfare cuts will have far-reaching consequences for family budgets, including eating into in-work benefits, if the Conservatives get back into power next week. On the Question Time leaders' debate on Thursday, Mr Cameron said he did not want or had no plans to cut child benefit further – but Labour claims this does not mean he has ruled it out. The Prime Minister, asked about child benefit cuts on BBC Breakfast yesterday, again refused to rule it out.
Labour's spokesperson on work and pensions, Rachel Reeves, told The Independent on Sunday that the Oxford University study was extremely worrying for families on low incomes, and claimed that Mr Cameron's failure to rule out child benefit cuts suggested that they were on the table.
Last month, the Trussell Trust, the charity that provides parcels to food banks, revealed that visits had risen to over one million a year for the first time.
Oxford academic Dr Rachel Loopstra's research paper, entitled Austerity, Sanctions and the Rise of Food Banks in the UK, examined the relationship between benefit cuts and food bank demand. The study shows that food parcel distribution per head of population will rise by 0.16 percentage points for every 1 per cent annual cut in benefit spending.
Labour said that, by applying this model of past cuts to the future, the £12bn in welfare cuts planned by the Conservatives would increase demand at food banks to 2.1 million by 2017-18 – double the current figure. Ms Reeves said that because the Prime Minister had ruled out slashing pensions, he would have no choice but to cut tax credits and child benefit to meet the £12bn target.
"David Cameron cannot say the words 'I won't cut tax credits and child benefit again'," she said, "because that is exactly what he is planning. The Tories cannot achieve their £12bn of cuts to social security without doing so and hitting family budgets hard.
In pictures: Food banks

Show all 9
"Child benefit and tax credits are now on the ballot paper next week. Labour will protect them, and families across the country now know the Tories will cut them again."
Ms Reeves said that food bank use during the 2010-15 parliament had gone up 16-fold because of benefit delays, sanctions and the bedroom tax, as well as wages not keeping up with the rising cost of living.
"We are the only party that's committed by the end of this parliament [to there being] fewer people using food banks than there are today," she added. A Labour government would do this by axing the bedroom tax, getting rid of benefit sanctions targets and introducing protections for people with mental health problems, carers, pregnant women and people at risk of domestic violence.
She said: "It's inevitable, if the Tories get back in, that we will see further food bank use."
Ms Reeves said she did not want Labour to enter into a coalition with the Lib Dems because, despite their current opposition to the bedroom tax, they had voted for it seven times as part of the coalition government.
But asked whether any form of a Labour government would be backed by SNP votes in Parliament, the Ms Reeves said: "In our first Queen's Speech, I would urge MPs from all parties to vote with us on our progressive policies to increase the minimum wage, getting rid of the bedroom tax, introducing a tax on expensive properties, and putting money back into the NHS. We're not going to stand on the doors of the division lobby and say, 'You can't come in here unless you're in the Labour Party.' We've urged MPs from other parties to vote with us, and we would urge parties after this election to vote for a Labour Queen's Speech."
Asked if she would ever stand as leader if there were a vacancy, Ms Reeves, who is expecting her second child next month, said: "One of [Mr Miliband's] biggest worries is the time that he gets to see his children, and I think that is a big sacrifice and not one that I would want to make. It's not one that I am particularly worried about making because I am sure that Ed Miliband will be leader of the Labour Party for many years to come."
Join our new commenting forum
Join thought-provoking conversations, follow other Independent readers and see their replies