Politician expelled from Ukip for 'negro' comments hits back at her critics by saying she once visited the Caribbean and found it 'okay'
Rozanne Duncan was recorded telling a Ukip press officer she had 'a problem' with black people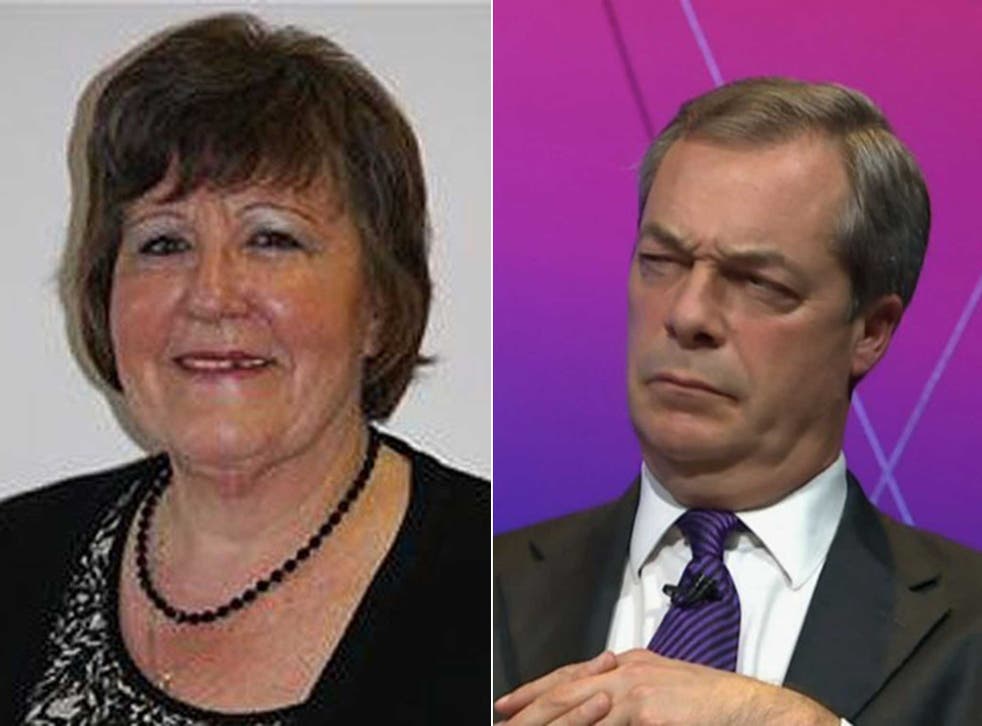 A local politician expelled from Ukip for saying she didn't like people with "negroid" features has hit back at her critics by revealing that she once went on holiday to the Caribbean.
Rozanne Duncan was expelled from Ukip after telling a camera crew shooting a documentary that she had "a problem" with black people.
Ms Duncan called the LBC radio station during a discussion about the documentary in which she featured, Meet the Ukippers.
After being questioned about her alleged racial prejudice, she said she had onced visited the Caribbean and that the visit had been "okay".
Having described her normal reaction to an encounter with someone of a different ethnicity as "I just don't want to look", she said she had not had similar problems during her visit to the islands because "it's their country".
"I went sailing in the Caribbean, for instance. It was okay … If you go to another country you should adopt their ethos, shall we say," she explained. "So for instance if you got to France you'd expect to hear French spoken, for instance, and you'd expect to see snails on the menu whether you like them or not. The same way you go anywhere."
Ukip gaffes and controversies

Show all 18
She also noted that she had visited Croatia, describing Croatians as "distrusting".
Ms Duncan said she believed her prejudice might stem from the fact she rarely encountered people of other ethnicities in Thanet, Kent, where she lives.
"I hardly see any here, there are so few here. There's no reason to have any contact with them," she said.
"I can't even think of anywhere in Thanet where there are any. It's not that I choose to live here because of that, my parents brought me here when I was three and I've lived here ever since. I really wouldn't want to live anywhere else, I love it."
She said she did not know why she had an adverse reaction to non-white people, however.
The councillor also shot down suggestions that she should consider going to another part of the country to meet people of different ethnicities.
"I wouldn't want to address it in that way," she said, "but obviously I've travelled and I've been to other parts of the country."
Mrs Duncan, who now sits on Thanet District Council as an independent councillor, said she felt "betrayed" after being expelled from Ukip last December for bringing her party "into disrepute".
She was recorded telling a Ukip press officer: "The only people I do have a problem with are negroes. And I don't know why."
She was previously a Conservative party member before defecting to Ukip
Ukip leader Nigel Farage said of her expulsion: "[Her lack of regret] really proves my point that clearly she doesn't have any understanding of the deep offence she has caused - so we took the right decision."
Critics on social media widely condemned her comments as racist.
Ms Duncan claimed that there was a "hidden agenda" behind her expulsion and insisted that there was nothing "racist or derogatory" in what she said.
Her comments come as a new poll reveals around half of Ukip voters claim to be prejudiced against people of other races.
Register for free to continue reading
Registration is a free and easy way to support our truly independent journalism
By registering, you will also enjoy limited access to Premium articles, exclusive newsletters, commenting, and virtual events with our leading journalists
Already have an account? sign in
Register for free to continue reading
Registration is a free and easy way to support our truly independent journalism
By registering, you will also enjoy limited access to Premium articles, exclusive newsletters, commenting, and virtual events with our leading journalists
Already have an account? sign in
Join our new commenting forum
Join thought-provoking conversations, follow other Independent readers and see their replies