David Cameron is a champagne-swilling, out-of-touch posh boy, says poll... yet voters don't seem to care
Even among his own party supporters, less than 30 per cent think the PM is in touch with voters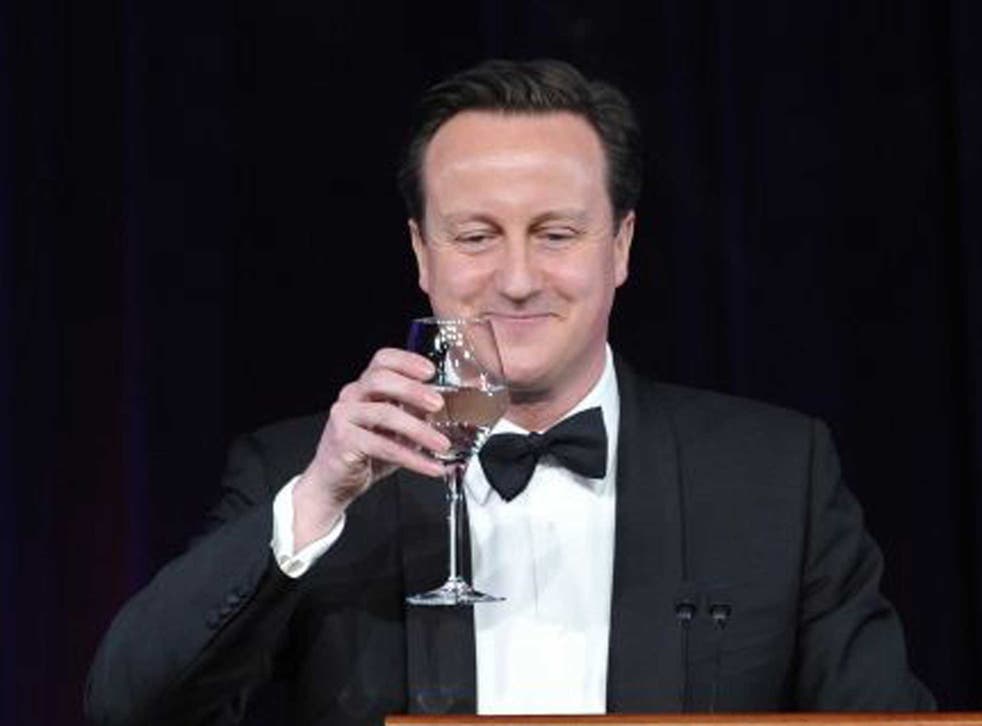 The British public thinks David Cameron is overwhelmingly out of touch with the ordinary voter, according to a new poll – but nobody particularly seems to care.
Just 14 per cent of people would say that the Prime Minister is "in touch with normal people", rising to a still very low figure of 28 per cent among people who voted Conservative in 2010.
When asked what they thought Mr Cameron's drink of choice might be, the most popular response was champagne, followed by red wine and gin and tonic.
Yet when compared against his fellow party leaders on other important issues like leaving the greatest legacy, working hard and generally being good company, Mr Cameron shone as a clear overall winner.
According to the YouGov/BuzzFeed survey of more than 1,900 people, Labour's Ed Miliband was voted the most "in touch", with 31 per cent agreeing. Ukip's Nigel Farage was next on 30 per cent, followed at a distance by Lib Dem leader Nick Clegg on 16 per cent.
Mr Cameron has been criticised in recent weeks for the "preposterous" number of fellow Old Etonians in his inner circle of advisers – and his party as a whole was slammed for a "patronising" reaction to bingo and beer tax breaks in the Budget.
And it may say something about the fervent nature of Ukip support that a huge 77 per cent of those who intend to vote for the Eurosceptic party think Nigel Farage is in touch – despite his public school education and background as a City trader.
Despite appearing out of touch, 26 per cent of voters in the poll would most like to sit next to Mr Cameron on a long journey – compared to 20 per cent for Ed Miliband, 18 per cent for Nick Clegg and 15 per cent for Nigel Farage.
Mr Cameron was also much more likely to be the leader who gets up earliest in the day, to give the biggest tip at a restaurant and to leave the greatest lasting legacy.
Of all the party leaders, Mr Clegg was the only one not to come out trumps in any questions at all, while Nigel Farage was most popular for just one – if they simply abandoned all of the canvassing, speeches and public debates, voters think the Ukip leader would be victorious in a good old-fashioned fist fight.
Join our new commenting forum
Join thought-provoking conversations, follow other Independent readers and see their replies