Support for Theresa May to keep job until next election has dwindled to 29% of British public, exclusive poll reveals
Exclusive: Pressure to go early grows, as Prime Minister returns from her summer holiday to fight for her political life
Rob Merrick
Deputy Political Editor
Sunday 13 August 2017 12:49 Comments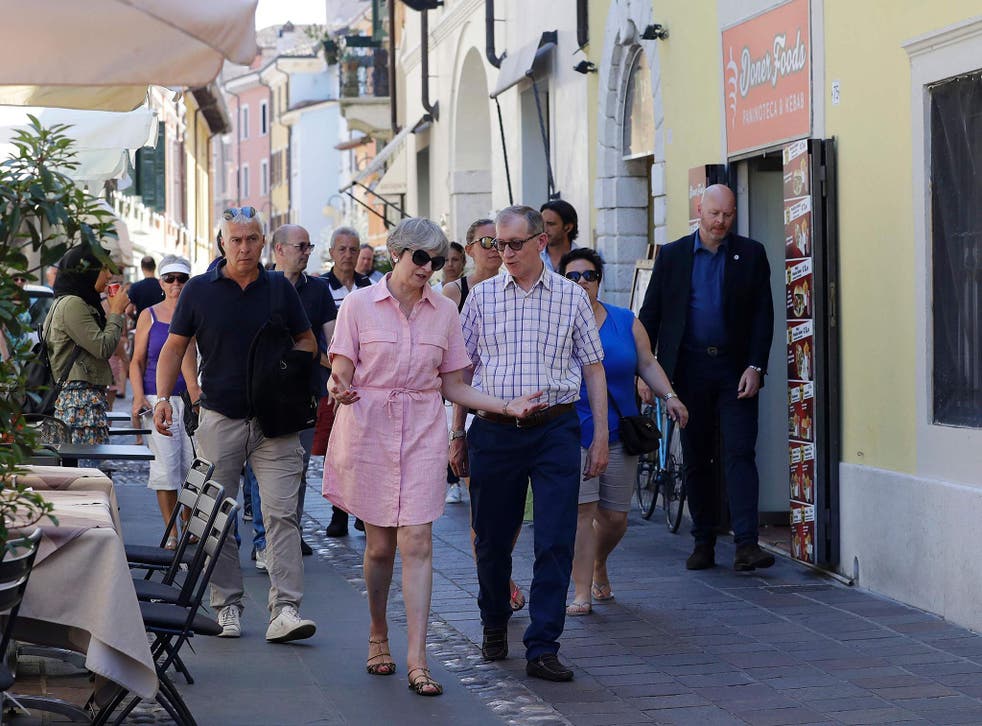 Theresa May should start preparing to quit No 10, according to an exclusive poll for The Independent, as she returns from her summer holiday to fight for her political life.
Almost half of the public believes the Prime Minister should quit before the next scheduled general election in 2022, as dissatisfaction with her leadership remains high.
Only 29 per cent of people want her to stay in power for the whole Parliament – compared with 48 per cent who want her to resign early, the poll by BMG Research found.
And 58 per cent said they were unhappy with her leadership, with 42 per cent satisfied, giving her a personal rating of minus 16 – compared with plus 12 when she called the June election.
Jeremy Corbyn remains more popular to be the next Prime Minister, but only by the slenderest margin of 33 per cent to Ms May's 32 per cent.
The results are revealed as the Prime Minister returns from a three-week break under pressure from some Tories to set herself a departure date – and with key members of the Cabinet "on manoeuvres" to shift Brexit policy.
In her absence, Downing Street has attempted to hold the line that "nothing has changed" – that the hardline aims for the EU talks remain as set out in Ms May's Lancaster House speech in January.
But Philip Hammond, the Chancellor, has broken ranks to argue publicly for an "off-the-shelf" transitional deal for up to three years, which would delay full withdrawal effectively.
Britain would keep current trading arrangements and rules on movement of workers, while leaving the EU single market and customs union on Brexit day in March 2019.
His key ally is Amber Rudd, the Home Secretary, who abandoned the idea of new immigration rules in 2019. The only immediate change would be the registration of EU citizens moving to Britain.
But Liam Fox, the International Trade Secretary, made plain he would accept a transition period only if he is able to seek and sign trade deals with non-EU countries from day one.
A joint article by Mr Hammond and Mr Fox, insisting Britain would not seek to remain in the EU "by the back door" in any transition, did little to paper over the cracks.
Meanwhile, in a critical week for the Brexit negotiations, the Government will publish "position papers" on the Northern Ireland border and future customs arrangements, among others.
The documents are crucial to persuading the EU that the UK is serious about meeting its tests on the divorce settlement – allowing negotiations on a post-Brexit trade deal to begin.
The BMG Research shows that Mr Corbyn is more popular with the public than Ms May. The Labour leader has a 2 per cent approval rating, with 51 per cent satisfied with his performance, while 49 per cent are unhappy.
However, the Conservatives have bounced back in the head-to-head between the parties to enjoy a three-point lead in voting intention, by 42 per cent to 39 per cent.
And, in a further boost to Ms May's chances of survival, a staggering 56 per cent of the public refuses to back any of her rivals to succeed her.
Asked who would "make the best Prime Minister", 16 per cent named Boris Johnson, while both Mr Hammond and David Davis, the Brexit Secretary, achieve only a miserable 5 per cent.
BMG Research interviewed 1,512 people online, between 7 and 11 August.
Register for free to continue reading
Registration is a free and easy way to support our truly independent journalism
By registering, you will also enjoy limited access to Premium articles, exclusive newsletters, commenting, and virtual events with our leading journalists
Already have an account? sign in
Join our new commenting forum
Join thought-provoking conversations, follow other Independent readers and see their replies