Princess Diana: Paris car she travelling in when killed was a 'hugely dangerous' rebuilt wreck, say reports
Mercedes had been crashed and declared a write-off, two years before fatal accident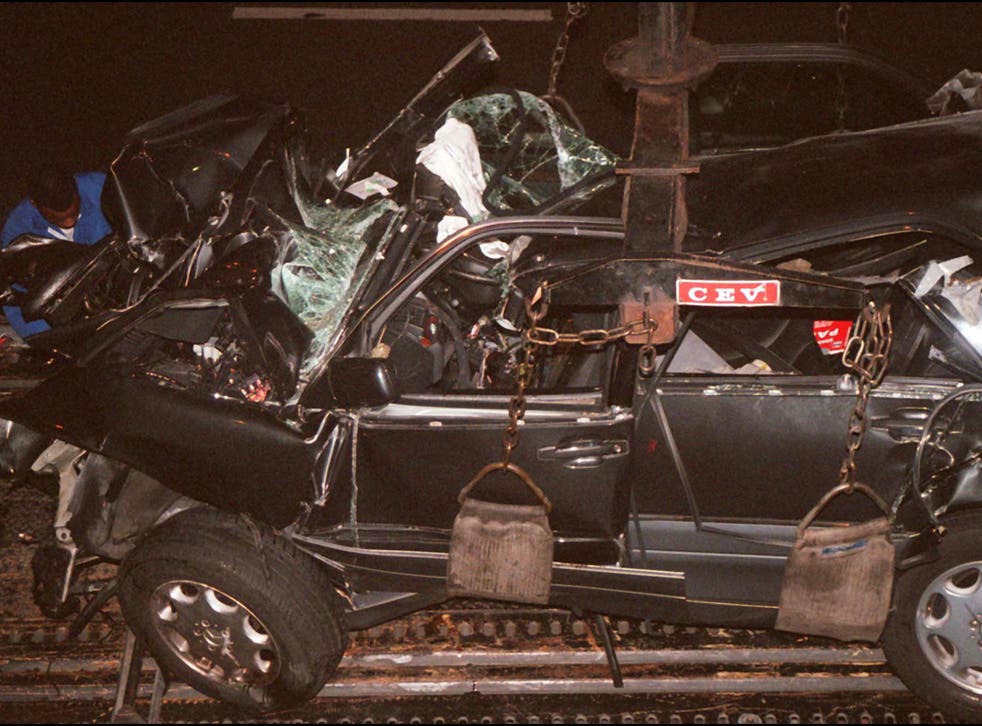 The car carrying Princess Diana when she was killed was a "hugely dangerous" rebuilt wreck that was not safe for use, a French TV programme has claimed.
The Mercedes was said to have been involved in another crash just two years before the one involving the princess.
The car was part of a pool provided by the Paris Ritz hotel and owned by a limousine company called Etoile Limousines.
Pascal Rostain, a photographer and co-author of a book called "Who Killed Lady Di?" told the M6 programme that the "hugely dangerous" car had been stolen and crashed at high speeds in 1995 - two years before Lady Diana's death.
"This Ritz car was a wreck", he said. "It had crashed before, and been rolled over several times".
The vehicle was due to be scrapped after its initial crash, but the then owner received permission to rebuild it.
Mr Rostain said one of his friends, a driver at the Ritz, had warned the hotel's manager, Frank Klein, that the car was unsafe two months before the accident.
He said "that it was necessary to get rid of this wagon", the photographer claimed. "At more than 60 kilometres an hour (37 miles per hour) it didn't hold."
The Ritz driver, named only as Karim, told him the car "was not reliable on the road", he said.
"We were afraid to use it at any speed", he added. "I told my manager that we had to sell this vehicle."
The Diana theories in full

Show all 10
The car originally belonged to an advertising executive called Eric Bousquet, who said he purchased it in 1994 – three years before Princess Diana's death.
Mr Bousquet said that, in January 1995, the vehicle was stolen and taken on a joyride around Paris. The car was crashed at 100 miles per hour and ended up upside down in a field.
The Mercedes was deemed to be non-repairable and was earmarked to be scrapped.
"It was considered a dangerous car", Mr Bouquet said. "I would have liked to take it back, but I was told no, it was not possible".
However, the vehicle was recovered by a mechanic who patched it up and then sold it to Etoile Limousines.
A 2008 inquest in the UK found Princess Diana was unlawfully killed as a result of "grossly negligent" driving by her chauffeur, Henri Paul, who lost control of the vehicle at speeds of up to 120 miles per hour in the Alma Tunnel in Paris.
Mr Paul, who was killed in the accident, was found to be drunk at the time of the crash and was attempting to flee pursuing paparazzi photographers.
The car is now owned by Jean-Francois Musa, the former boss of Etoile Limousines. He is locked in a battle with British police, who seized the car around 15 years ago in order to carry out forensic tests.
It is now believed to be in a compound in the UK, according to the MailOnline.
Join our new commenting forum
Join thought-provoking conversations, follow other Independent readers and see their replies