Priti Patel refuses to say whether government's plans will cause rise or fall in net migration
Home secretary says she will not 'speculate about numbers' after Conservatives drop 100,000 target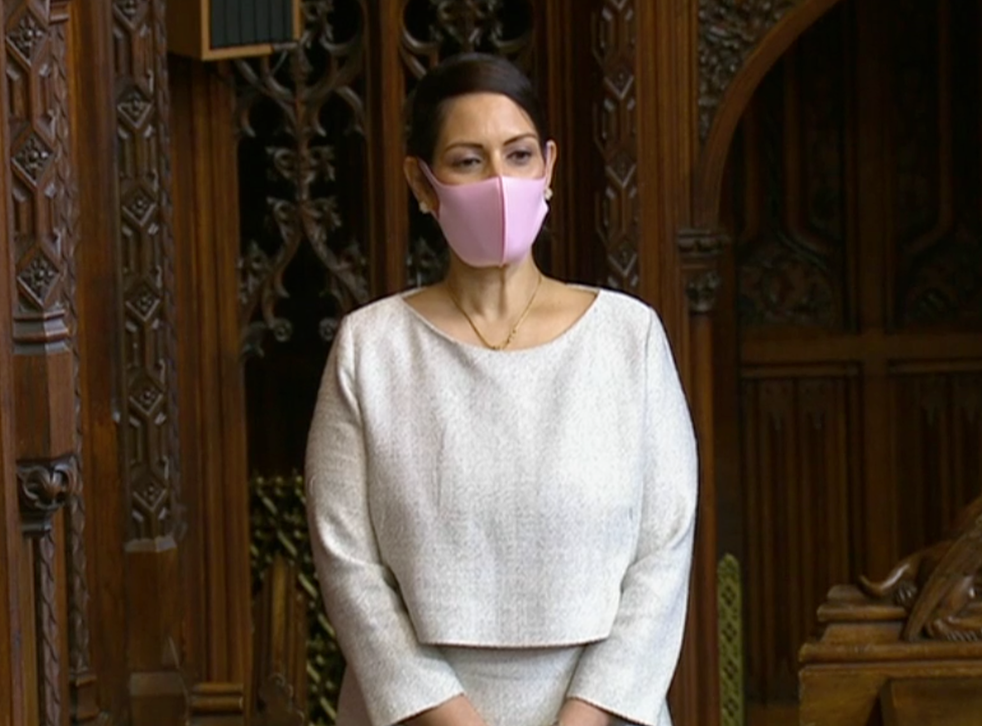 Priti Patel has refused to say whether the government's overhaul of the immigration system will cause a rise or fall in net migration.
The Conservatives have abandoned their former target to reduce the figure to below 100,000 a year, which was never met after first being proposed by David Cameron in 2010.
The New Plan for Immigration makes no direct mention of net migration or any reduction, instead it focusses on deterring "illegal entry" to the UK and increasing the deportation of people "with no right to be here".
In a speech on Monday, the home secretary repeated that the government was fixing a "broken immigration system" but would not be drawn on projected numbers.
Asked whether its plans would cause an increase or decrease in net migration, she replied: "I'm not going to get into the language of old around immigration.
"I'm fixing a system and making it much more effective for the world that we live in and the needs of our country and our economy."
Ms Patel said that the changes would lead to "greater accuracy" on migration numbers, adding: "We don't have to work around the hypotheticals around net migration targets, or numbers, or things of that nature, and speculate about whether or not numbers will go up and down."
The home secretary also declined to give details of a new US-style Electronic Travel Authorisation (ETA) system, which will require visitors to the UK to obtain an online permit before travelling.
The Home Office said it would make the border more secure, with automated checks to prevent foreign criminals travelling to the country, while enabling the government to count who is coming in and going out.
ETAs will be required by anyone without a visa or immigration status – although they will not be needed by Irish citizens – with ministers promising the system will be operational by the end of 2025.
Asked how much the ETAs would cost, the home secretary said the scheme would "require legislation" and that the government would publish more information in due course.
Protesters block van removing Muslim immigrants in Glasgow
Ms Patel said the government was also looking at the possibility of requiring proof of coronavirus vaccines for EU citizens entering the UK, but that a decision had not been reached.
Her speech, to a conference organised by the Bright Blue and British Future think tanks, came after the number of migrants crossing the English Channel more than doubled year-on-year to over 3,000 so far in 2021.
Ms Patel insisted that the government had a "fair but firm plan" to stop small boat crossings.
She said the proposals would enable authorities to "speed up the removal of people with no legal right to be here" and "reduce incentives for people to come here illegally".
Moves to deny refugee status to asylum seekers who passed through a safe third country before reaching the UK have been condemned by the United Nations and charities.
On Saturday, The Independent revealed that no asylum seekers have been returned to EU countries this year because a mechanism lost during Brexit has not been replaced.
UK news in pictures

Show all 50
The government has said it will strike bilateral agreements to enable the deportation of asylum seekers to countries deemed responsible for their applications, but several nations including France have said they will not sign them.
Ms Patel said the government would be creating safe and legal routes for refugees to reach the UK and "break the model" of people smuggling.
The shadow home secretary, Nick Thomas-Symonds, said the Conservatives have had 11 years to fix a system they "broke".
"Clearly people who have no right to be in this country shouldn't be here, but what we have seen from the Home Office is utter incompetence on this," he told Sky News.
"What we don't want to see is the government deflecting blame for their own failure when it's their incompetence, their management and mismanagement of the Home Office that has been the problem."
Register for free to continue reading
Registration is a free and easy way to support our truly independent journalism
By registering, you will also enjoy limited access to Premium articles, exclusive newsletters, commenting, and virtual events with our leading journalists
Already have an account? sign in
Register for free to continue reading
Registration is a free and easy way to support our truly independent journalism
By registering, you will also enjoy limited access to Premium articles, exclusive newsletters, commenting, and virtual events with our leading journalists
Already have an account? sign in
Join our new commenting forum
Join thought-provoking conversations, follow other Independent readers and see their replies