Queen's Speech: David Cameron urged not to move UK to the right
The huge gains by the UK Independence Party have rattled Tory and Lib Dem grassroots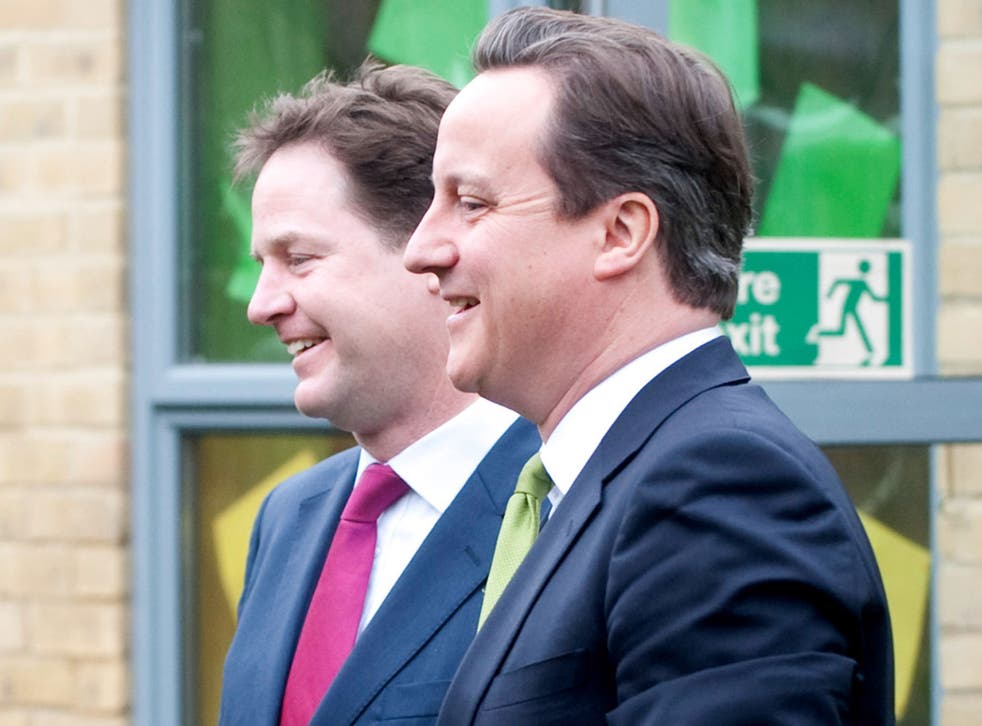 Nick Clegg will this week warn David Cameron that he will not allow the coalition to be dragged to the right in response to the surge of support for the UK Independence Party in the local elections. As both parties prepared to stake a claim to key policies in the Queen's Speech, to be unveiled on Wednesday, the Deputy PM faced a fresh challenge from his party's grassroots, who warned that he had a year to "shape up" and improve the Lib Dem performance at the ballot box.
The Tories and Liberal Democrats have been left stunned by the huge backing for Nigel Farage's party, which gained 139 council seats and second place in the South Shields by-election.
Though the Queen's Speech was finalised over a week ago, Mr Cameron and Mr Clegg are being urged to frame the legislative programme to appeal to their own grassroots.
Tory backbenchers have renewed calls for tougher policies in key areas including immigration and welfare – and an early referendum on membership of the EU – in response to the devastating results last Thursday, which saw the Tories lose 337 councillors and surrender control of 10 councils. The Lib Dems lost 110 councillors.
David Davis, a senior Tory, yesterday claimed that Ukip's policies on law and order, immigration, taxation, foreign affairs and Europe "mimic a simplified 1980s Tory manifesto". He called on the PM to bring forward the planned EU referendum and to introduce "serious tax breaks" for married couples to counteract the Ukip threat.
In an attempt to quell the growing unease throughout the party, the Tory leadership has made it clear that it will use the Queen's Speech to press forward proposals to limit benefits, including access to the NHS, to some immigrants. For the Lib Dems, there are pledges for Bills on green energy and the High Speed 2 rail link.
But a senior source close to the Deputy PM said last night: "We are quite clear that the Lib Dems are not going to allow the Government to suddenly go off to the right. The Conservatives aren't in a coalition government with Ukip, they are in a coalition government with the Lib Dems." Any move to speed up a referendum on EU membership would be blocked by Mr Clegg, said the source. "Government Bills have to be agreed by both sides of the coalition before they go to the House. We have a coalition position on Europe and a referendum: it is in the Coalition Agreement.
"Most people who voted for Ukip voted for a huge range of reasons, not on a referendum on Europe in 2017. They are worried about how they are going to pay their food bill next week. If there is a message from Ukip, it is that some people think we have lost touch with what ordinary people are worried about."
Yet the pressure on Mr Clegg to differentiate himself from the Tories has been intensified by a veiled threat from his own party's grassroots after the Lib Dems' disastrous showing on Thursday. The Social Liberal Forum, which represents the left of the party, said yesterday: "The need to set out a clear narrative, distinct from the Tories, particularly on the economy, is urgent.
"The Liberal Democrat leadership must shape up before the European elections next year; there will be no hiding place in an election in which every vote counts. It is intolerable to accept the rapid decline of the party in large parts of the UK as a 'price worth paying'," the Forum continued. "The party simply can't go on as it is if it is to fight the general election as a serious, nationwide party."
Mr Davis, who ran against Mr Cameron for the Tory leadership, said the PM should stop surrounding himself with fellow Old Etonians and show he could reconnect with the concerns of ordinary voters.
"The fact is that if we want to win the next election, we have to break this impression of being privileged and out of touch," he said in an article for The Daily Telegraph.
The Home Secretary, Theresa May, yesterday acknowledged that the Tories must give voters "greater certainty" that they will be given a say on Britain's EU membership.
Angela Eagle, Shadow Leader of the Commons, said it was important that the surge towards Ukip did not allow the Tories to "drag the country to the right".
What to expect
Should David Cameron have wanted to harden up this week's Queen's Speech in response to the Ukip surge, it is too late: the statement was sealed on to parchment made out of vellum – or goats' skin – more than a week ago. It takes several days for the ink to dry, so revisions to help counter last Thursday's electoral hammering are not an option. But perhaps there is already enough for disaffected voters of both Conservative and Liberal Democrats. Here's what to expect when the Queen delivers her speech:
Immigration/welfare Limiting benefits to some immigrants, stopping NHS "tourism" and giving extra power to deport foreign nationals.
Social care A cap on payments of £72,000, introduced in 2016.
Pensions Legislation introducing single-tier pension.
High-speed rail A paving bill to allow construction to start on the controversial HS2 line between London and the north of England.
Energy Ordering energy suppliers to make clearer, simpler bills, with fewer tariffs; encouraging private investment to electricity sector.
Business Cutting National Insurance contributions for small businesses, saving employers up to £2,000.
Health and safety Allowing self-employed to be exempt from health and safety law where their work poses no potential risk of harm to others, plus other cuts to red tape.
Not included Enshrining aid target of 0.7 per cent of GDP in law, forcing tobacco companies to use plain packaging, a statutory register for lobbyists, and a "snooper's charter" for monitoring internet use.
Join our new commenting forum
Join thought-provoking conversations, follow other Independent readers and see their replies