'Donald Trump on steroids': The controversial rise of Farage favourite and Breitbart UK editor Raheem Kassam
Divisive Ukip figure Raheem Kassam tells The Independent he edited his Wikipedia page, may leave the party if Nigel Farage does - and thinks most of Westminster are 'talentless scumbags'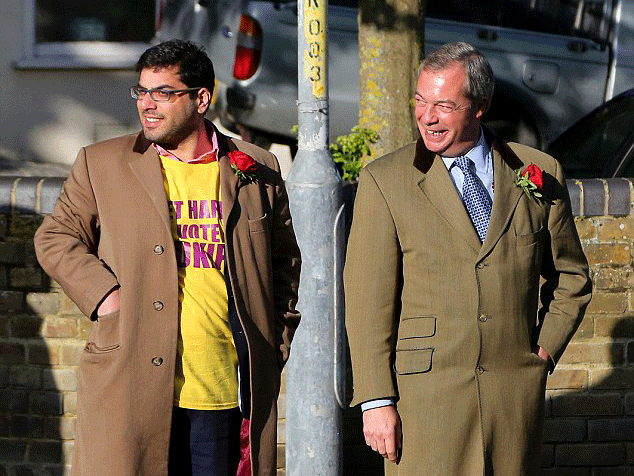 Raheem Kassam has enjoyed a ferocious rise to prominence, from being an unknown blogger in west London Conservative circles, to making it into the President-elect's glittering Manhattan apartment.
A photo, taken outside Mr Trump's gold-plated front door and featuring Mr Farage, Ukip donor Arron Banks, Mr Kassam and Leave.EU campaign aides, has become iconic.
The blogger-turned-firebrand right-wing politician has since said he will push for a "special assistant on European affairs" job for the White House.
Breitbart: Questions over property tax arrangements for its London operation​
Born in 1986 in Acton, the son of Indian Muslim immigrants from Tanzania and a father who owned a fast food chain, he attended Bishopshalt comprehensive school in Uxbridge and St Helen's College in Hillingdon.
The 30-year-old, who grew up attending mosque and practised as an Ismaili Muslim, has repeatedly spoken of the radical Islam he witnessed while studying politics at University of Westminster.
Mohammed Emwazi, coined Jihadi John and who reportedly died in an airstrike in November last year, was two years below him.
As a young Conservative member, Mr Kassam joined the now defunct Young Britons Foundation and ran the anti-campus extremism group Student Rights for the Henry Jackson Society.
He was also a researcher at the Bow Group think tank and worked a contract for the Taxpayers' Alliance – until a dispute with then chief executive Matthew Elliot.
He briefly headed-up his short-lived GreenCEASE project (green centre for economic analysis and sustainable environment), a play on words with Greenpeace, which criticised global warming theories.
A handful of former colleagues have described Mr Kassam's dramatic policy change, from being socially liberal and pro-immigration, to wanting to ban the niqab.
Mr Kassam, who has called Ukip colleague Suzanne Evans a "wrinkly old ginger bird" and said Scotland's First Minister Nicola Sturgeon should have her legs "taped shut", switched from the Tories to Ukip two days after the October 2014 Conservative party conference.
The Independent spoke to several of Mr Kassam's former colleagues but none were willing to be named on record.
A number described him as a "nice chap" and wished him well, but all said they were dumbfounded by his rise to prominence.
Sky News presenter questions Breitbart editor over poppy
One Conservative activist said he had "changed a huge amount" and described him as "socially liberal and pro-immigration, or at least not anti-immigration" when they first met in 2008.
He added: "I don't know why it's changed. If his objective is Breitbartism or Trumpism, then he's done very well."
A third met him via The Commentator, a right-wing blog, where Mr Kassam was an editor in 2012 and 2013 up until an explosive falling out with owner Robin Shepherd.
"He was always a very enterprising person to do his own thing," said the ex-Commentator source, who described how Mr Kassam used his Breitbart job to get further "in with Ukip".
"He didn't go down the traditional journalistic route. He was always very good at selling snake oil to reach American donors or people he ended up working for at Breitbart.
"My personal view of him, is that he's more moderate and sensible than his Twitter account makes out.
"He knows what gets attention, whether that's working for Ukip and Nigel Farage, or working at Breitbart, which got him in the room with the president.
"He's a genius at finding a gap.
"To be fair to him, how many British journalists can say they got in the room with the president? He is a modus operandi in shock-jock journalism and riling people up the wrong way.
"His help for Farage in the South Thanet General Election seat was counterproductive and his leadership campaign came crashing down.
Farage says Brexit led to trump
"He has made a lot of enemies and shamelessly exploited a lot of sentiments for the gain of the 'alt-right'. Other people will criticise him for that and he probably deserves it.
"It's an extraordinary rise that his friends didn't think would happen. They laughed at him, and to be fair, he's having the last laugh.
"He's always been a weird insider-outsider in Westminster. No one at Westminster liked him, where he drank at the Westminster Arms, but then he went his own way."
Another source, who met Mr Kassam via Breitbart, has described him as an "energetic scattergun", a "formidable operator" on TV, and as "Donald Trump on steroids".
"He would leave Ukip if Nigel Farage left the party," added the source, who says there is a "cult of Raheem" on Twitter.
Mr Kassam was scapegoated by leading Ukip figures for Mr Farage's General Election defeat in South Thanet, where the two briefly shared a flat, in May 2015.
His profile increased during Arron Bank's Leave.EU campaign in 2016, and its bitter rivalry with the official Vote Leave group, and again when he launched but aborted a Ukip leadership bid last month.
"Raheem Kassam is one of the nastiest pieces of work in Westminster," said a source, who wanted to be named as "someone who has observed his campaign and had the misfortune of meeting him".
"Breitbart wants to give the impression to the US that Europe is full of gays, terrorists and liberals, for the insurgent right-wing types, and to give the Trump party a boost.
"He thrives on his own oxygen and that's why he loves retweeting himself so much and the best way to ignore him is to mute his account.
"He is just not a nice person and you have to believe that the truth will come out.
"He's a fantasist who is incredibly good at self-promotion and he's turned into a specialist in being a wind-up merchant, which is an achievement to him, but only him.
"He would fall apart if he got a job close to the Trump team."
Milo Yiannopoulos defends Breitbart headlines as 'satire'
Mr Kassam and Breitbart has repeatedly criticised Ukip's sole MP Douglas Carswell, who declined to comment when approached by The Independent.
In a response to The Independent, Mr Kassam admitted editing his Wikipedia page "because I don't agree with people writing 'Raheem is a c***' on it. Especially without a source link".
He also said he could not possibly be "Donald Trump on steroids" because he does not "do drugs" and denied he was part of the extreme right "alt right" movement, adding: "Anyone who follows my statements would know this. This is a silly smear."
Mr Kassam, who also said "maybe" when asked if he would leave Ukip if Mr Farage did, added: "True, about 80 per cent of people in Westminster [don't like me]. And I wouldn't have it any other way. Most of these people are talentless scumbags."
Join our new commenting forum
Join thought-provoking conversations, follow other Independent readers and see their replies