Rail passengers hit by hikes of up to £2,100 in cost of annual tickets
Opposition condemns 'truly staggering' increases, as the cost of a season ticket between Birmingham and London tops £10,200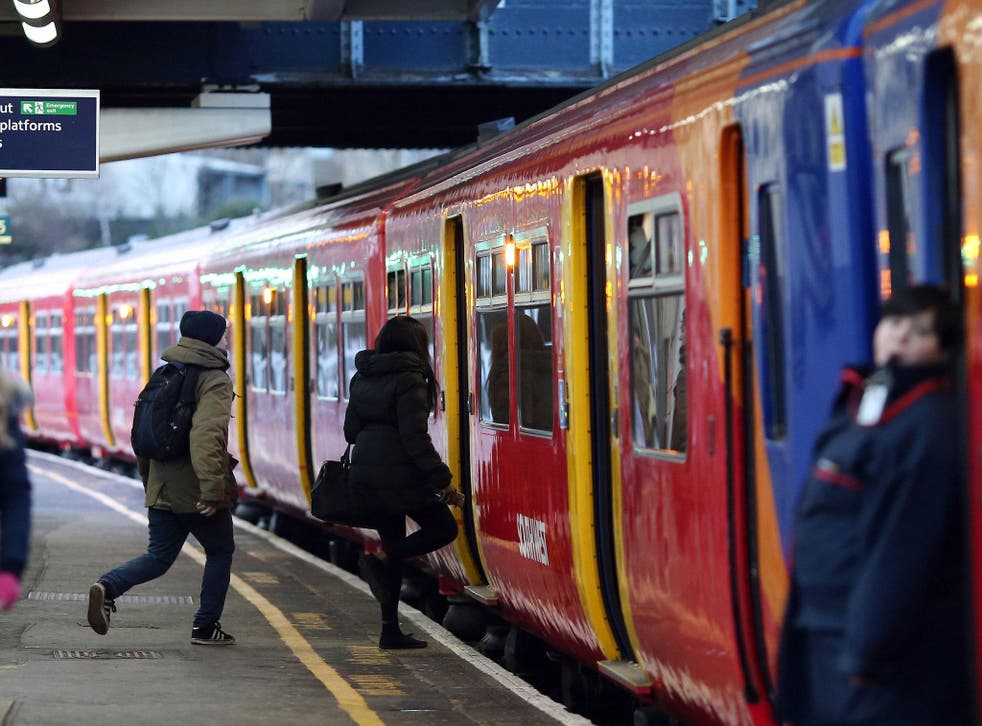 Rail passengers are paying up to £2,100 more for an annual ticket than they did when the Conservatives came to power, according to new research by Labour.
The scale of the fare increases was condemned as "truly staggering" – just as the latest rises were being implemented for the start of the New Year.
Labour said the biggest hike was on a Virgin Trains season ticket between Birmingham and London, which has risen by £2,172 since 2010 and will now cost £10,200.
But even that 27 per cent increase was dwarfed in percentage terms by the cost of annual travel between Tame Bridge Parkway, near Walsall, and Nuneaton – which has soared by 43 per cent since David Cameron entered No 10.
The research found some of the sharpest increases in the constituencies of Government ministers, including a £628 rise from Maidenhead, Theresa May's seat, to London.
And long-suffering commuters on strike-hit Southern Rail routes – who are facing the misery of a six-day shutdown next week – have also been hit by huge rises in the cost of annual travel.
At £4,536, a season ticket between Brighton and London will cost nearly £1,000 more than it did in 2010 – a 28 per cent increase in just seven years.
Labour blamed ministers for restoring "flex", the train companies' right to vary prices by up to five per cent on individual regulated fares, between 2011 and 2014.
Andy McDonald, the shadow Transport Secretary, said: "Passengers have faced truly staggering fare rises of over £2,000 since 2010.
"In some cases, commuters are paying 43 per cent more as a direct consequence of decisions made by ministers.
"Passengers were always told that higher fares were necessary to fund investment, but vital projects have been delayed by years and essential maintenance works have been put on hold."
Median gross weekly wages grew by just 8 per cent between 2010 and 2016, Mr McDonald said – while regulated fares had risen three times as fast.
But Transport Secretary Chris Grayling insisted wages were growing faster than regulated fares, thanks to the Government's economic policies.
And he said: "This commitment to cap regulated fares in line with inflation will save annual season ticket holders an average £425 in the five years to 2020.
"To improve services, we are investing more than £40bn into our railways. This will provide passengers with better trains that are faster and more comfortable.
"We have always fairly balanced the cost of this investment between the taxpayer and the passenger. On average, 97 per cent of every £1 of a passenger's fare goes back into the railway."
Highest rises in the cost of annual season tickets in cash terms, identified by Labour:
* Birmingham to London (Virgin) – £2,172, from £8,028 (2010) to £10,200 (2017).
* Coventry to London Euston (Virgin) – £1,920, from £7,096 to £9,016.
* Swindon to London – £1,796, from £6,640 to £8,436.
* Stoke-on-Trent to Milton Keynes Central – £1,748, from £5,320 to £7,068.
* Dover Priory (HS1) to London – £1,672, from £4,648 to £6,320.
Join our new commenting forum
Join thought-provoking conversations, follow other Independent readers and see their replies