Remembering Leon Brittan: An 'inspiring leader' who helped to shape the EU
As Home Secretary under Margaret Thatcher, Brittan was at one time even talked about as a possible future Tory leader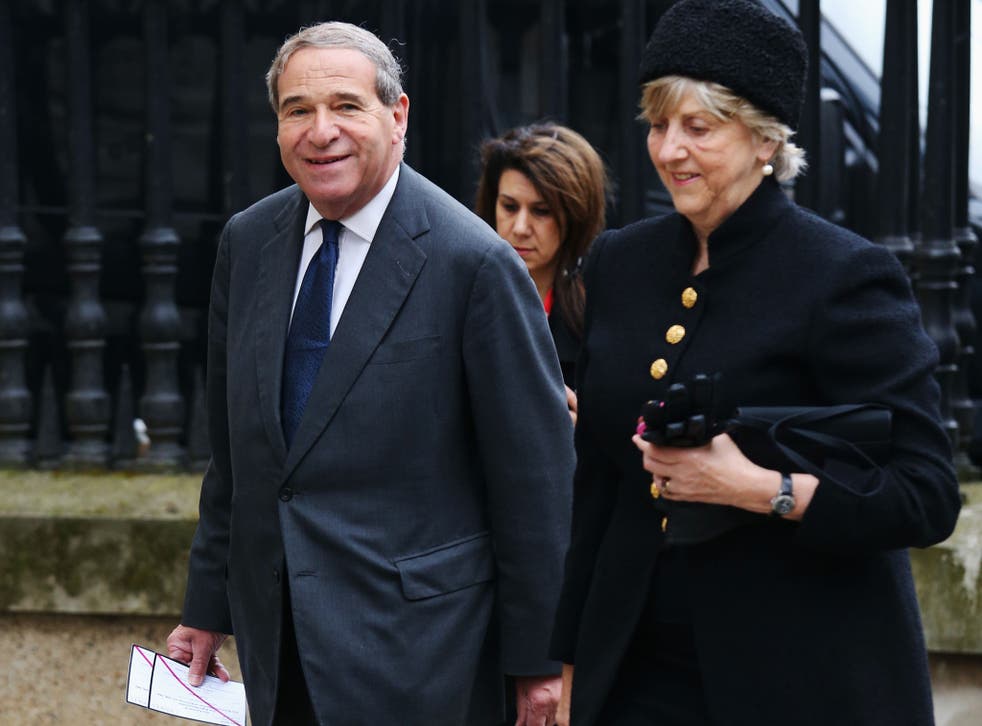 Leon Brittan was a high-flyer whose political ascent was grounded by an initially obscure but eventually explosive Cabinet dispute over a helicopter company.
As Trade and Industry Secretary in Margaret Thatcher's Government in 1986, Lord Brittan and most of the Cabinet backed an American rescue package for the Somerset-based Westland helicopter company. But Michael Heseltine, the Defence Secretary, fought for a European solution.
Lord Brittan authorised his press secretary to leak to the Press Association parts of a letter by the Solicitor General, a government law officer, to Lord Heseltine. Only those sections which undermined the Defence Secretary became public. The leak broke all the rules.
When Lord Heseltine flounced out of the Cabinet, it appeared that Lord Brittan had won. But he was accused of misleading MPs about his contacts with the boss of British Aerospace and lost the confidence of Tory backbenchers. He resigned too, and Baroness Thatcher feared the crisis might bring her down, memorably telling allies before a Commons debate that she might not be prime minister by 6pm.
Lord Heseltine said yesterday his Cabinet foe was "a man of considerable integrity" with whom he had remained good friends despite their Westland dispute. "I always thought that Leon was very badly treated by Number 10. He was used to advance arguments he didn't really believe in and got caught up in the crisis. That was a great shame," said Lord Heseltine.
The son of a North London doctor who had emigrated from Germany, Lord Brittan was brought up as an Orthodox Jew. Anti-semitism was common in the Conservative Party during his time in politics. So was homophobia. Lord Brittan was sometimes a victim of both, the subject of what friends insist were unfounded rumours that he was gay because he married his wife Diana, a divorcee with two daughters, when he was 39, relatively late in life in those days.
After being president of the Cambridge Union, he became a libel lawyer and QC. His political career was delayed by a 10-year hunt for a Commons seat, but he applied his forensic, lawyer's mind and climbed the ladder after entering the House in 1974. He was seen as an intellectual who could master a brief and stick to it doggedly rather than someone who inspired the Tory faithful.
When Lady Thatcher won power in 1979, Lord Brittan became Minister of State at the Home Office. Within two years he joined the Cabinet as Chief Treasury Secretary. After the 1983 election, he became the youngest Home Secretary since Winston Churchill.
MPs rejected his proposal to bring back hanging for terrorist murders. But he won plaudits for his handling of the Libyan embassy siege in which WPC Yvonne Fletcher was murdered, and was even talked about as a possible future Tory leader.
However, Lord Brittan was accused of censorship and handing the IRA a propaganda triumph after he asked the BBC not to screen a programme on Ulster terrorism. Lady Thatcher demoted him to the Trade and Industry Department, where he was soon embroiled in the Westland battle.
After his resignation, Lord Brittan said: "I am bruised. But I am certainly not bowed. And I'm not looking back, nor in any state of nostalgia."
He bounced back by becoming a member of the European Commission in Brussels, where in a 10-year stint he was responsible for trade, competition, trade, financial services and external relations and became a vice-president. Inevitably, he was accused of "going native" by Tory Eurosceptics.
In Brussels, he appointed a young Nick Clegg as an aide, but failed in an attempt to recruit him to the Conservative Party. The Liberal Democrat leader said yesterday: "Leon was one of the most intelligent figures in modern British public life. His forensic understanding of detailed issues combined with his passionate belief in internationalism was evident to everyone. His courage in sticking up for his pro-European views, despite huge pressure to the contrary, never wavered. His intellectual curiosity about politics; the arts; history; and literature was encyclopaedic."
Jean-Claude Juncker, the Commission President, hailed Lord Brittan as an "inspiring leader" who helped to shape the EU. He said: "A man of strong beliefs, a convinced European, he was skilful in translating political principles into action. In a globalising world, he saw the importance of keeping the European continent open to the wider world. That is what he believed in, fought for and achieved."
Join our new commenting forum
Join thought-provoking conversations, follow other Independent readers and see their replies