'Rip-off railway': Government accused over runaway fares for packed and aged trains
Today's rise comes after weeks of disruption to rush-hour services and chaos over Christmas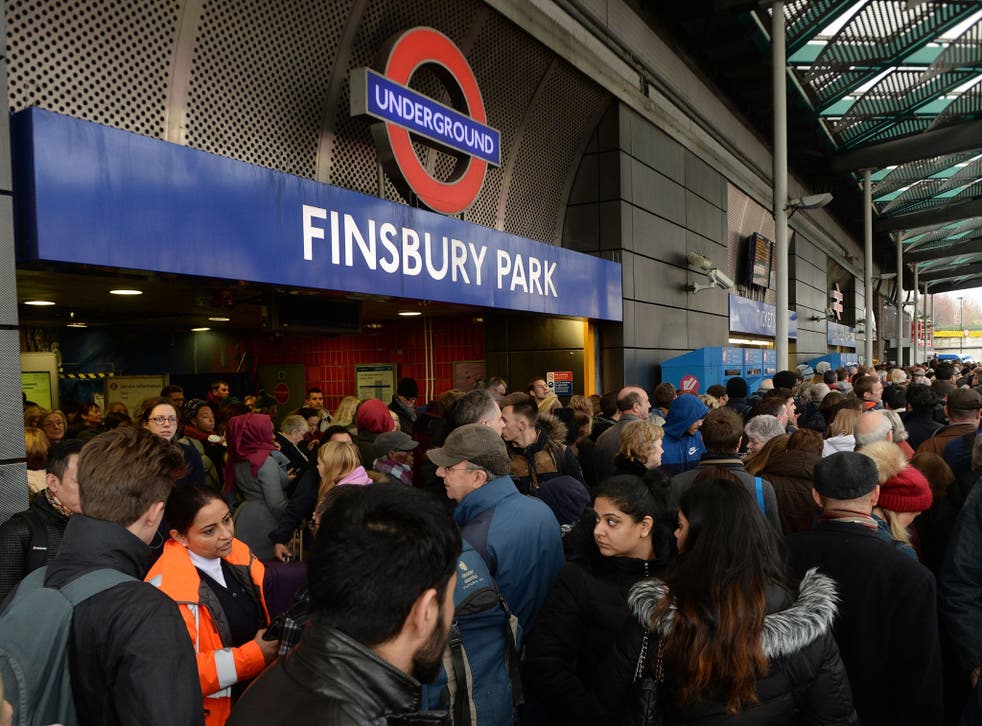 The Government has created a "rip-off railway" where fares have increased by nearly four times the rate of wages and passengers suffer overcrowding and outdated trains, Labour and campaigners warn today.
Commuters will see their travel costs rise by 2.5 per cent this morning, pushing some annual season tickets above £5,000, after weeks of disruption to rush-hour services and chaos over Christmas caused by over-running engineering works.
Rail companies and ministers insisted that the increase, which will push the rise in regulated fares this Parliament to more than 20 per cent, was the lowest annual rise for five years and necessary for investment in modernising Britain's railway, which is the fastest growing in Europe.
But the industry's critics said the tickets increases were hitting ordinary people hard with cumulative price rises of up to 26 per cent since 2010 when average wages have risen by less than seven per cent in the same period.
The TUC said British commuters were now spending more than twice as much of their salary on rail fares than many European passengers.
Michael Dugher, the shadow transport secretary, said: "David Cameron is presiding over a rip-off railway in Britain. He has failed to stand up for working people struggling with the cost-of-living crisis and has allowed the train companies to hit passengers with massive fare rises.
"Out-of-touch ministers talk about 'fair fares for comfortable commuting', but this is a world away from the reality for millions of hard up commuters."
Regulated fares, which include season tickets, will rise by 2.5 per cent - the Retail Price Index rate of inflation for July, when the annual rise is set. The average rise for all fares is 2.2 per cent.
Travel chaos around the UK

Show all 6
Figures produced by the Campaign for Better Transport show that some commuters are now paying nearly £1,000 more for their annual ticket than they were when the Coalition came to power five years ago.
Those commuting to London from Ashfield International in Kent will now pay £5,048 per annum, an increase of £910 since 2010, while an annual ticket to the capital from Milton Keynes will now cost £4,888 - a rise of £930.
It now costs someone who commutes daily from Peterborough to London the equivalent of 14 weeks of their net earnings to fund the £7,276 cost of their annual ticket.
Frances O'Grady, the TUC general secretary, said: "Rail fares are now consuming a huge proportion of people's wages, leaving precious little for other bread and butter expenses. On average, passengers are now paying £600 more for a season ticket and yet seeing no change in their pay packets."
The implementation of the previously-announced rises will put further pressure on rail industry leaders to provide value for money after an engineering works over-run last Saturday led to chaotic scenes.
The closure of London's King's Cross and Paddington stations, leading to "human gridlock" at Finsbury Park station in north London as thousands tried to board diverted trains, forced a grovelling apology from rail bosses. Mark Carne, chief executive of Network Rail, which is spending £38bn on improvements over five years, announced he would not be taking his annual bonus as a result of the chaos.
Campaigners said the formula for annual fare increases, which is set at RPI plus one per cent with the extra percentage currently frozen by Chancellor George Osborne, means the gap between fares and wages could increase further and the system needs drastic reform.
The Campaign for Better Transport wants the increase to be linked to the Consumer Price Index, which is generally lower than RPI, and measures such as flexible season tickets for part-time employees to be brought in rapidly.
Martin Abrams, public transport expert for pressure group, said: "Everyone who relies on the trains for work or leisure is looking for action to end the price hikes and get fares down. The Government should start by reforming the discredited way it calculates future commuter fares and get on with introducing part-time and flexible season tickets."
It was announced yesterday that train operators will have to tell passengers if they can get cheaper tickets when using computerised self-service machines.
An investigation by the Daily Telegraph found that the machines, which are used to buy around 40 per cent of all tickets, often promote the most expensive fares, make it hard to spot cheaper options and do not apply discounts. The result can be differences in prices of up to £100.
Rail minister Claire Perry said operators had agreed at an emergency summit to set their machines to direct passengers to a ticket office where there was likely to be a cheaper fare from March.
Transport secretary Patrick McLoughlin said: "We are investing in the biggest rail modernisation since the Victorian era and fares have a crucial role to play in funding these improvements.
"This is because building better infrastructure helps create jobs, building a stronger economy for us all."
Join our new commenting forum
Join thought-provoking conversations, follow other Independent readers and see their replies