Nigel Farage forced to cancel Rotherham ribbon-cutting ceremony for new office amid protests over child sex abuse 'rubber-necking'
Nigel Farage planned to cut the ribbon to declare the opening of a new office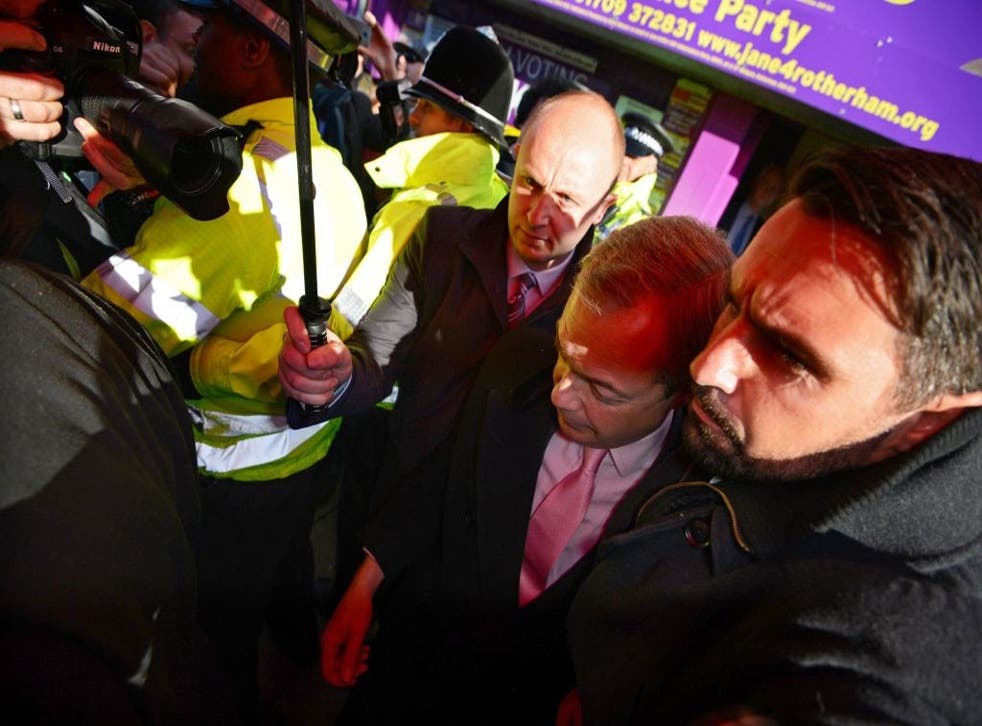 Ukip leader Nigel Farage abandoned a public appearance in Rotherham today and was escorted by police into a car for safety amid a protest and accusations of "rubber-necking" at child sex abuse victims.
He was due to cut the ribbon at the new campaign office for MP candidate Jane Collins – who is poised to challenge the Labour seat – but police told him not to exit the building, his team said.
Ukip's confusing policies

Show all 7
Mr Farage insisted he was the victim of "trade union-funded" bullying in the South Yorkshire town and a party spokesman claimed the group of around 40 protesters were "hard-line Socialist Workers".
A woman breastfeeding her child stood directly outside the Ukip office and demonstrators wore cardboard cut-outs that looked like breasts in protest to Mr Farage's comments that women should hide to breastfeed in public.
Many protesters were said to have been noisy, with most carrying placards saying "Reject Ukip lies", "Ukip not wanted here" and "grief vulture" while shouting that Mr Farage was not welcome.
Labour MP Sarah Champion, said his visit was to "rubber-neck" the victims after a damning report into mishandling of child sex abuse allegations saw the government take over the council's functions.
She wrote on Twitter: ".@daily_politics crew are now stuck in the UKIP shop as its surrounded by protesters at Farage coming to #Rotherham to rubberneck."
Mr Farage denied he was exploiting the cases of child sex abuse to stir up conflict, however he blamed society's ills on "divisions" that he believes are caused by multiculturalism.
"We're the one party that's warned consistently against division within society and multiculturalism and we've warned against it for years," he said.
"We want interculturalism. We've got different religions and faiths but we have to mix together and live under one law."
He and his party issued statements saying that the protesters were intent on "stifling democratic debate" by holding a protest and that Ukip are "trying to change [the town] for the better".
The statement said: "These protesters aren't the real people of Rotherham. This is the Labour Party running scared and trying to shut down any voice of opposition."
Ukip has 10 councillors in the town in order to gain one of its main target seats in the north of England.
Join our new commenting forum
Join thought-provoking conversations, follow other Independent readers and see their replies