Rupert Murdoch marches on
As Hunt is denounced in Commons for 'lying' over links with mogul and former chief executive charged with perverting justice, BSkyB scoops record £3bn TV deal on Premier League football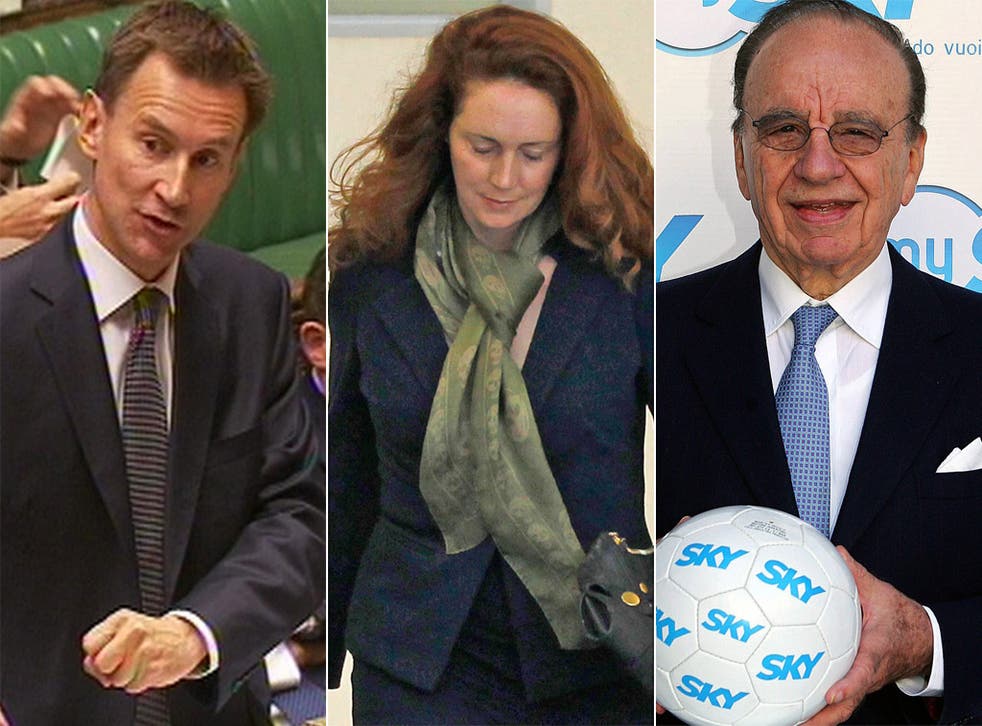 Rupert Murdoch yesterday brushed off the scandal besetting his media empire with a spectacular coup to maintain his grip on Britain's pay-TV market.
BSkyB, the television company in which Mr Murdoch's News Corp has a controlling stake, clinched a £3bn deal for the right to show the lion's share of top English football matches for another three years. It came on a dramatic day for the media mogul, with News Corp's aborted bid for full ownership of BSkyB continuing to make headlines.
The Culture Secretary, Jeremy Hunt, was accused of lying to the House of Commons over his handling of the proposed deal. And meanwhile, Rebekah Brooks, former chief executive of Mr Murdoch's News International, appeared in court to be told by a judge that she will have to stand trial on charges of conspiracy to pervert the course of justice, linked to the phone-hacking scandal.
But the huge BSkyB deal with the Premier League's 20 clubs, which will give Mr Murdoch the right to show 116 live matches per season, was hailed as a crucial strategic coup for the company. It was Mr Murdoch himself who, in 1996, described sport as the "battering ram" of his broadcasting ambitions. BSkyB chief executive Jeremy Darroch said last night that the deal meant "Sky Sports remains the home of Premier League football". There had been much speculation that BSkyB would lose a significant proportion of coverage, and sources indicated the company was "enormously pleased" with the outcome.
This continued dominance of the market comes at a price, however – the £3bn outlay is 70 per cent higher than the previous deal clinched with English football's top clubs three years ago. The broadcaster gained one match from the last deal of 115 games over three years, although it had to increase its outlay by 40 per cent from £1.62bn to £2.28bn.
The Premier League deal also sees the entry into the football broadcasting market of BT, which has bought the rights to 38 live games per season, which will be shown on a new multi-platform sports channel with interactive features.
The size of the price tag shocked even Premier League chief executive Peter Scudamore and the figures caused stunned laughter at a live press conference. "It would be wrong for me to say this isn't a surprise," said Mr Scudamore.
He credited the frenzy of worldwide interest generated by the astonishing climax of the last Premier League season, when Manchester City sensationally pipped rivals Manchester United to the title, as a factor in upping the ante in a "complicated" and sealed bidding process. "We couldn't have gone to market at a better time," he said.
The scale of the domestic rights deal raises the prospect of a further cash bonanza when the Premier League negotiates its next set of global broadcasting rights and Mr Scudamore said he suspected that club chairmen would be hoping for another 70 per cent increase in money.
Mr Scudamore expected Premier League clubs to spend the money wisely on stadiums and infrastructure rather than "just playing talent". Warning against overspending, he said: "We don't want clubs threatening or jeopardising their futures."
The Premier League chief said the additional £1bn of revenue would deliver "sustainability" to the game in a time of wider economic austerity. "I don't underestimate the position that puts us in compared with many other businesses right now," he said.
BSkyB won five of the seven packages and has the rights to show games on Saturday evenings, Sunday lunch-times, Sunday evenings and Monday evenings, allowing the satellite broadcaster to further develop its Monday Night Football brand. Mr Scudamore went out of his way to stress the importance of the Premier League's relationship with Mr Murdoch's company.
"The continuing support of BSkyB is significant beyond the revenues delivered; the longevity and quality of their commitment has done much for the English game as a whole. We are very happy to see this relationship maintained for another three seasons."
He commiserated with ESPN, which had broadcast Premier League games on Saturday evenings for the past three seasons and said the league would continue to work with the broadcaster in international markets.
BT sets up TV channel after spending spree
BT has seen Premier League football as important to its pay-TV service ever since its launch in 2006. Yet its move to spend £246m a season for exclusive rights for the first time shows how crucial the sport has become to attracting new customers.
The telecoms giant will set up a TV channel to focus primarily on football before the 2013-14 season starts, when its rights kick in. That channel will show 28 matches at 12.45pm on Saturdays and 10pm on mid-week evenings and bank holidays.
BT Vision currently has around 700,000 customers – a fraction of the millions that subscribe to Sky. The company has been disappointed that the availability of Sky Sports channels through BT packages hasn't brought in more customers, prompting it to secure its own matches. It is also exploring how it can show games over the internet to make the most of the deal with its six million broadband customers.
A company spokesman said it was too early to talk about pricing, but added that the football is likely to be available as an "add on" to existing packages and as part of deals bundled with other services.
Nick Clark
Join our new commenting forum
Join thought-provoking conversations, follow other Independent readers and see their replies