Ruthless David Cameron shuffles to the right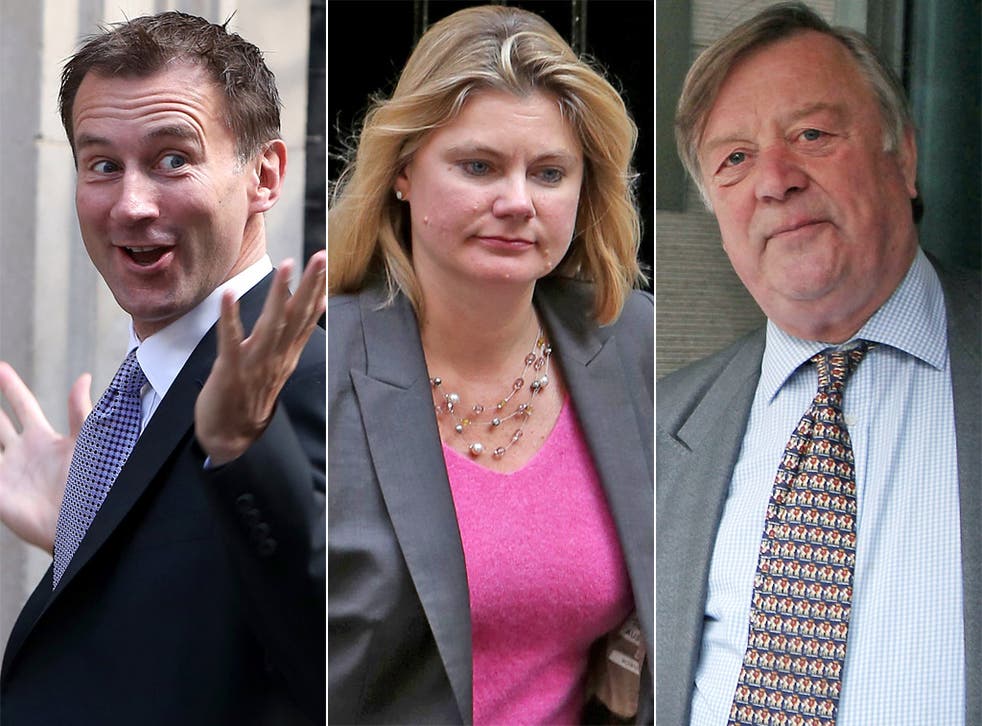 David Cameron shifted the balance of his Government to the right yesterday in his first major reshuffle as he promoted Tory traditionalists and moved to weaken the influence of the Liberal Democrats inside the Coalition.
Conservative MPs hailed what some called "an anti-Lib Dem reshuffle" as Mr Cameron bolstered his own position with his rebellious backbenchers and sought to give the Government's policies a tougher edge.
Right-wingers welcomed the appointment of Chris Grayling as Justice Secretary in place of the more liberal Kenneth Clarke, and Owen Paterson, a climate change sceptic, as Environment Secretary, a move which called into question Mr Cameron's pledge to head the "greenest government ever".
Mr Clarke was demoted to Minister without Portfolio, acting as a "wise head", but government sources denied he would take on an economic brief to dilute the power of the Chancellor, George Osborne. In an attempt to push Vince Cable into a more pro-business stance to boost growth, Michael Fallon, the deputy Tory chairman, was installed at the Business Department. Another "minder", right-winger John Hayes, was made No 2 at Energy and Climate Change, headed by the Liberal Democrats' Ed Davey.
The tilt to the right caused tension between the two Coalition partners. Although Mr Cameron discussed the reshuffle with Nick Clegg, the Deputy Prime Minister was powerless to halt the Tory appointments.
Last night, senior Liberal Democrats warned that they would, if necessary, veto hard-line policies proposed by the incoming ministers. They insisted the environment would also remain a top priority. One senior Liberal Democrat source said: "We are proud we are anchoring this Government in the centre ground and we will continue to do so. We are still governed by the Coalition Agreement. All decisions will still have to be joint decisions."
The Prime Minister paved the way for an eventual U-turn over plans for a third runway at Heathrow by ousting the Transport Secretary, Justine Greening, who opposed expansion at the airport as MP for Putney. She was demoted to International Development.
Mr Cameron tried to exploit the Olympics "feelgood factor" by making Paul Deighton, chief executive of the organising committee, Locog, a peer and Treasury minister with a brief to transform the nation's infrastructure and drive growth.
The Prime Minister did not always get his own way. Iain Duncan Smith refused to leave the Department of Work and Pensions, where he wants to fight Mr Osborne's plans for £10bn of further cuts in welfare spending.
Andrew Lansley paid the price for failing to "sell" his NHS reforms, with a demotion to Leader of the Commons. Jeremy Hunt was promoted to Health Secretary, a remarkable comeback after he almost lost his Culture post this spring over his close links with Rupert Murdoch's empire.
The Prime Minister's pre-election pledge that a third of his Government would be women looked a long way off as he sacked Caroline Spelman and Cheryl Gillan and ousted Baroness Warsi as Tory chairman against her wishes. She was replaced by Grant Shapps and taken on as a "senior minister" at the Foreign Office, and put in charge of faith and communities.
Mr Cameron answered criticism that his shake-up was "anti-women" by appointing rising backbench stars who entered the Commons in 2010 as junior ministers – Liz Truss (Education), Anna Soubry (Health), Esther McVey (Work and Pensions) and Helen Grant (Justice). Two close allies of Mr Osborne in the "class of 2010," Matthew Hancock and Sajid Javid, were also made junior ministers.
Among the Liberal Democrat changes, David Laws, who resigned as Chief Treasury Secretary in 2010 over his parliamentary expenses, returned as an Education minister with a roving brief including drawing up an alternative to the Trident nuclear missile system. Norman Lamb was promoted to No 2 at Health; Jeremy Browne moved to the Home Office and Jo Swinson was promoted to the Business Department.
Mr Grayling's arrival at the Ministry of Justice signals a more hard-line approach to law and order. His predecessor Mr Clarke, had championed a "rehabilitation revolution" in an effort to reduce prison numbers.
Mr Clarke's departure removes a key roadblock to replacing the Human Rights Act with a British Bill of Rights, which was strongly resisted by the former Justice Secretary, but widely supported by senior Conservatives.
The Home Office suffered a shock departure as Nick Herbert, who had been tipped for elevation to the Cabinet, resigned as Policing minister.
He explained that he was stepping down to "focus on new ideas and protecting countryside". Tory sources said he had quit after failing to secure promotion. Mr Herbert is being replaced by Damian Green, the former Immigration minister, who now faces the challenge of steering through elections in November for the new police and crime commissioners.
Shuffling the pack: Tense day in No 10 sees the return of the Tory right
Health
Jeremy Hunt's Cabinet days had looked numbered because of his links to Rupert Murdoch. His eye-catching promotion at Andrew Lansley's expense signals the PM's confidence he will escape censure by Leveson. Will be required to make the case for NHS reforms. Faces questions about his support for homeopathy.
Leader of the Commons
Andrew Lansley pays the price for failing to communicate his NHS reforms to the public and fellow ministers. Once said health was the only job he wanted, but was persuaded to accept an embarrassing demotion. Saved from exile to the backbenches by the PM's loyalty, he replaces Sir George Young.
Justice
Bitterly disappointed at not making the Cabinet earlier, the previously accident-prone Chris Grayling is rewarded for his performance as Employment minister. His arrival will delight the Tory Right who have pressed for a more punitive approach to crime and punishment than under the outgoing Ken Clarke.
Tory chair
Baroness Warsi is axed and the hyperactive former Housing minister Grant Shapps joins the Cabinet, with the job of raising Tory morale and differentiating the party from its Lib Dem partners. He will become a familiar voice and face. Expect to hear a lot about his state-school, self-made credentials and his Clash guitarist cousin Mick Jones.
Chief whip
Andrew Mitchell is handed perhaps the most difficult task: taming fractious Tory MPs who were in the habit of rebelling under the out-going Patrick McLoughlin. The fourth generation of his family in Parliament, Mitchell acquired the nickname "Thrasher" as head boy at Rugby School. He is on the Right of the party.
Transport
The least-known of the senior Tories due to his long spell in the Whips' Office, Patrick McLoughlin stands out among Cameroons because of his past as a miner. His promotion indicates that expanding Heathrow (opposed by the ousted Justine Greening) is back on the agenda. Less clear is how he will over-come his fear of flying.
Development
Justine Greening must be miffed at her demotion after just 10 months, sent to International Development to replace Andrew Mitchell. She was desperate to hang on and appears to have been punished for her outspoken opposition to a third runway at Heathrow, which earned George Osborne's disapproval.
Environment
Owen Paterson's arrival, replacing the ineffectual Caroline Spelman, will send shivers through the green lobby: he is sceptical about climate change and has campaigned against wind farms. Paterson is a key ally of Iain Duncan Smith, sharing his vehement Euroscepticism, and his promotion from Northern Ireland boosts the Right.
Northern Ireland
One of two new women in the Cabinet, t he bicycling former Transport Minister Theresa Villiers heads for Belfast, replacing Owen Paterson. Cameron is a long-standing supporter, appointing her to his first Shadow Cabinet team just six months after her election as an MP.
Culture
Maria Miller is regarded in No 10 as a high-flyer who handled her previous brief, as minister for the Disabled, with skill, although protesters disagree. She will inherit Jeremy Hunt's busy in-tray, dealing with the aftermath of Leveson, ensuring the Olympics legacy, and taking charge of the equalities agenda.
The other movers...
Was it the mother of all reshuffles? Probably not, but that didn't stop Mumsnet joining in the fun. Sarah Teather had been due to answer questions on the parenting portal in her job as Minister for Children and Families, but shortly beforehand the website tweeted: "Sarah Teather webchat cancelled unfortunately – guess she's been reshuffled."
Moving in the opposite direction was her Liberal Democrat colleague David Laws, returning to the Cabinet as Education Minister having sensationally resigned only 17 days into his post as Chief Secretary to the Treasury in 2010 in the wake of expenses revelations.
The announcement of Simon Burns as Transport Minister provoked some dry humour when journalists realised that he was fined in 2009 for dangerous driving after he broke a cyclist's neck by knocking him over.
On a bad day for the Cabinet's female contingent, Cheryl Gillan also lost her job as Welsh Secretary to the Clwyd West MP, David Jones. Though Ms Gillan was born in Wales, her Buckinghamshire seat has caused some unhappiness in the province.
There was better news for Liz Truss, however, who joined the Department for Education as Early Years Minister.
Michael Fabricant hinted on Twitter that the reshuffle had been a chaotic affair: "Even though I have quit (cleared my desk today), I shall be on front bench between 5 and 6pm as no one yet appointed to replace me. A hoot."
Rob Hastings
Join our new commenting forum
Join thought-provoking conversations, follow other Independent readers and see their replies