Scotland would vote for independence in a second referendum, new poll finds
The STV/Ipsos MORI poll gives the 'Yes' camp a nine-point lead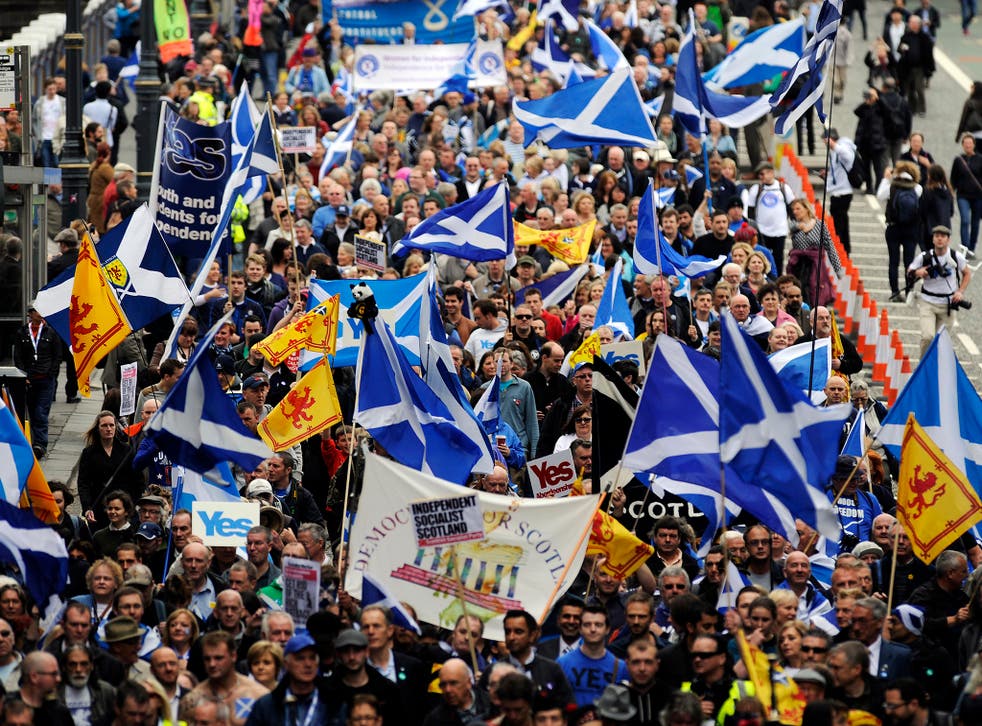 Scotland would vote for independence if a second referendum on leaving the UK was held tomorrow, according to a new poll.
The Ipsos MORI poll for the STV channel found that a would-be 'Yes' campaign would have a nine-point lead over the 'No' camp.
53 per cent of Scottish voters would vote 'Yes' while 44 per cent would vote 'No', with three per cent undecided which way they would vote, the survey suggests.
This poll marks the first lead for leading the UK since the last referendum.
Half of those surveyed said they would like to see another referendum in the next five years, while 58 per cent said they would be in favour of another vote being held within ten years.
The poll is thought to be the first to show a majority for independence among all those questioned. It was described as "pretty all-round sensational" by SNP leader Nicola Sturgeon.
The results of the survey may increase the pressure on Ms Sturgeon to include the promise of a second referendum in the SNP's manifesto for next year's elections. She has previously said that another vote would only be held if there was a "material change" in the country's circumstances.
Derek Mackay, the party's Business Convener, said: "We warned the Tories that support for independence would only grow if they continued to ignore Scotland's voice – and this poll proves that, as people question Westminster's ability to represent Scotland's interests at all."
The findings come the day after the Scottish Government announced its programme for the final year of parliamentary time before the 2016 Scottish Parliament elections.
Ms Sturgeon announced a number of new policies including new rent controls for areas where housing costs are rising fast.
Some polls during the Scottish Independence referendum campaign suggested that the 'Yes' side might triumph, though it ultimately lost by 45 per cent to 55 per cent in favour of staying in the UK.
Scotland goes to the polls

Show all 20
The SNP won a landslide victory at the UK general election in May where it gained all but three of the 59 Scottish constituencies.
Polls suggest the nationalists also currently have a huge lead in the Holyrood elections set to take place next year.
Join our new commenting forum
Join thought-provoking conversations, follow other Independent readers and see their replies