Scottish independence: Poll finds English and Welsh are 'backing Union'
68 per cent of those polled in England and 59 per cent in Wales were opposed to an independent Scotland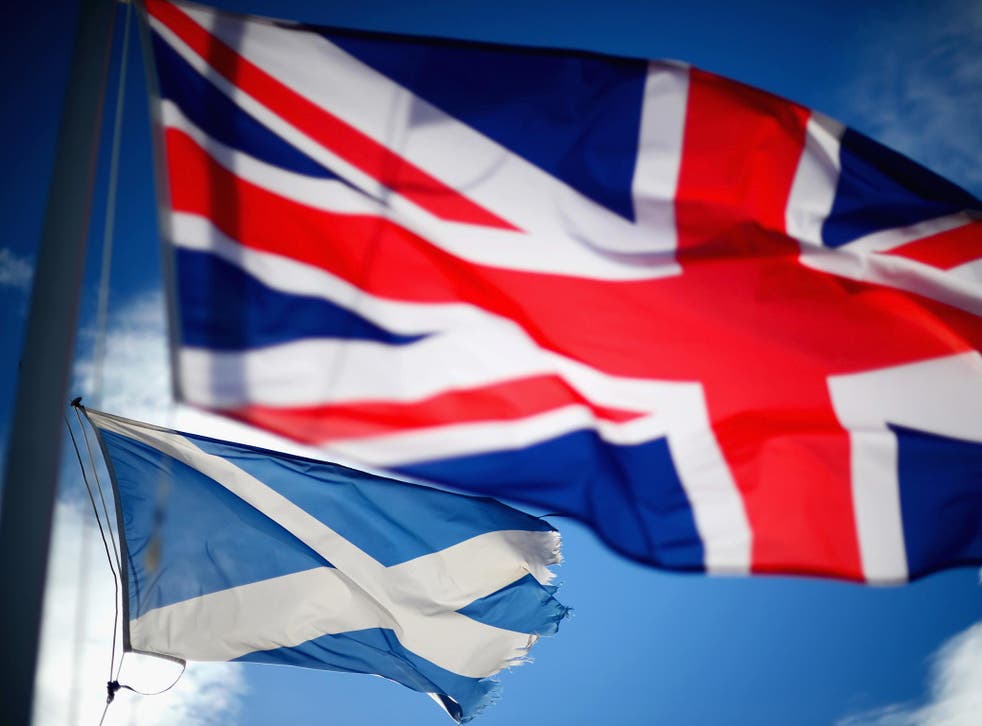 The majority of English and Welsh want Scotland to remain part of the United Kingdom, a new poll suggests.
The Financial Times poll found that 55 per cent of those who expressed a strong preference want Scotland to stay while 15 per cent support a split.
The other 30 per cent had no strong opinion.
It comes after US president Barack Obama declared that the United Kingdom appears to have "worked pretty well", as he said America's interest in the Scottish referendum issue was to ensure it retained a "strong, robust, united and effective ally".
The poll by Populus also found that those south of the border were opposed to a currency union, which has been ruled out by Chancellor George Osborne if Scotland were to become independent.
More than two thirds (68 per cent) of those polled in England and 59 per cent in Wales were opposed to an independent Scotland continuing to use sterling while retaining the Bank of England as its central bank and lender of last resort.
Many said that an arrangement like that would involve the rest of the UK picking up some of the bill for a bail out if an independent Scotland were to suffer a financial crisis.
More than 6000 people across Scotland, England and Wales were questioned in the poll.
It found that around two-thirds of people across all three nations expect the Scots to vote No in the independence referendum which takes place on 18 September.
Looking to the future the poll found that half of Scots thought that in five years time the country would regret a Yes vote.
In England almost eight in 10 (79 per cent) thought Scots would regret splitting from the UK, the Financial Times reported.
Speaking on behalf of Better Together, Edinburgh South Labour MP and shadow business minister Ian Murray said: "It is encouraging that so many people living elsewhere in the UK want to keep our family of nations together.
"This poll also adds to the overwhelming body of evidence that people living elsewhere in the UK do not support a currency union. It has been ruled out by the Chancellor, Prime Minister, shadow chancellor, Chief Secretary to the Treasury and the Permanent Secretary of the Treasury. Experts have said it wouldn't be good for Scotland or the rest of the UK. Now we know the people living elsewhere in the UK oppose it too.
"Continuing to use the pound is not just Alex Salmond's decision and these results show he needs a plan B for what would replace the Pound. Telling us everybody else is wrong and he alone is right isn't good enough."
A spokesman for John Swinney said: "On the issue of independence, this poll puts support among Scots for becoming an independent country at 46 per cent once don't knows are excluded - putting us within touching distance of a Yes vote.
"After independence, Scotland and the rest of the UK will remain the best of friends and closest allies.
"On currency, another poll conducted in the rest of the UK found that 71 per cent of people supported sharing the pound in a currency union with an independent Scotland.
"However, the question asked here failed to mention any of the mutual benefits of a currency union and was clearly designed to paint a currency union in the most negative light possible.
"Despite this, a clear majority of people in Scotland support keeping the pound as an independent country - which would also give Scotland control of 100 per cent of Scotland's revenues.
"An independent Scotland will keep the pound - and we now know that 'of course' there will be a currency union, thanks to the unnamed UK Government Minister recently caught telling the truth.
"That is a position widely backed by expert opinion, including Professor Leslie Young, who has recently described Westminster's public position as 'untenable', 'illogical' and 'farcical'."
PA
Join our new commenting forum
Join thought-provoking conversations, follow other Independent readers and see their replies