Scottish independence poll: Support for Alex Salmond's bid slips
Backing for a Yes vote in September's referendum has fallen to 35% according to a YouGov survey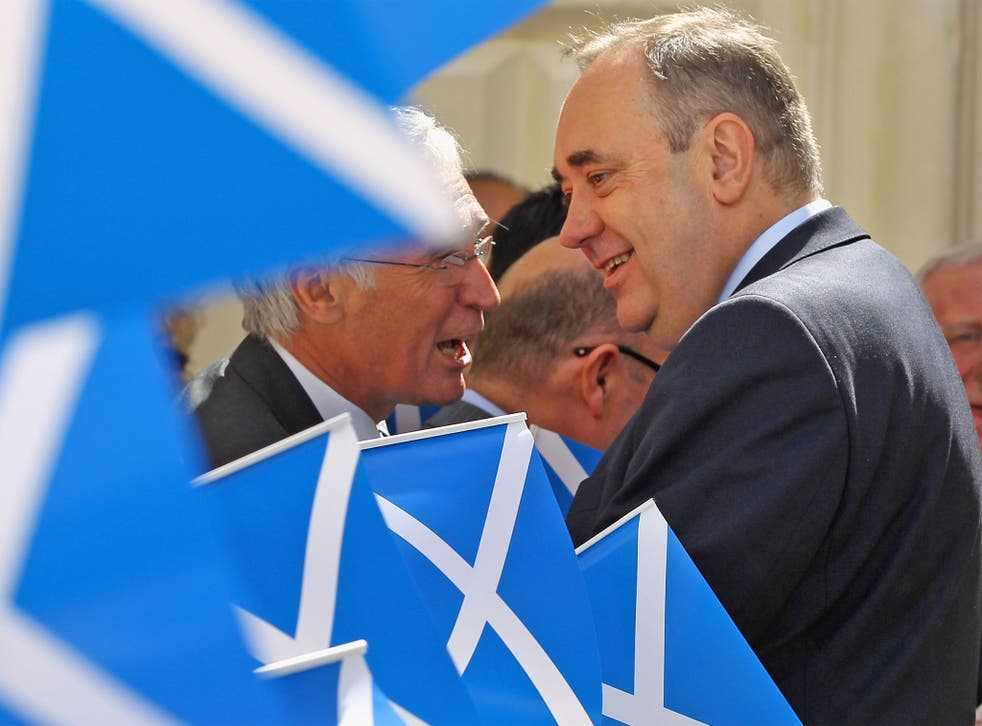 Support for Alex Salmond's bid for Scottish independence appears to be slipping, the results of a new opinion poll have suggested.
A YouGov poll for The Times says backing for a Yes vote in the 18 September referendum has fallen to 35 per cent, while 54 per cent said they would vote No if the referendum was held tomorrow.
About 12 per cent said they were undecided or did not intend to vote.
Only 27 per cent thought Scotland would be economically better off as an independent country, while 49 per cent believed it would be worse off. Forty three per cent believed they personally would be financially worse off if Scotland became independent.
The results represent a slight decrease in support for independence, and a slight increase in backing for a No vote compared with the last YouGov poll for the newspaper in March.
A poll conducted by recruitment firm Interim Partners also found an overwhelmingly negative view on Scottish independence among business executives, with 89 per cent reporting fears it would hurt UK business and job prospects and lead to uncertainty and a fall in business investment.
Scottish Independence: For and against

Show all 24
Commenting on the results, Better Together campaign director Blair McDougall said: "This poll is a major setback to Alex Salmond's negative and divisive campaign.
"The more people think about the consequences of breaking up the UK for jobs, pensions and public services, the more they are saying No Thanks to separation."
But a spokesperson for the Yes Scotland campaign said three other polls have seen a "significant increase" in backing for independence, adding: "Of course, the polls will fluctuate from time to time, but we believe our positive message will be successful in September."
The results come after JK Rowling most recently lent her support to the Better Together campaign.
The Harry Potter author donated £1million to the group campaigning for Scotland to stay in the United Kingdom, saying the more she listened to the Yes campaign, the more she worried it "preferred the grand 'up yours' gesture" to considering what it "might be doing to the prospects of future generations."
Rowling said that despite being "bombarded with contradictory figures and forecasts/warnings of catastrophe/promises of Utopia", she feared Salmond has underestimated the long term effect of the ageing population on the economy.
She also compared a portion of Scottish nationalists to Death Eaters, fictional characters from the Harry Potter series.
YouGov interviewed 1,206 Scottish adults between 25 and 29 June.
Join our new commenting forum
Join thought-provoking conversations, follow other Independent readers and see their replies