Seven Army barracks hit as soldiers move into 'clusters' - but Scotland complains of broken promises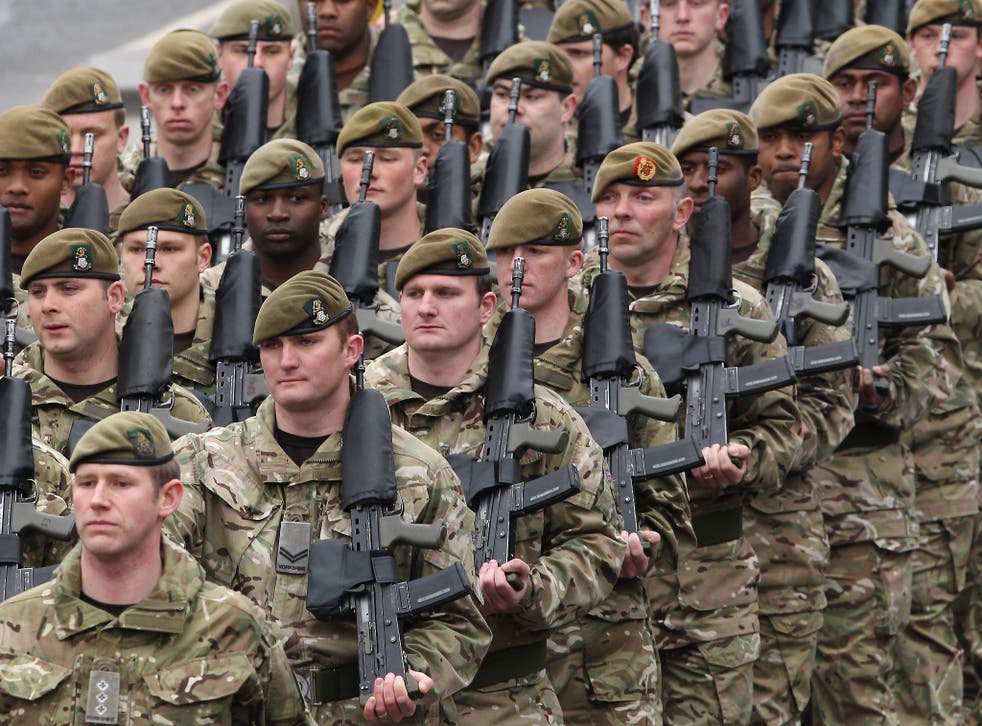 A major military restructuring programme announced today will mean that four barracks across the country are closed and three others shrunk - leading to accusations that Scotland in particular will suffer in the process.
The move takes place to provide accommodation for up to 15,500 troops and their famillies being relocated from Germany. Defence Secretary Philip Hammond insisted that despite a capital outlay of almost £1.8billion pounds the strategy will, in time, lead to savings of £240millon a year.
The troops returning from what was the British Army on the Rhine will be placed in clusters around Salisbury Plain, Edinburgh and Leuchars, Catterick, Aldershot, Colchester, Stafford and the East Midlands.
Under the drawdown plan from Germany around 11,000 will return home by 2016 and the remaining 4,500 troops will be back by 2019, a year earlier than planned.
Up to £1billion of funding will be go towards 1,900 new houses for service families and accommodation for 7,800 single soldiers with another £800 million will be spent on infrastructure and refurbishment of bases. Mr Hammond stated that this significant cash injection will boost the economy, rejuvenating areas in need of investment.
The Defence Secretary acknowledged that far fewer of the forces coming back will be based in Scotland than had been expected. But he maintained that north of the border would still have "a little bit more than its fair share" of military personnel based on the size of its population.
Labour defence spokesman Jim Murphy accused Mr Hammond of reneging on a promise to base more troops in Scotland. He said: "There will be real disappointment at the closures across the UK where historic bonds are now being broken. The armed forces remain crucial to Scotland's future the Government has reneged on its promise.
"While there is positive news of the return of the Royal Scots Dragoon Guards and the Royal Marines staying in Arbroath, a previous pledge of thousands more troops to Scotland has become a plan for just hundreds. It is a real blow to Scotland and will not be forgotten."
The bases being sold off are Claro Barracks, Ripon, North Yorkshire; Howe Barracks, Canterbury;Craigiehall Barracks in Edinburgh; Cawdor Barracks in Brawdy, Pembrokeshire and parts of Redford Barracks, Edinburgh; Forthside Barracks, Stirling; and Copthorne Barracks, Shrewsbury.
Mr Hammond stressed the base closers have been largely necessitated by the cut in the size of the Army. He said:"Of course, we are very sensitive to the fact that many of our military units have very close connections with the communities they have often been embedded with for long periods of time. There will be significant regret at the loss of those connections. There will be some loss of civilian jobs. That is inevitable when you reduce the size of the Army."
General Sir Peter Wall, the head of the Army, said the move had been long overdue. "The plan provides an excellent springboard for operations and it affords welcome certainty over where people will live," he said.
More than 30,000 British army family members in Germany
Tony Paterson in Berlin
There are 16,000 British army troops still based in Germany. Under the government's current plan, 70 percent of them will have returned to the United Kingdom by 2015 with the remaining 4,300 going back by the end of 2019 – one year earlier than originally planned.
British forces are stationed in the west German States of North Rhine-Westphalia and Lower Saxony in the towns of Herford where the headquarters of the Ist Armoured dvision is based. There are Brtish garrisons in the towns of Gütersloh, Hohne, Paderborn and at the Rhinedahlen military complex near the city of Mönchengladbach.
There are over 30,000 British army family members in Germany. Their presence is estimated to contribute some 1.5 billion Euros to the German economy each year. The mayors of Germany's British garrison towns, where the army established bases in 1945, say they deeply regret the troop withdrawal.
Worst hit by the draw down are expected to be the towns of Paderborn, where some 10,000 British troops and their dependants are based and Herford which is home to 2,200 soldiers and their families.
Also severely affected will be the Rhinedahlen military complex, a miniature army town, which was built to accommodate 7,000 troops. It is scheduled to close by the end of 2017.
Join our new commenting forum
Join thought-provoking conversations, follow other Independent readers and see their replies