Tory MP accused of adding swastika graffiti to his own election placard to get sympathy
Simon Hart yet to account for appearance of Nazi symbols on sign alleged to have been in his possession since 2017 election
Harry Cockburn
Friday 29 November 2019 19:57 Comments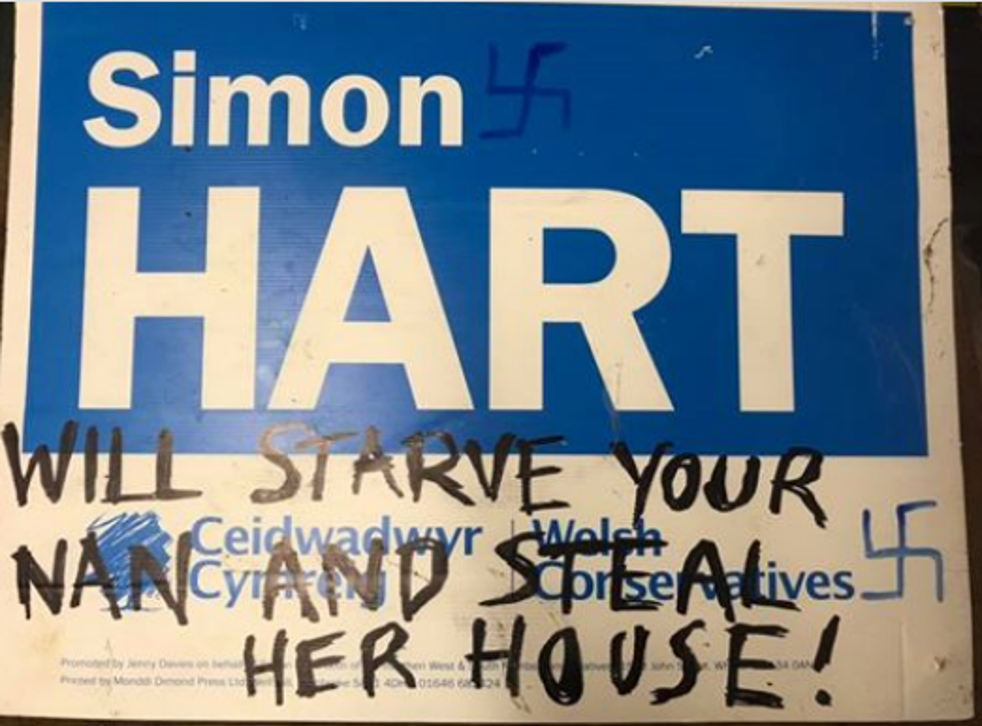 A Conservative parliamentary candidate has been asked to explain the addition of two swastikas to campaign placards which were apparently defaced in 2017, and were photographed at the time but did not feature any such Nazi insignia.
In June 2017, during that year's election campaign, Simon Hart, the Conservative parliamentary candidate for Carmarthen West and South Pembrokeshire, who has represented the constituency since 2010, uploaded a photograph to Twitter of one of his campaign placards.
It appeared to have been vandalised so that after the words "Simon Hart" a scrawled message in black marker pen added: "WILL STARVE YOUR NAN AND STEAL HER HOUSE!"
The image generated some sympathy for Mr Hart, and was used in a subsequent article published by WalesOnline, about the abuse MPs including Mr Hart suffered during the election.
Local press claim Mr Hart has used the incident as a campaigning platform since 2017.
But Mr Hart is now under pressure to explain why a new picture of the exact same campaign placard, uploaded on 3 November to Facebook, now shows the sign with two blue hand-drawn swastikas which were not previously there.
The shadow secretary of state for Wales, Christina Rees, has put out a statement describing the situation as being "as sinister as it is baffling".
"It is clear that the images posted by Simon Hart have been further defaced since 2017, with Nazi insignia added," she said in a statement posted to Twitter.
"It raises a multitude of questions for the Tory high command and for the relevant authorities.
"But I have one simple question for Simon Hart, one that requires answering immediately – did you deface your own signs with swastikas for personal electoral gain?
"If not, explain how they came to be there. Because right now there appears to be no other rational explanation."
The Pembrokeshire Herald, which has today published a double-page spread on the circumstances of the mysterious materialisation of the Nazi symbols, notes the Tory candidate has "flatly refused to publicly respond to speculation over who daubed swastikas on his campaign material".
The paper also states the placard in question has been in Mr Hart's possession since the last election.
The Independent contacted Mr Hart's office for comment, but was told he was out canvassing ahead of next month's election.
Register for free to continue reading
Registration is a free and easy way to support our truly independent journalism
By registering, you will also enjoy limited access to Premium articles, exclusive newsletters, commenting, and virtual events with our leading journalists
Already have an account? sign in
Join our new commenting forum
Join thought-provoking conversations, follow other Independent readers and see their replies