Sotheby's cleaners banned from work after protest asking for better sick pay
Workers were asked to hand back their passes after attending the protest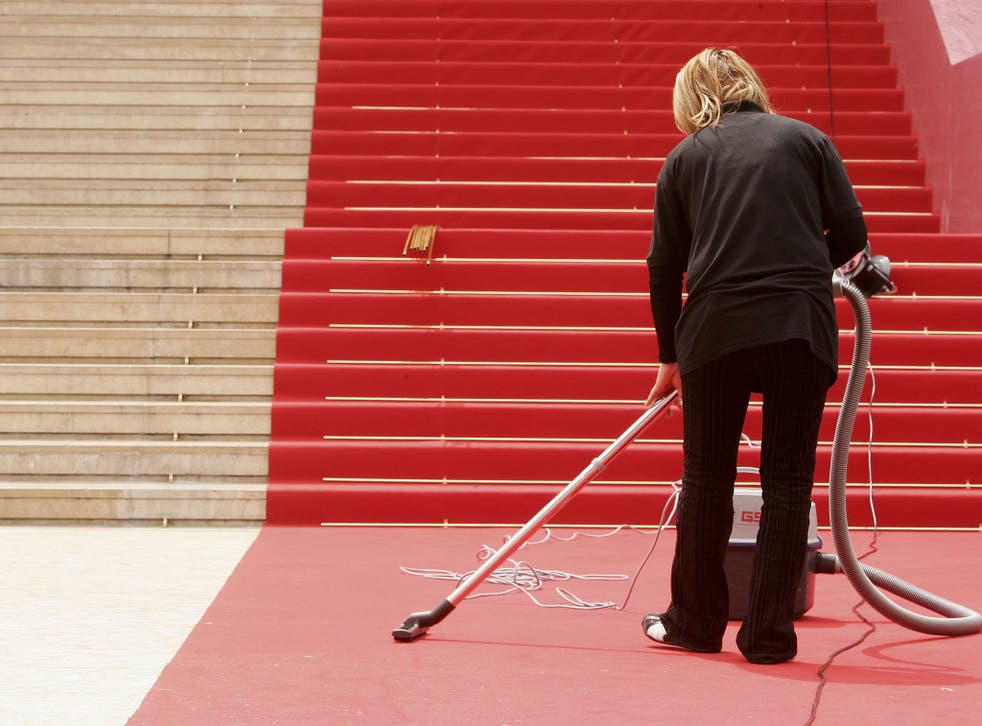 Cleaners at Sotheby's have been barred from working at the auction house after they staged a protest asking for better sick pay terms in their contracts with their employer Servest.
Workers and supporters staged a demonstration outside the auctioneer on Bond Street last night as it played host to the sale of multi-million pound contemporary art pieces by artists Andy Warhol and Francis Bacon.
The Antiques Trade Gazette publication, which attended the auction, said around 100 people were at the protest, which was loud but peaceful.
But this morning United Voices of the World (UVW), the independent trade union that organises the workers, said all four cleaners who attended last night's demonstration were denied entry to work.
Petros Elia, the union's general secretary, told the Independent that a representative of Servest, Sotheby's' cleaning contractor, which employs the cleaners, had stopped the workers at the door.
"He stopped them at the entrance and said 'give me your passes, you're no longer welcome at Sotheby's – we've been instructed by Sotheby's to not allow you on site'
"Our argument is that Sotheby's is massively, extremely wealthy company. Contractual sick-pay is not a crazy thing," Mr Elia said.
All UK workers are entitled to at least statutory sick pay of £88.45 a week, only taking effect after four 'waiting days'. The cleaners are asking for contractual sick-pay with better conditions from their employer Servest.
In February a campaign by the workers won an increase in the living wage.
Sotheby's said the workers had been "suspended" and not sacked. A spokesperson for Sotheby's claimed that protesters had attempted to assault people attending the auction, a claim denied by the union and not reported in trade press accounts of the evening.
"Sotheby's cleaners have not been sacked. Four Sotheby's cleaners who participated in a 1 July 2015 protest in which demonstrators attempted to assault clients have been suspended.
"The contract between Servest and Sotheby's cleaners clearly states that those employed on Sotheby's premises shall have appropriate qualifications and competences.
"Sotheby's retains the right to restrict access to protect clients and property from cleaners participating in inappropriate behaviour."
UVW says the contractor Servest had previously written to staff warning them that demonstrating would be regarded as misconduct.
Most expensive artworks sold at auction

Show all 16
"They wrote to all the cleaners and porters and said if you protest it will be considered misconduct and it will be addressed accordingly," Mr Elia said.
"Last week Servest called them into a meeting and they said 'Sothebys may not welcome you back onsite'. We never presumed that they would stoop so shamelessly low, and do what they've just done, which is outrageous."
Recent surges in art prices have led to increases in Sotheby's profits and share prices in the first part of 2015. The firm had a net income of £3.3m in the first quarter of the year, according to financial news service Bloomberg.
In a press statement issued in response to enquiries about this story, Sotheby's said it was "among a very small number of companies who pay their cleaning contractors the London Living Wage" and that Servest, "in line with industry practice, provides Statutory Sick Pay for its employees".
The contractor Servest was contacted for comment on this story but did not immediately issue a response.
Join our new commenting forum
Join thought-provoking conversations, follow other Independent readers and see their replies