Storm Desmond: David Cameron promises to provide more funding for flood-hit councils
More than 45 severe flood warnings, where there was a danger to life, remains in place across the North West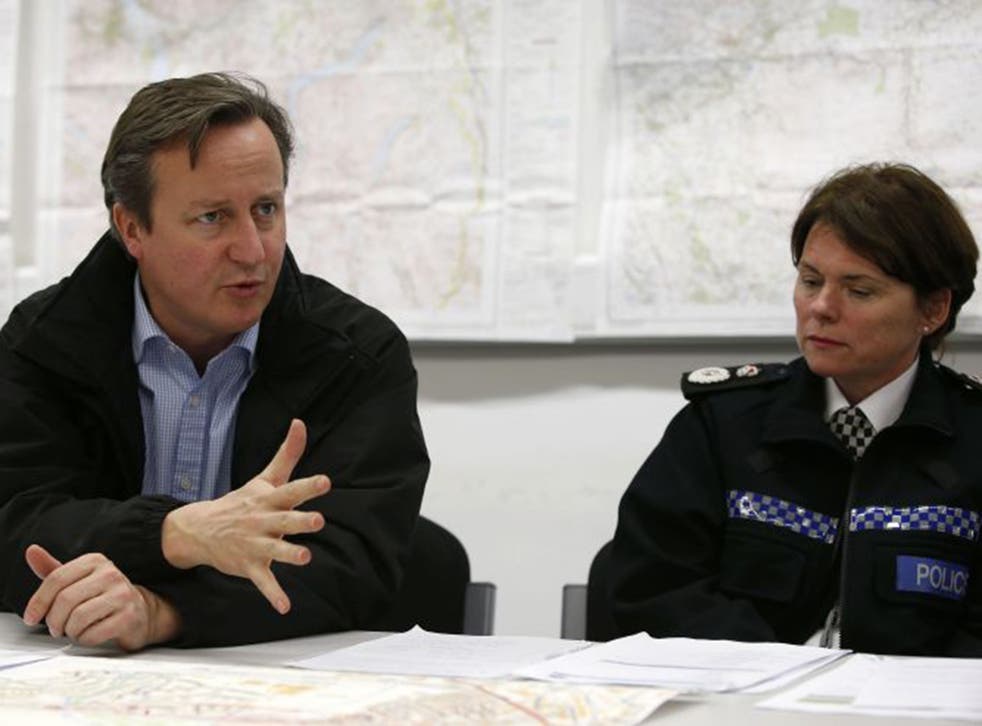 David Cameron travelled to Carlisle to meet families affected by the floods amid mounting criticism that the town's flood defences failed keep the deluge from people's homes.
The Prime Minister has promised to fully reimburse councils for the costs of dealing with flooding and said there are some levels of rainfall that are "extremely hard" to protect against. After inspecting the flood defences, he said: "It's an absolutely horrific thing to happen. For many of these people, it is not the first time, which is why we built these great barriers here, which have prevented Carlisle from being flooded on two other occasions. But they weren't enough this time. It really was torrential."
His visit came after the Environment Agency said Storm Desmond saw parts of Cumbria hit by record 34.1cm of rain in just 24 hours – more than a month's rainfall.
Mr Cameron arrived in Cumbria after chairing a meeting of the Cobra emergency response committee in Whitehall. He said: "We should sit down again with the Environment Agency and look at the flood schemes that have been built, look at the ones that are planned... and ask what can we do, what's in the plan for the future and how does that need to change."
More than 45 severe flood warnings, where there was a danger to life, remains in place across the North West. Around 2,000 homes and businesses in the county were flooded and almost 60,000 homes in the county were left without power throughout 5 November as the floods damaged power substations and caused electrical faults.
An underwater search team recovered a body found in Kendal in Cumbria after reports that an elderly man had fallen into the River Kent on the morning of 5 November.
Electricity North West said that around 2,600 properties in Cumbria remained without power on the morning of 6 November because of 11 separate faults caused by flooding. In Carlisle, the Army was sent to help support emergency services evacuating people from their homes in streets where cars were almost entirely submerged. Around 40 schools remained closed, while the disruption led to the cancellation of appointments and routine business across NHS hospitals and services.
Environment Secretary Liz Truss was also setting out details of the response from the Government, which has already committed to a £2.3bn programme of flood defences over six years, in an oral statement to the House of Commons.
Storm Desmond in pictures

Show all 12
"We constantly review the way we look at the way we invest in flood defences," she said. "My view is it's really important that we remain fair to people right across the country, and the people of Cumbria understand why those decisions are being made and get the proper protection that they deserve."
Cumbria County Council leader Stewart Young has called for an investigation into the county's flood defences after £45m was invested since catastrophic floods in 2005.
An appeal by Cumbria Community Foundation to raise £1m to support vulnerable individuals and families affected by the floods is under way and has already raised more than £260,000.
Extreme weather conditions in the north of England were "extraordinary", according to the Met Office's chief scientist. Dame Julia Slingo said the weekend weather broke records going back to the 1800s, and added that "all the evidence points to climate change" playing a part in the downpours.
Join our new commenting forum
Join thought-provoking conversations, follow other Independent readers and see their replies