Syria drone strike was probably legal but the public will never know, experts say
The Prime Minister said the killings were 'entirely lawful' because of the threat to the UK but the intelligence founding that claim will not be revealed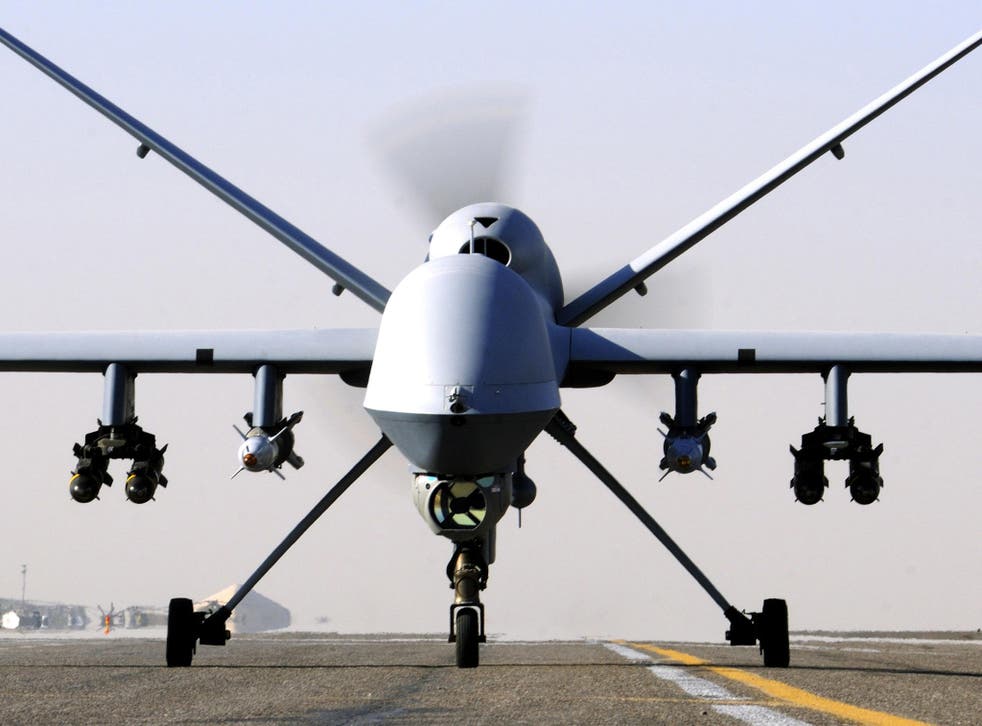 Britain's former reviewer of terrorism legislation has said the targeted killing of two British Isis militants in Syria was legal as human rights groups demand to see evidence that justifies their deaths.
David Cameron is under pressure to provide more information on the legal basis for the drone attack on Reyaad Khan and Ruhul Amin after shocking Parliament by announcing their deaths on Monday.
The Attorney General was consulted and said there was a "clear legal basis for action in international law", the Prime Minister said, adding that Khan was involved in foiled plots "to attack high profile public commemorations" in the UK.
Lord Carlile, a High Court judge and Liberal Democrat peer, told The Independent the RAF strike was justified under Article 51 of the Charter of the United Nations, which protects members' right to self-defence.
"Self-defence means the defence of the nationals of one's country, its assets, and the protection of other people connected to it," he added.
The strike on 21 August was the RAF's first targeted drone attack on a British citizen and Lord Carlile said it set a new precedent for British military action, with the Defence Secretary saying that the Government "wouldn't hesitate" to do the same again.
The operation, which did not have Parliamentary approval, has sparked criticism from several human rights and campaign groups, including the legal charity Reprieve.
Kat Craig, its legal director for abuses in counter-terrorism team, said the UK was in danger of repeating the "failed US model of secret strikes" in Yemen and Pakistan.
"The fact that David Cameron has bypassed Parliament to commit these covert strikes is deeply worrying – as is his refusal to share what legal advice he was given," she added.
"On a decision of this importance, it's not enough for the Prime Minister just to assert he was advised it was legal – Parliament and the public need to see that advice."
Amnesty International UK described the deaths as "summary killings from the sky (that) crossed a line", while the former Attorney General, Dominic Grieve, was also critical and described the killing as a "very draconian thing to do".
"I strongly suspect it will lead to a legal challenge," he told BBC Radio 4.
Lord Carlile, who was appointed as Britain's Independent Reviewer of Terrorism Legislation hours before the New York attacks on September 11 2001 and held the post for almost a decade, said he was "prepared to trust the assurances" of Michael Fallon and Mr Cameron on the strength of intelligence preceding the strike.
"There can't be complete transparency for national security but we can have accountability, and we have got that," he added.
"The Prime Minister is very mindful of events that have occurred in the past and I am sure that no one makes statements like that without thinking of Tony Blair's 45 minute claim (on Iraq's alleged weapons of mass destruction)."
The announcement of the drone strike, and the death of British Isis militant Junaid Hussain in an American airstrike three days later, came as calls continue for the UK to widen its bombing campaign from Iraq into Syria.
"It could be a precursor to extending air strikes to Syria – many people in both Houses would say not before time," Lord Carlile said.
"There is overwhelming evidence that Isis is committing atrocities…they are the cause of something that could properly be described as a holocaust."
He pointed out that renewed focus had been cast on to strategies to defeat Isis and end the Syrian civil war by the exodus of hundreds of thousands of refugees fleeing to Europe.
"Implicit in that is how we deal with Assad, who we very much don't like, how we deal with the Iranian government, who we also very much don't like - and those are very difficult questions - but at the end of the day there's a very clear interest in the destruction of Isis," he added.
Timeline: The emergence of Isis

Show all 40
Jonathan Russell, the political liaison officer for counter-extremism thinktank the Quilliam Foundation said the drone strikes, in the so-called Islamic State's stronghold of Raqqa, will have dented the group's confidence.
"I think they are likely to reduce morale of Isis, particularly among the British fighters," he told The Independent. "People seem terrified of (drones), the immediacy of them and the level of intelligence that it implies the British Government has.
"They all combine to strike the fear of God into British Isis fighters."
Mr Russell said the terrorist group may have been caught off guard by the targeted killing, and predicted a swift reaction from its propaganda wing, which will seek to twist the setback to the group's advantage as it contributes to battle for dominance in Syria and Iraq.
"I wold expect them to come out spinning, saying 'the British Government doesn't care about British Muslims', although that contradicts their own ideology of being citizens of the Islamic State," Mr Russell added. "People are only British when it suits."
He said he accepted the legal justification given by the Prime Minister, adding: "Because no one will ever be given access to the intelligence, nor should they be, there's no way of knowing if it's true."
Khan was reportedly directing a follower in the UK to carry out an attack – an allegation that could possibly be levelled at many of around 700 British Isis fighters believed to be in Syria.
Mr Russell called for more emphasis to be placed on prevention and anti-radicalisation initiatives to stop Britons like Khan, Amin and Hussain becoming a threat.
"It's a tragedy that any British citizen is killed in an act or war like this, particularly because it could have been prevented," he added.
Join our new commenting forum
Join thought-provoking conversations, follow other Independent readers and see their replies