Theresa May 'can't force Scotland to ditch Human Rights Act,' says Ruth Davidson
The Home Secretary has stated: 'If we want to reform human rights laws in this country, it isn't the EU we should leave, but the ECHR and the jurisdiction of its court'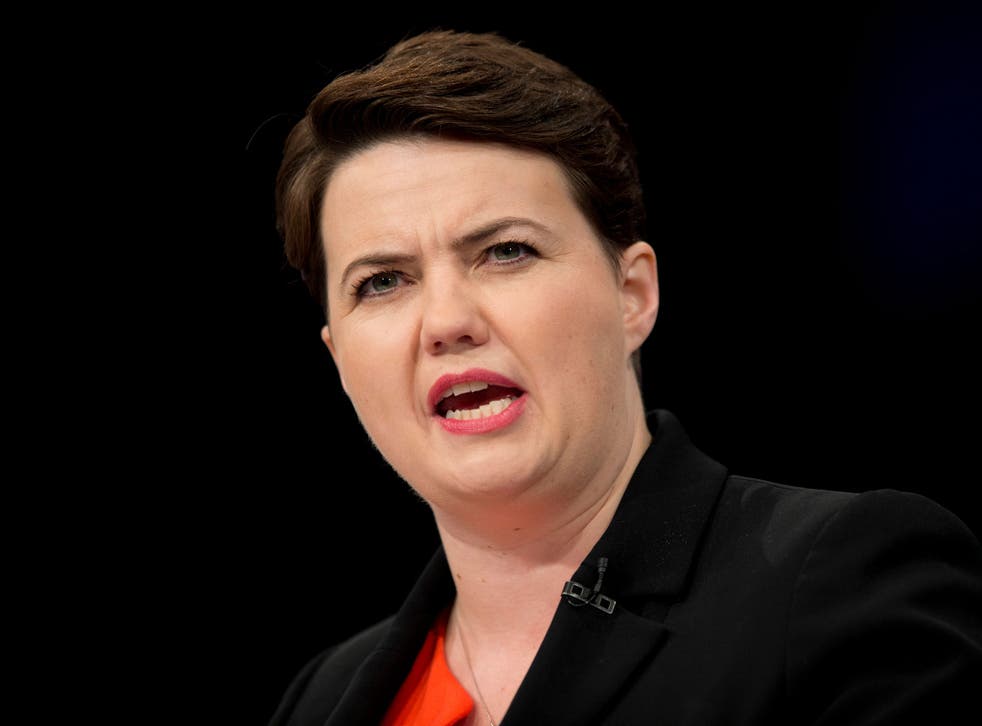 Scottish Conservative leader Ruth Davidson has clashed with the Tory Home Secretary over her call for the UK to withdraw from the European Convention on Human Rights (ECHR) regardless of the outcome of June's referendum
Theresa May used her first major intervention in the debate over the UK's place in Europe to argue that the ECHR "makes us less secure by preventing the deportation of dangerous foreign nationals".
The Home Secretary said: "Regardless of the EU referendum, my view is this: if we want to reform human rights laws in this country, it isn't the EU we should leave, but the ECHR and the jurisdiction of its court."
However in an interview with PinkNews, the Scottish Conservative leader said: "I think it's a little bit more complicated than Theresa May is trying to push out there."
Ms Davidson stated: "I take a slightly different view from Theresa May - I think we should recognise that the ECHR was in large part drafted by people from Britain, and it's British values that are enshrined there.
"In terms of a Scottish context, the ECHR is written into the original Scotland Act, so it would be up to the Scottish Parliament to decide whether we changed the basis of that. There's nothing at a UK-wide level that would be able to change that without Holyrood's consent."
Ms Davidson spoke out ahead of Thursday's Scottish Parliament elections, in which she is hoping her party can oust Labour from its role as the official opposition at Holyrood.
And she said she has a "pretty big job in Scotland" as she again ruled out standing for the leadership of the Conservative Party across the UK.
Ms Davidson, who has been an MSP for five years and Scottish Conservative leader for more than four of those, has been praised by the Prime Minister for her efforts in the campaign to keep Scotland in the UK in 2014, as well as in last year's general election.
But she dismissed any suggestion she could leave Holyrood for Westminster in the future, saying: "In terms of being the UK party leader or a future Prime Minister, I'm going to pass on that one if that's alright - I've been very privileged to see behind the door at Number 10 and it looks like a pretty lonely job. I've got a pretty big job in Scotland so I'm going to stick with that for now."
Ms Davidson, the first openly gay leader of the Scottish Tories, revealed she believed the Church of Scotland would allow same-sex within her lifetime.
She also said she was "prepared to step up" to encourage politicians in Northern Ireland to back gay marriage, highlighting the area as being the only part of the UK where this is not yet legal.
Ms Davidson said: "I've been invited by Amnesty International to give their annual Pride lecture in Belfast this year, to talk about the situation in Northern Ireland, and I'm going to take my Irish partner with me."
She added: "I think we've come a really long way - but we shouldn't forget there's still a part of the UK where our citizens do not share the same rights, just a few miles away."
When asked if Scottish and UK Governments should do more to encourage Northern Ireland to introduce similar legislation, she said: "I would like to see people right across the UK take a more active role - I'm certainly prepared to step up myself."
The Tory, who is a member of the Church of Scotland, said it had "come a really long way in a short time already" adding that "we already have practising ministers in Scotland who are openly gay".
She said allowing same sex marriages to conducted by the Church is "issue that the Church will take in its own time".
Ms Davidson stressed the decision is one for the Church's governing body the General Assembly, but she said: "I believe I'll see it in my lifetime, absolutely. I certainly hope so.
"The Church has come a long way very fast. It still has a long way to go but it's absolutely going in the right direction. I'm very hopeful I'll be able to see gay church weddings in my lifetime."

PA
Join our new commenting forum
Join thought-provoking conversations, follow other Independent readers and see their replies