Theresa May fails to raise Paris climate change accord with Donald Trump in formal G20 talks
Officials said the issue was later raised by the PM informally outside the meeting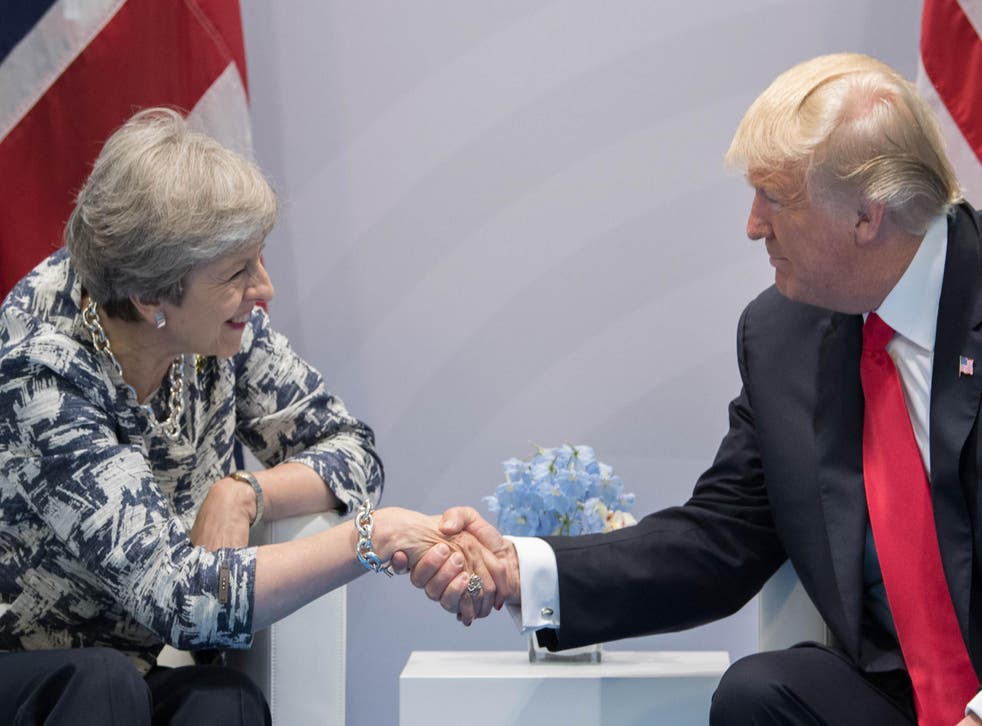 The Prime Minister failed to raise the Paris climate change agreement with Donald Trump in formal sit-down bilateral talks at the G20 summit despite pledges to do so before the meeting.
A senior UK government official said there had not been time to raise climate change in the 50 minute bilateral on Saturday morning in Hamburg, despite the Government having previously briefed that the PM would take Mr Trump to task.
At the meeting, which overran by around 20 minutes, Ms May and Mr Trump discussed trade and tackling extremism, as well as the situations in Syria, North Korea and Iran.
But the Paris agreement, which Mr Trump has said he wants to pull the US out of, was not touched upon during the sit-down session. Mr Trump has previously said he believes climate change is a hoax perpetrated by the Chinese in order to hobble US domestic manufacturing.
Asked about whether the Paris accord was raised at the meeting as planned, the official said: "It wasn't discussed in the meeting. They then went on together to another event, where they will carry on talking. I haven't had a chance to see her since."
The official argued that the PM had "made clear throughout the time we've been here what her position is on Paris" and that her statements to the British media had sent "a clear message to the president that she wants him to rejoin the agreement".
Asked whether Ms May had raised any difficult issues with Mr Trump face-to-face at all, the senior UK government official said: "It depends on your characterisation."
Later in the day after the omission had become clear the official said Ms May had informally raised the issue with Mr Trump outside the meeting.
"She's raised Paris and said to him face-to-face that she hopes the US will re-join the Paris Agreement," the same official said.
Ahead of the G20 summit a senior UK government official had said Ms May "will say that we don't see any need for renegotiation" and that "we support the Paris agreement because it delivers."
Speaking from north east England, Labour leader Jeremy Corbyn said that if he had been attending the summit "I would be very strongly challenging Donald Trump on his wish to walk away from the Paris Climate Change accords."
He added: "They are crucial for the future of all of us and I hope he will understand that unless all the nations of the world get together to reduce emissions and try to preserve and protect our planet then the next generation are going to have more climate disasters, more extreme weather conditions and there's going to be more environmental refugees around the world.
"I think these are serious times and it requires serious attention to them."
It comes amid reports that Mr Trump's US delegation has held up the agreement of a joint G20 communiqué over the inclusion of a line about climate change and fossil fuels.
The Paris agreement on reducing greenhouse gas emissions comes into force in 2020 and mandates signatories to plan to reduce their emissions and report on their progress in doing so. It has been ratified by 153 United Nations Framework Convention on Climate Change members and signed by 195.
Elsewhere in the bilateral talks between Ms May and Mr Trump the US President spoke of his country's closeness with Britain and pledged a post-Brexit trade deal would be concluded "very quickly" after the UK left.
At the talks the two leaders agreed that they would look at areas the UK and US could deepen their trade ties before Brexit – though no specifics were discussed on what this might entail.
Ahead of the meeting Mr Trump said: "There is no country that could possibly be closer than our countries.
"We have been working on a trade deal which will be a very, very big deal, a very powerful deal, great for both countries and I think we will have that done very, very quickly."
G20 Protesters take Hamburg

Show all 8
He added: "Prime Minister May and I have developed a very special relationship and I think trade will be a very big factor between our two countries."
There was no further visible progress on the question of Mr Trump's planned state visit to Britain – which has been dogged by the threat of mass protests. Asked about the trip the President said he "will be going to London", but asked when, he replied: "We'll work that out."
Asked about when the visit would happen a senior UK government official could not say whether the meeting would take place days, weeks, months, or years into the future, adding: "There's no date being announced today." The official said he was not aware of any plans for a flying short-notice visit by Mr Trump in the near future.
Join our new commenting forum
Join thought-provoking conversations, follow other Independent readers and see their replies