Theresa May's plan to slash net migration to tens of thousands would double unemployment, study warns
British workers would be the main losers from lower economic growth, research finds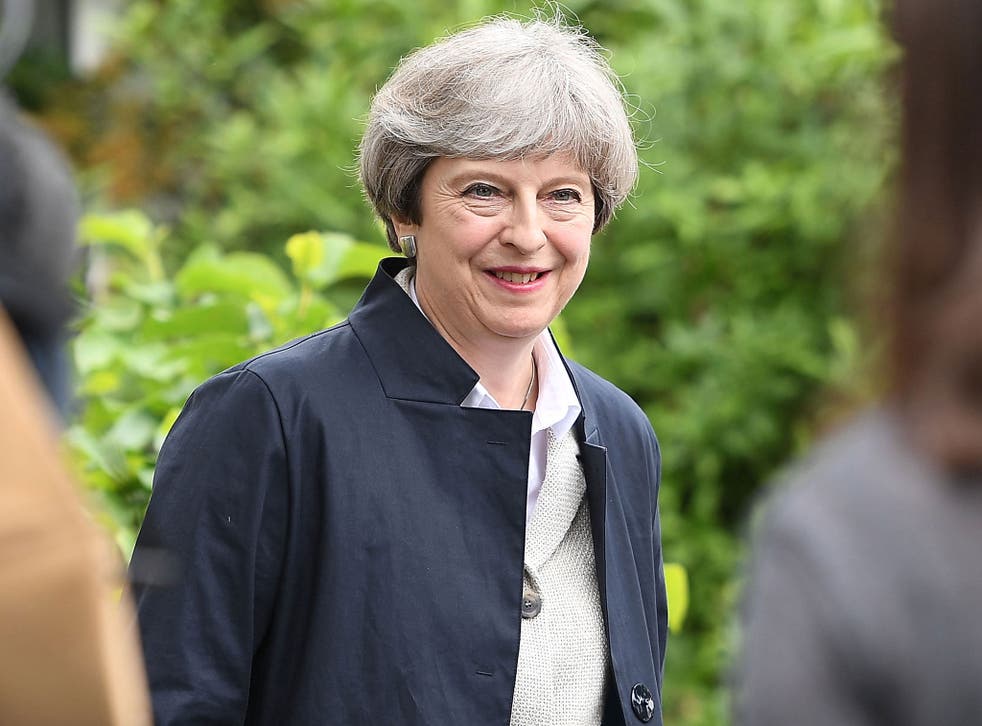 Theresa May's plan to cut net migration to under 100,000 a year would almost double unemployment in the UK to more than three million, according to a new study.
It claims that British workers would be the main losers from lower economic growth caused by the country having fewer people to drive business expansion and, in turn, consumer demand and spending.
The Migration Matters Trust, a cross-party group of politicians, business leaders and trade unionists which encourages an evidence-based debate on immigration, studied the relationship between the migration, unemployment and employment figures over the past 10 years.
The trust is backing the Drop the Target campaign run by The Independent and the Open Britain group, which urges the Government to abandon its goal of cutting annual net migration to the "tens of thousands".
It concluded that unemployment would rise from 1.6 million today to 3.1 million if net migration fell below 100,000. It has not stood at that level since the mid-1980s during the Thatcher Government.
According to the study, the employment rate for British citizens – the percentage wanting to work who have jobs – would drop from 75 per cent to 70 per cent, the lowest level for 20 years. The number of jobless people chasing each vacancy would rise from two today to seven.
Barbara Roche, chair of Migration Matters and a former Labour Immigration Minister, said: "It's not politically correct to say this, but some of the people hit hardest by cutting migration to below 100,000 would be British workers.
"According to the Government's own figures, in industries like hospitality, which have a higher proportion of migrant workers, seven out of 10 employees are Brits. These are the workers who will suffer if migration is cut."
She added: "The case for immigration isn't about abstract altruism but British self-interest. By plugging skills gaps in businesses, immigration safeguards the jobs of British workers in those firms."
Keith Knowles, chief executive of Beds and Bars, which includes St Christopher's Inns hostels and Belushi's bars, said: "Without migrants to help plug skills gaps, my business would really struggle.
UK General Election 2017

Show all 47
"Migrant workers in my trade are often mislabelled as doing low skill jobs. This is not the case.
"They have a passion for hospitality, something that we really struggle to find here in the UK. For me, migrants are incredibly valuable. Their skills and capabilities keep the business running.
"The UK becomes increasingly unattractive to invest in if we're unable to obtain the skills we need. For us to be able to grow our economy, we need to be able to access the full labour market."
Chuka Umunna, Labour's former shadow Business Secretary and a leading supporter of Open Britain, said: "This report sets out the real dangers the Government's misguided, illogical immigration target poses to our economy.
"People who come to our country from abroad work hard, contribute, found businesses that employ British workers, and pay their taxes.
Michael Fallon says Tories have not costed immigration proposals
"An artificial cap on numbers will make British people worse off. As well as keeping Britain in the single market and customs union after Brexit, the Government needs to ensure that Britain remains open to talented people from Europe and around the world."
Net migration fell to 248,000 in 2016, down 84,000 on the previous year, according to official figures published on Thursday, due to more people leaving, especially EU citizens, and fewer arrivals.
The controversial target was reaffirmed in the Conservatives' election manifesto, after Ms May rejected pleas from several ministers to drop it on the grounds that it was unlikely to be hit.
Ministers have refused to put a timescale on when it will be met, and argue that this makes it impossible to calculate the target's economic impact. They have promised a flexible approach to EU migration after Brexit to help business adjust.
Ms May has denied that senior Cabinet ministers opposed her goal. In a BBC interview, she said: "People do support the immigration target and what they're supporting is the view of the British people. That's what we're supporting. Because the British people want to see us controlling migration."
Experts are divided over the economic impact of lower migration. The Office for Budget Responsibility, the independent fiscal watchdog, estimated last November that a 80,000 drop in net migration would create a £6bn-a-year hole in the public finances by 2020-21.
The Centre for Economic and Business Research found that cutting migration to below 100,000 would reduce the size of the British economy by between 1.5 per cent and 3 per cent by 2025. It highlighted the need to plug skills gaps to ease bottlenecks as a key driver of whether the economy grows or stagnates.
Jonathan Portes, Professor of Economics and Public Policy at King's College, London, has said there is strong evidence that arbitrary cuts in migration would make the UK less prosperous, and could reduce GDP per head by several percentage points by 2030.
But David Goodhart, Head of Demography, Immigration and Integration at the Policy Exchange think tank, has questioned the OBR's assumptions.
He said: "If the Government continues with its current policy of encouraging higher skilled immigrants and discouraging lower skilled immigrants, especially from the EU after the end of free movement, then it should be possible to reduce numbers without reducing the high fiscal contribution from French and German bankers.
"And the OBR seems to take no account of the possibility that lower immigration might mean higher wages and more automation increasing productivity, incomes and thus the fiscal contribution of the average worker."
If you agree, please sign our petition to call on the Government to Drop The Target:
Join our new commenting forum
Join thought-provoking conversations, follow other Independent readers and see their replies