Theresa May's big gamble: 'Troubled' UK Border Agency scrapped and split in two as Home Secretary takes personal charge
Home Secretary reclaims immigration powers from 'troubled' agency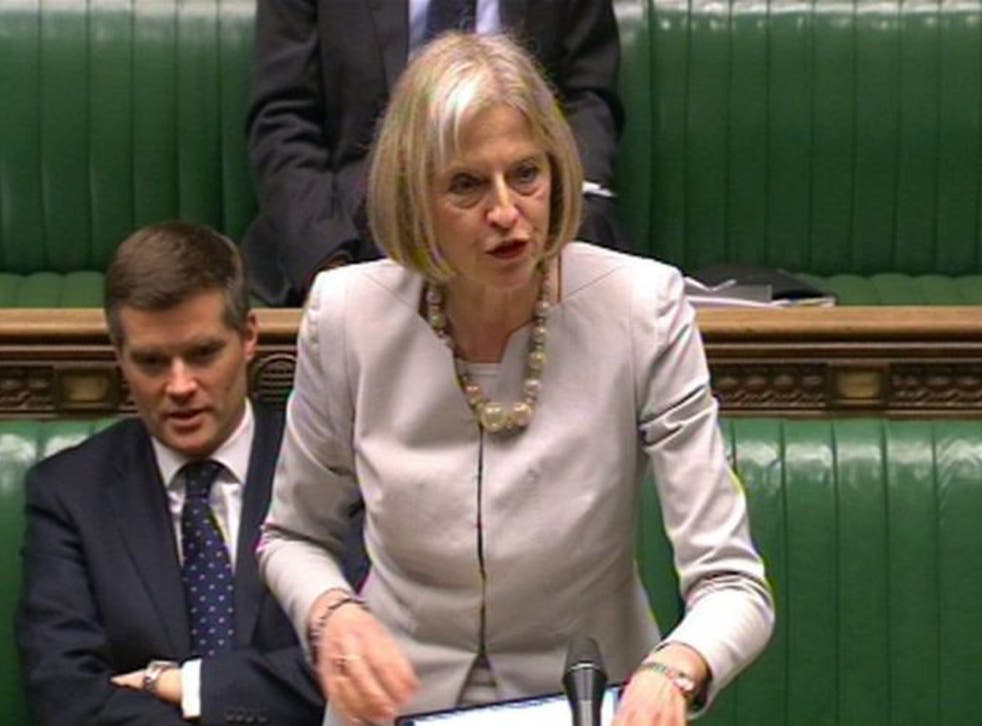 Theresa May took a political gamble today by scrapping the "troubled" UK Border Agency and taking personal charge of Britain's immigration controls.
The controversial organisation, which has faced concerted criticism since its creation five years ago, will be split into two parts reporting directly to ministers.
The Home Secretary was scathing about the failures of the arms-length agency, which she condemned as "closed, defensive and secretive".
Her surprise intervention was welcomed by MPs of all parties and will further fuel speculation over her ambitions to succeed David Cameron. But it also represents a high-risk move as she and her ministers will have to take responsibility for any failures or blunders in Britain's immigration system.
Just over a year ago, Mrs May hived off the border force from the UKBA following the disclosure that some passport checks had been secretly relaxed at time of maximum pressure at ports and airports.
But yesterday she went further by announcing the demise of the agency, which is sitting on a backlog of more than 300,000 unresolved asylum and immigration cases.
It will be divided into sections dealing with the visa system and with enforcing immigration laws, both of which will be accountable to her and to the Immigration Minister, Mark Harper.
The Home Secretary said: "The agency has been a troubled organisation since it was formed in 2008 and its performance is not good enough.
"In truth the agency was not set up to absorb the level of mass immigration that we saw under the last Government. This meant the agency has never had the space to modernise its structures and systems and get on top of its workload."
Mrs May said its sheer size meant it "all too often focuses on the crisis in hand at the expense of other important work" and condemned "its lack of transparency and accountability", as well as its inadequate computer systems.
Keith Vaz, the Labour chairman of the home affairs select committee, praised her for administering a "lethal injection" to an organisation better known as the "UK backlog agency".
He said: "She has done the right thing in putting UKBA out of its misery. The organisation is not fit for purpose. However, this cannot be an excuse not to clear the backlogs, which stand at one third of a million cases. Ministers are now in the front line."
Mr Vaz's committee this week warned it would take the agency 24 years to clear a backlog of asylum and immigration cases equivalent to the population of Iceland.
It also launched a scathing attack on the former UKBA chief Lin Homer, who now heads HM Revenue and Customs, for her "catastrophic leadership failure" when she was in charge of the border controls.
Mrs May's move came a day after David Cameron set out wide-ranging proposals to limit benefits for new immigrats in an attempt to reduce Britain's appeal to Romanians and Bulgarians when their nationals gain the unrestricted right to live and work in this country next year.
There was surprise last night that Mr Cameron had failed to announce the shake-up in his speech on Monday. However, the new Home Office permanent secretary, Mark Sedwill, disclosed that the final decision to scrap the agency was taken hours later by Mrs May and signed off by Mr Cameron and the Deputy Prime Minister, Nick Clegg.
In a leaked internal memo Mr Sedwill reassured staff: "Most of us will still be doing the same job in the same place with the same colleagues for the same boss and with the same mission to keep Britain's streets safe and our borders secure."
Yvette Cooper, the shadow Home Secretary, accused Mrs May of panic and claimed problems with immigration have got "worse not better" on her watch.
She said: "Enforcement has got worse, delays have got worse, 50 per cent fewer people are being refused entry at ports and borders and you said the number of illegal immigrants removed does not keep up with the number here illegally - that's because you're letting rather more of them in."
Ms Cooper said the agency's performance had been hit hard by deep cuts to its budget.
Join our new commenting forum
Join thought-provoking conversations, follow other Independent readers and see their replies