Theresa May Tory conference speech: Home Secretary sparks outrage with pledge to crackdown on immigration
Business leaders, universities, NHS chiefs and refugee groups join forces to raise the alarm over her stance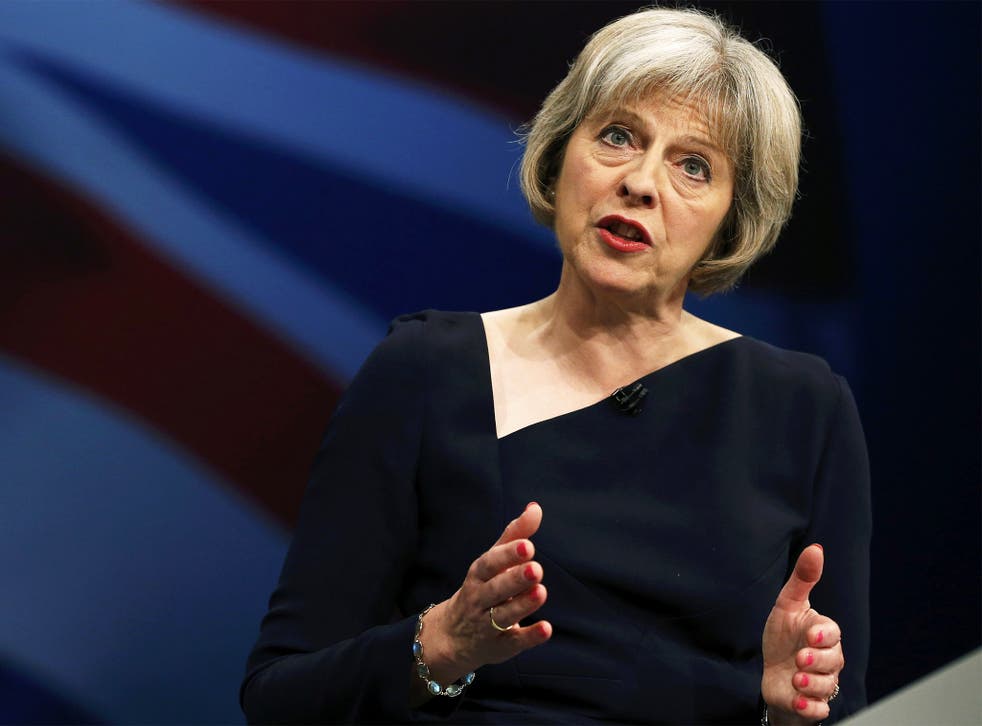 Theresa May provoked a storm of protest after she claimed mass migration was harming social cohesion in Britain and announced plans to toughen rules on entitlement to asylum.
Business leaders, universities, NHS chiefs and refugee groups joined forces to raise the alarm over her stance on immigration following a hardline speech to the Conservative conference.
Ms May told activists in Manchester that Britain did not need large numbers of migrant workers, claiming that new arrivals were putting pressure on schools, hospitals and housing, costing British workers their jobs and making it impossible to build a cohesive society.
She argued: "Of course immigrants plug skills shortages and it is right we should try to attract the best talent in the world, but not every person coming to Britain right now is a skilled electrician, engineer or doctor."
She faced charges of ramping up her rhetoric on a sensitive subject in an attempt to bolster her leadership credentials among Tory activists. She was also accused of playing down the wide variety of ways in which migrant workers contribute to public services, business and industry.
Simon Walker, director general of the Institute of Directors, said: "It is yet another example of the Home Secretary turning away the world's best and brightest, putting internal party politics ahead of the country, and helping our competitor economies instead of our own.
"The myth of the job-stealing immigrant is nonsense."
Universities UK said efforts to bear down on immigration "will feed the perception internationally the UK is closed for business and does not welcome students".
In a surprise move, Ms May also unveiled plans to strengthen the rules covering claims for refuge. Her proposals for asylum mark a major departure from the system Britain uses to offer refuge for those fleeing conflict and persecution around the world and appear to be aimed at reducing the numbers coming to the country.
They include major reforms such as deporting refugees if their home country becomes safe by the time their temporary leave to remain in Britain ends, in a process described by Ms May as "safe return reviews".
In addition, those who have travelled through safe countries such as the thousands crossing Europe from the Middle East and North Africa will be given the "minimum stay of protection" and "no automatic right" to live in the UK, while the most vulnerable – such as the 20,000 due to arrive from camps in Syria's neighbours – will be offered a longer stay.
The Refugee Council head, Maurice Wren, said: "The Home Secretary's clear intention to close Britain's border to refugees fleeing for their lives is thoroughly chilling."
Liberal Democrat leader Tim Farron accused Ms May of "encouraging division and hatred", while Labour's shadow Home Secretary Andy Burnham said she had forgotten her own advice that the Tories should stop being "the nasty party".
"In her desperation to boost her stock amongst the Tory faithful, the Home Secretary delivered a misleading and narrow-minded speech which fails to provide any real answers to the challenges we face," said Mr Burnham.
Leadership watch
Angular, stylish and with one of the most difficult sales pitches in the competition, she was going to sell herself as the Competent One.
This was despite being responsible for the Prime Minister's unkeepable promise to get net immigration down below 100,000 a year. I halved it from 320,000 to 154,000, she boasted, but then the numbers doubled again.
"One of the reasons is student visas," she said, so she wasn't going to give in to "university lobbyists" who want her to ease the rules on international students.
But neither was she going to say much about the other reasons the target was becoming more distant.
She was going to make a thoughtful Tory case for further efforts to prevent abuse of the asylum system, so that help could be given to those who really need it.
What we have we hold, said the Respectable Candidate.
John Rentoul
Join our new commenting forum
Join thought-provoking conversations, follow other Independent readers and see their replies