Theresa May under pressure by MPs to oppose plans that could criminalise charities who help Syrian refugees
Opposition MPs urge the Home Secretary not to join EU members in outlawing a helping hand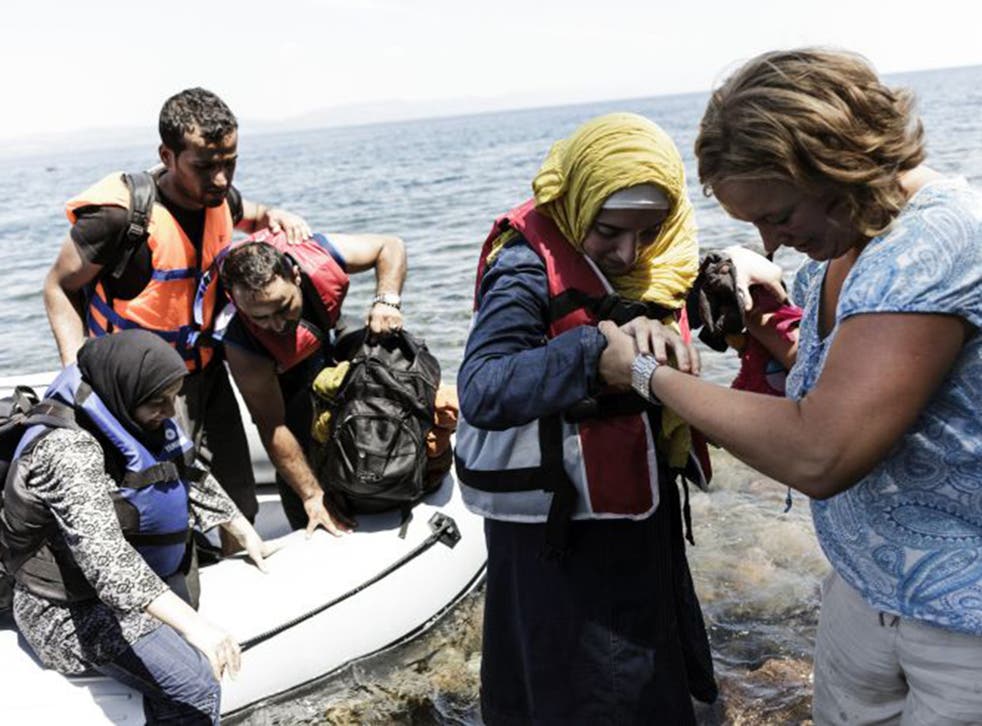 Theresa May, the Home Secretary, is under pressure to oppose plans by EU member states that could criminalise individuals and charities who help Syrian refugees when they arrive on Greek islands.
A draft of conclusions reached last month by the Council of the European Union and later obtained by civil-liberties organisation Statewatch showed that Eurocrats could equate the smuggling of refugees with the far more serious crime of trafficking.
As a result, even holidaymakers who help refugees off boats might not be exempt from criminal charges on the grounds that they had provided humanitarian assistance.
The document was based on a meeting of ministers that included Ms May. Tim Farron, the Liberal Democrat leader, and Catherine Bearder, the party's only MEP, have written to Ms May demanding that she oppose the policy at a further meeting next month.
The letter states: "Up until now your Government has done everything it can to avoid helping refugees who have fled to Europe. Now you wish to stop others from doing so as well. This would be a morally reprehensible decision, punishing people for doing the right thing while the Government sits on its hands.
"It is not too late for Britain to change track and lead a humane response to the refugee crisis unfolding on our continent. We urge you to think again and to strongly oppose these proposals when they are discussed at the next meeting of EU Home Affairs ministers on 10th March. European governments should be punishing the people smugglers who put refugees onto flimsy boats in Turkey, not volunteers in Lesbos giving out dry clothes and water."
Mr Farron added: "The UK government has done everything possible to avoid helping refugees and now they are trying to stop anyone from volunteering. We should be criminalising people smugglers in Turkey, not volunteers in Lesbos. Let's put the effort into proper policing in Turkey and proper funding of refugee services in region."
Robina Qureshi, director at Positive Action in Housing, a homelessness charity that has raised £44,000 to help refugees, said: "Around 4,000 people drowned crossing the Aegean; more than a third were children and a lot more would have drowned were it not for the humanitarian effort on Lesbos and other Greek islands. They pay $1,200 [€1,000] per head for a journey that costs less than €5 on the ferry for western Europeans.
"Now we are in danger of being criminalised and it's being felt already in Lesbos, with the increased police presence. There's a nervousness amongst volunteers."
The move comes even though a campaign is building for the people of Lesbos to be awarded the Nobel Peace Prize for their efforts in helping refugees. Nearly 15,000 people have signed an online petition launched by Avaaz calling for the island's nomination.
However, the prize must go to an organisation or individual, so Greeks are pushing for two Greek islanders, 85-year-old Emilia Kamvisi, and fisherman Stratis Valamios to be nominated, and the US actress Susan Sarandon.
Join our new commenting forum
Join thought-provoking conversations, follow other Independent readers and see their replies