More than 4,000 protesters set to take part in anti-austerity demonstration in central London
'After the devastating general election result...it became clear that the result did not reflect the views of the country'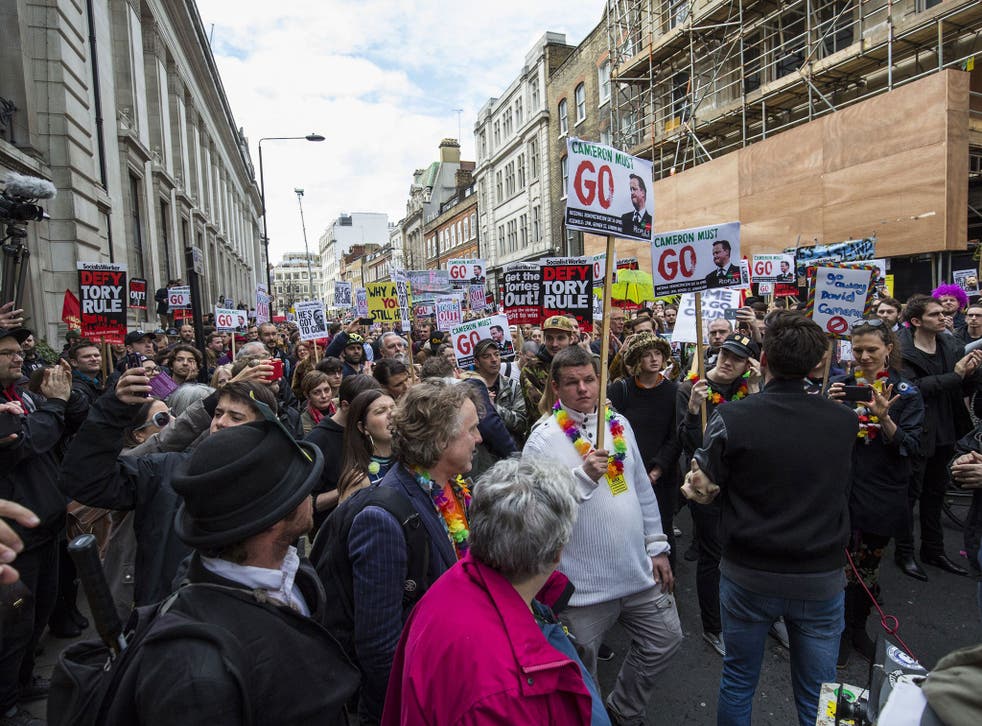 Thousands of activists are set to descend on Trafalgar Square this weekend and demand that the "vicious government" ends its austerity agenda.
With a concentration on health, social housing, jobs and education, organisers from the People's Assembly Against Austerity – a national movement to end austerity – are expecting a considerable turnout.
More than 4,000 people have said they are attending the demonstration on Saturday. It is expected to begin at 1pm and wrap up five hours later.
Singer and activist Charlotte Church has issued a rallying call for people to attend the protest. In a video interview with organisers the 29-year-old said: "I was never a fan of the Tories anyway, but they are taking liberties with the pillars of our society – whether they have been the NHS or education.
"They don't belong to government, they belong to the people of this country who have worked for these institutions, built them up over decades and I think we need to fight for them.
Organisers wrote on their Facebook page: "After the devastating general election result, where the Tories gained a tiny majority, it became clear that the result did not reflect the views of the country."
They added: "Immediately after the election, protests, meetings, rallies and demonstrations took place up and down the country culminating in one of the biggest demonstrations in Britain for years with 250,000 people bringing London to a standstill on the End Austerity Now Demonstration organised by the People's Assembly.
"The Tories are facing their biggest crisis yet. David Cameron's stake in his father's off shore tax haven, prove that this is a government for the privileged few, not for the majority. This shows beyond all doubt that Cameron is divorced from the life of any working person.
Footage from Downing street protest-Indy
"The government's failure to deal with the steel crisis could leave thousands without a job. They've attacked junior doctors and student nurses while privatising the NHS.
"They plan to force all schools to become academies and teachers are now balloting to strike over pay and conditions. They've done nothing to address the growing housing crisis. Iain Duncan Smith's resignation shows a government falling apart."
Last week protestors gathered outside the gates of Downing Street, wielding placards with the words "he's got to go", and called on Mr Cameron to resign over revelations in the Panama Papers regarding his financial affairs. The protest gained support from high-profile figures including Lily Allen and Edward Snowden.
"Does the Prime Minister think we're stupid?" protest organiser Abi Wilkinson wrote on one of the Facebook event pages for the gathering.
"He preaches about 'tough decisions' whilst cutting funding for disability benefits, social care and other essential services. Now we find out he personally intervened to protect offshore trusts from an EU crackdown intended to tackle money laundering."
The Metropolitan Police said three arrests were made during the protest.
Join our new commenting forum
Join thought-provoking conversations, follow other Independent readers and see their replies