Tim Farron interview: Front-runner to replace Nick Clegg as Lib Dem leader says party needs to return to grassroots
He was party president, but Farron was never in the former leader's inner circle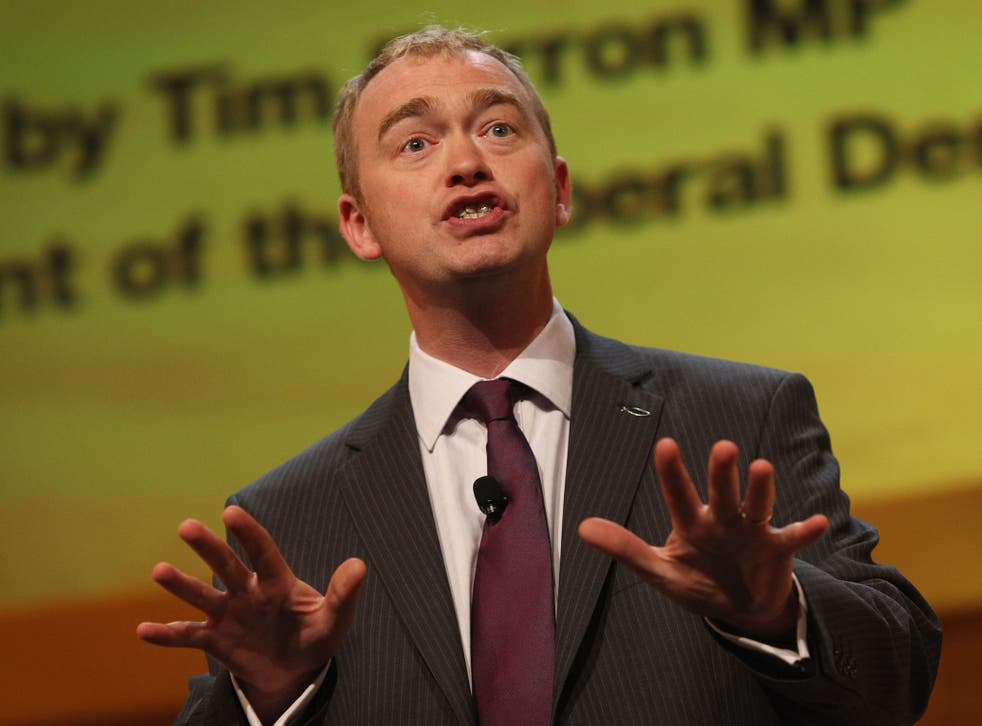 It would be fair to say that over the past five years Tim Farron has never been the Liberal Democrats' greatest coalition enthusiast.
He may have been the party's president but Farron was never in Nick Clegg's inner circle, never got ministerial preferment and was regarded with suspicion – if not a little hostility – by those who sought to move the Lib Dems from being a natural party of protest into the natural party of government.
But with the Lib Dems' catastrophic defeat in the election it will almost certainly be the MP for Westmorland that the Lib Dem grassroots turn to for salvation.
And his lack of involvement in government will be his trump card in attempting to win back support both from the electorate and dispirited campaigners.
Today it becomes a little clearer to see how he intends to do that – as he outlines his plans to reform the party and move it back to its roots as an insurgent force – winning power ward by council ward.
"Being competent in government does not make the hairs on the back of anybody's neck stand on end," he said.
"You need to motivate people. People vote for a political party because of what is in their wallet or issues that they weigh up in their head. But you join a political party because something gets you in your gut and it's time we went out there and got people in their gut."
His remarks will be seen as a coded rebuke to the old party leadership under Nick Clegg that emphasised the Liberal Democrats' competence to govern during the general election campaign.
"Our image, our message and our brand got blurred [in government] and at best it was managerial," he said.
"We ended in a situation where people did not know what we stood for. We need to get back to the grassroots. We have to start in local government rebuilding there right away and you do that by making the party a campaigning party on the ground.
"That means finding issues that fire us and make us all passionate and inspired and using them to go out there and rebuild a movement – something which we haven't been doing over the last few years as we've had our minds fixed on other things."
Mr Farron suggested this would mean changing the party's structure both in Parliament and beyond.
"This is about us understanding that all political parties are pretty much still cast in the Edwardian model," he said. "You've got a headquarters, you've got some staff and you've got a bunch of members who pay subs and go to conference once or twice a year. Obviously Lib Dems are more active than most but we need to be a movement.
"Now we have the ability to go out there and fight for liberal ideals.
"We should be motivated by the fact that Britain has never needed a liberal party more than it does today, given the fear and division that led to the election result: the threat to the Human Rights Act, but also the threat to incomes of the poorest people in our country; £12bn in welfare cuts is an unfindable sum without causing unspeakable misery.
"We have got to be the party that stands up for the powerless and that will motivate us to work hard."
Mr Farron said that, while the Lib Dems in the Lords would retain a full "shadow" portfolio, with so few MPs in the House of Commons he wanted to change the structure of how MPs operated.
"If it is anything to do with me we are not going to be appointing shadow cabinets and trying to shadow every single department," he said.
"You pick a small number of issues – tackling poor housing or tackling waiting times in A&E. They are campaigns that we will run across the country in council chambers, in communities, in student unions, on radio, television and social media."
Mr Farron said he wanted to learn from campaign groups like 38 Degrees that mobilised their members to fight specific campaigns but stressed he wanted everything the Lib Dems did to be rooted in communities on the ground.
"We will learn from organisations like 38 Degrees but what 38 Degrees don't do that we do is actually meet people. I don't want the party to be one of keyboard warriors. I want the party to be immersed in the community."
Mr Farron is widely expected to win the Lib Dem leadership race against the former health minister Norman Lamb. He said he hoped that a number of MPs who lost their seats in the election would be "up for the fight to come back" but added he wanted to use winnable vacancies to tackle the lack of diversity in the party.
"I want to see 50 per cent of candidates in winnable seats being women and significantly increase representation from black and ethnic backgrounds." He added: "We have got to be cutting edge again."
Tim Farron: Policies and Beliefs
Tim Farron is a committed Christian who would like to keep religion out of schools and the Church out of the State. He described the Thatcher government as "wicked".
He has been accused of having failed to back lesbians and gays in votes but it is a charge he "very strongly" denies. While he has voted against elements of equal marriage during its passage through Parliament, he says he supports it.
Now reduced to eight Lib Dem MPs, he described the fact that all of them are "straight white men" as an embarrassment that belies the party's attitude to women and minority groups.
Shirley Williams described him as one of the Lib Dems' "best ever" parliamentarians and he is seen as having the gift of making supporters believe they are on a moral crusade.
In the last five years he voted against the "bedroom tax" and tuition fees, and moved one senior figure to ask: "Which bit of the sanctimonious, God-bothering, treacherous little shit is there not to like?"
Join our new commenting forum
Join thought-provoking conversations, follow other Independent readers and see their replies