Today Clacton, tomorrow the UK: jubilant Ukip predicts political avalanche
Party leader Nigel Farage says there will be more defections from the Tories and even Labour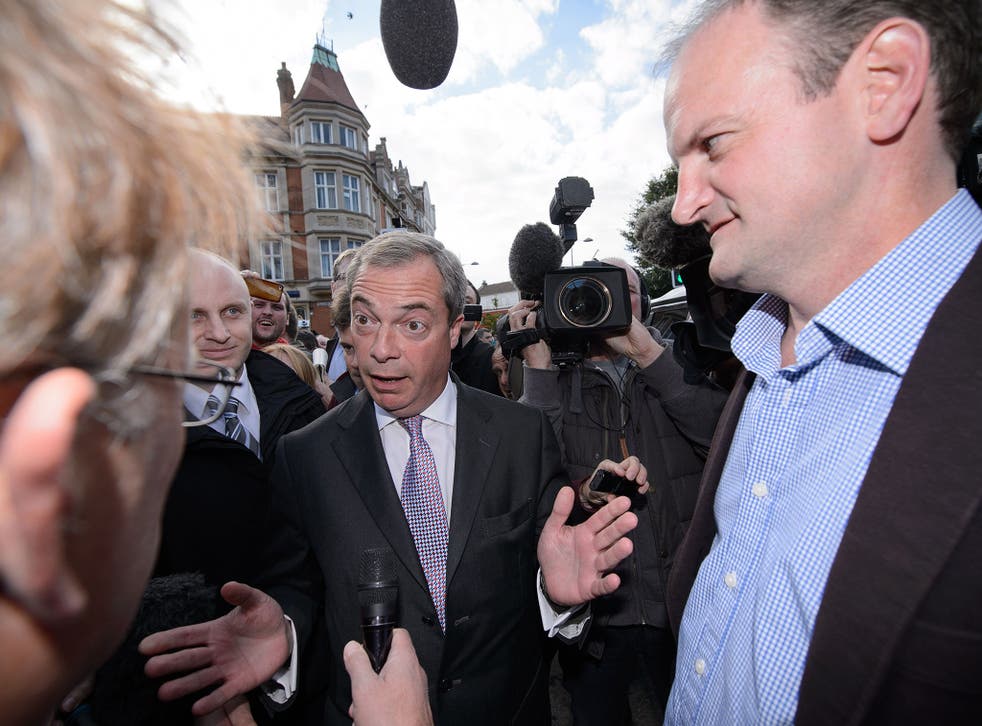 A jubilant Nigel Farage predicted that Ukip could hold the balance of power after next May's general election as he celebrated his party gaining its first elected MP in the Clacton by-election.
The Ukip leader hailed a double triumph after his party sent shockwaves through the Conservatives, who lost Clacton, and Labour, who came close to losing its Heywood and Middleton seat to Ukip.
The anti-EU party hopes that having its first MP will attract more high-value donors and debunk the argument that it would be a "wasted" or "protest vote" next May.
Mr Farage predicted more defections to his party, claiming they could include Labour as well as Tory MPs. "I have had these conversations with backbench Conservatives. I have had these conversations with some backbench Labour MPs as well," he told LBC radio. "I would be surprised if there weren't, over the course of the next few months, more defections. Do not forget what happened yesterday in Heywood and Middleton was extremely significant."
Who's next? Conservative MPs who could defect to Ukip

Show all 8
The Ukip leader went on a rather chaotic walkabout in Clacton with Douglas Carswell, the former Tory MP who increased his 2010 majority after resigning to fight his seat under Ukip's banner in Thursday's by-election.
"The whole of British politics has been shaken up in a way that the complacent Westminster class could never even have contemplated," said Mr Farage. "Something big is happening here. People want change. They have had enough of career politicians in three parties who don't even understand the problems they face in their everyday lives. People want real change.
"We've got a chance here in a general election next year that is likely to be very tight, in an election in which no one party is likely to have a majority. If Ukip can keep this momentum going, we could find ourselves next May in a position where we hold the balance of power."
Mr Farage said the result in Labour's stronghold in Heywood and Middleton, where its majority was cut from almost 6,000 to 617, proved his party was the only one capable of defeating the Tories and Labour.
Ukip even demanded a recount in the Greater Manchester seat, as Labour's hopes of a 2,000-plus majority were shattered as Liz McInnes just held on to the constituency.
The Ukip leader argued that his party's victory in Clacton would provide a springboard for the next by-election in Rochester and Strood, following the defection of Mark Reckless, another former Tory MP, to Ukip. It is expected towards the end of next month.
Mr Carswell's triumph provoked Tory jitters about their decision to "throw the kitchen sink" at the Rochester by-election. The Tories believe victory would halt Ukip's bandwagon. But another Ukip win might persuade more Tory MPs to jump ship. The Tories' nightmare scenario is a series of "rolling by-elections" which keeps the Ukip brand in the spotlight until the May election.
The Tories sought to turn their defeat in Clacton to their advantage by renewing their warnings that a vote for Ukip next May could allow Ed Miliband into Downing Street through the back door.
Grant Shapps, the Tory chairman, said: "Let me be blunt. What we have seen is a simple truth. This just puts Miliband closer to victory. This has just made his job of getting into No 10 easier."
David Cameron described the general election as "the most important in a generation", adding: "If you vote Ukip, you are in danger of getting a Labour government with Ed Miliband as prime minister, Ed Balls as chancellor. You'll get no action on immigration, no European referendum and, most importantly, you won't get a continuation of the plan that's delivering success for our economy and security for our people. That is the wider lesson of last night. We have seven months to demonstrate that only a Conservative government can give people the stability and security we all want to see."
However, some Tory MPs believe the "get Miliband" warnings cut little ice with disenchanted voters who see the Westminster parties as all the same. Sarah Wollaston, chairman of the Commons Health Select Committee, said: "The 'vote for us to keep out the other guy' line is not enough. All the parties should start to meet the wider challenge of political reform."
Polling suggests that only one in 10 Tory switchers to Ukip considers returning to the Tory fold when told Mr Miliband might become prime minister.
Join our new commenting forum
Join thought-provoking conversations, follow other Independent readers and see their replies