Tony Blair gives Kazakhstan President PR advice following 'massacre' of unarmed protesters
The former PM wrote the deaths, 'tragic though they were', should not obscure country's progress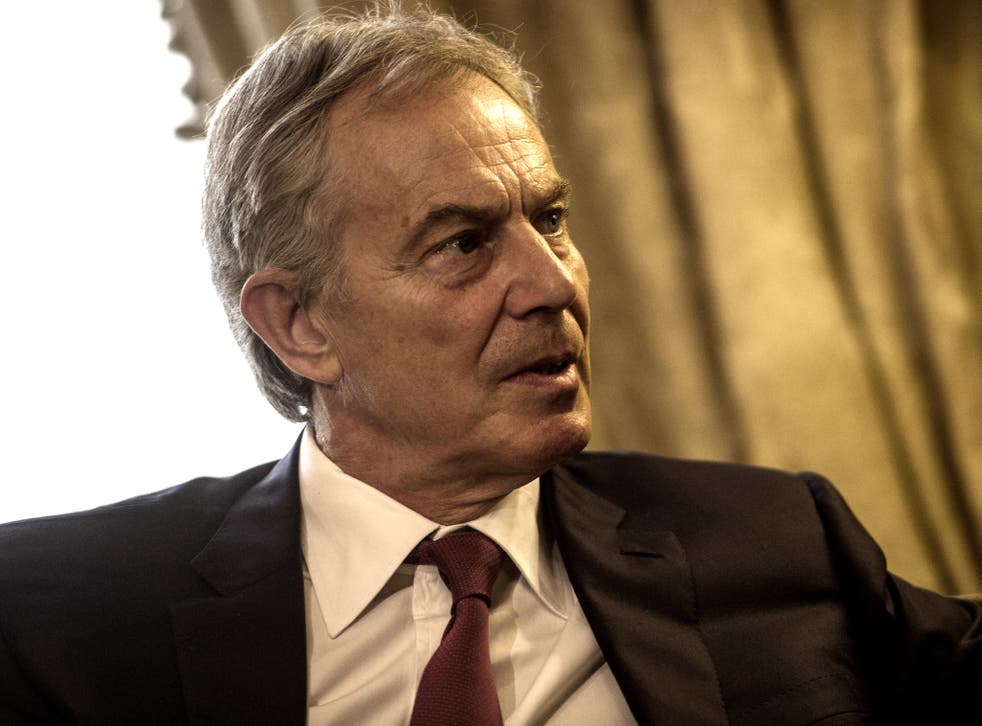 Tony Blair has given the President of Kazakhstan PR tips for a speech defending the country's human rights record in the wake of the killing of unarmed protesters by police.
In a letter obtained by the Daily Telegraph, the former Prime Minister advised Nursultan Nazarbayev ahead of a visit to the University of Cambridge in July 2012.
His firm, Tony Blair Associates, is paid by Kazakhstan's Government to conduct work on a "reform programme" in the former Soviet nation, which has been led by President Nazarbayev since before independence.
The former Labour leader is not personally paid for the work, which started in 2011.
The state has seen allegations of torture, imprisonment of government critics, stifling media controls, limits on religious freedom and continuing violation of workers' rights, according to Human Rights Watch.
In December 2011, at least 14 protesters were killed in the town of Zhanaozen when police allegedly opened fire during demonstrations over pay and conditions for oil workers.
More than 80 people were injured in the incident, which has since become known as the "Zhanoazen massacre" and resulted in the arrest of several opposition figures.
In the letter sent on official headed paper in July 2012, Mr Blair urged the president to tackle the "Zhanaozen issue" directly, adding: "The fact is you have made changes following it; but in any event these events, tragic though they were, should not obscure the enormous progress that Kazakhstan has made.
"Dealing with it in the way I suggest, is the best way for the western media. It will also serve as a quote that can be used in the future setting out the basic case for Kazakhstan."
Two paragraphs of around 500 words were allegedly enclosed for Mr Nazarbayev to include in his speech.
According to the Telegraph, one paragraph read: "There are issues of democracy and human rights which it is essential to address.
"I understand and hear what our critics say. However, I would simply say this to them: by all means make your points and I assure you we're listening.
"But give us credit for the huge change of a positive nature we have brought about in our country over these past 20 years... We are going to have to go step by step."
A transcript of the President's speech later published by the country's International Information Committee barely differed from Mr Blair's words, saying: "These are questions of democracy and human rights, which must be properly addressed and have energy devoted to them.
"I understand and hear what is being said of us by our critics. But we would like this to be done with a certain sense of balance and an objective valuation of the achievements of my country."
The address championed Mr Nazarbayev's purported role in the withdrawal from Afghanistan, Kazakhstan's "treasured national religious tolerance", and "progress and openness".
He promised to carry out reform programmes on a wide range of issues, including legal reforms, decentralisation and anti-corruption work.
The President, who has been labelled a "dictator" by critics, was visiting Britain for the London 2012 Olympics and attended a reception with David Cameron at Downing Street.
The Prime Minister has since become the first British leader to visit the autocratic country and said he intended to address human rights issues.
A Human Rights Watch report found that Kazakhstan's "poor" record continued to deteriorate under Mr Nazarbayev's regime in 2013, with crackdowns on free speech and dissent using "overly broad laws".
"Authorities maintain strict controls on freedom of assembly and religion," it said.
"Torture remains common in places of detention."
A spokesperson for Mr Blair said the former Labour leader "personally receives no payment" for his consultancy's work in Kazakhstan.
She added: "Whilst Tony Blair has always made it clear that there are real challenges for Kazakhstan over issues of human rights and political reform, and that these have to be dealt with, nonetheless the country has made huge progress over the past 20 years, increasing its GDP 10 times or more, fostering religious tolerance as a majority Muslim country, being a good ally of the West, especially in Afghanistan, and giving up its nuclear weapons.
Tony Blair: A career of controversies

Show all 11
"Tony Blair believes Kazakhstan is a strategically important country for the West and will continue to support it.
"The letter you refer to, was simply making these points, namely that the events of Zhanaozen were indeed tragic and they had to be confronted in any speech, not ignored."
Join our new commenting forum
Join thought-provoking conversations, follow other Independent readers and see their replies