Tony Blair guilty of 'deception' but not lying over Iraq war, says ex-Cabinet secretary
Andrew Turnbull is one of dozens interviewed by Tom Bower for Broken Vows, a new book on the former Prime Minister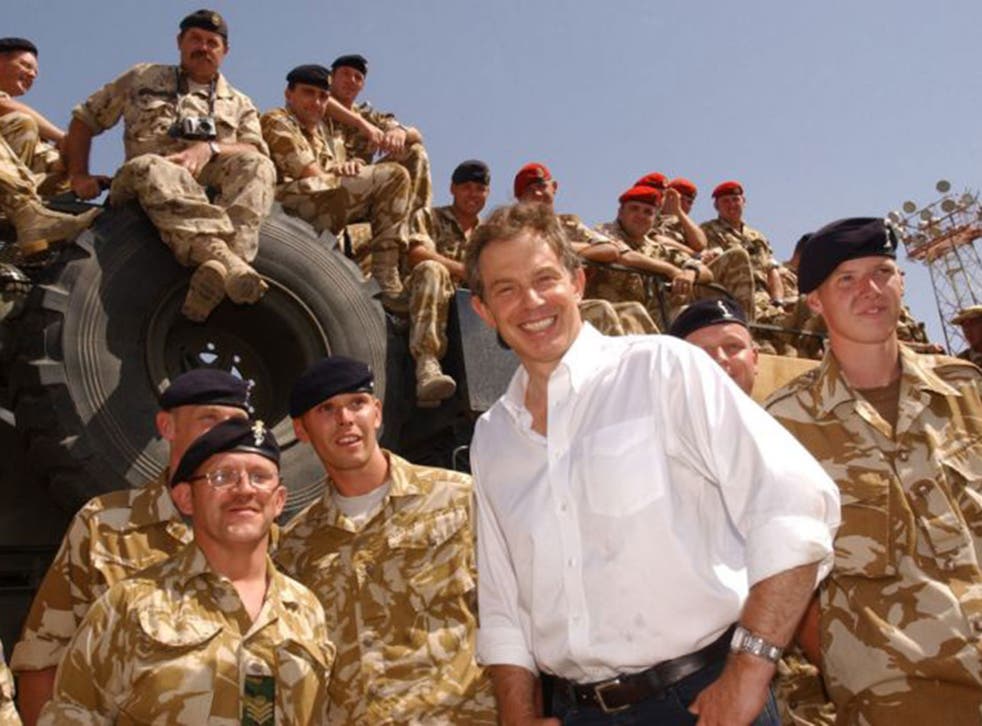 Tony Blair was guilty of "deception" – but not of lying – when he kept fellow Cabinet ministers in the dark about his intention to go to war in Iraq, a former head of the Civil Service has been quoted as saying.
Andrew Turnbull, who took over as Cabinet Secretary six months before the 2003 invasion of Iraq, is one of dozens interviewed by the writer Tom Bower, whose book on Tony Blair, Broken Vows, is published this month. Its publication comes ahead of the Chilcot report into the Iraq war, which is expected to appear in June or July after taking more than five years to complete.
Mr Bower quotes Lord Turnbull's comment on a Cabinet meeting held a year before the Iraq war. Iraq was discussed, but Mr Blair did not tell his colleagues that there was a possibility of military action to remove Saddam Hussein.
"I wouldn't call it a lie," Lord Turnbull is quoted as saying. "Deception is the right word. You can deceive without lying, by leaving a false interpretation uncorrected."
The author also claims other officials were "shocked" by the "unusually close" relationship Mr Blair had with the head of MI6, Sir Richard Dearlove, who was the first to raise the possibility, after the 9/11 attacks, that Iraq held weapons of mass destruction and a suicide bomber might set off a nuclear explosion in London.
Admiral Mike Boyce, then the new chief of defence staff, warned Mr Blair several times about the danger of getting embroiled in war, accurately predicting that the Afghanistan imbroglio could last 10 years. He also warned that the army needed more equipment before going into Iraq.
Ten years on from the war, how the world forgot about Iraq

Show all 5
Mr Blair's communications director, Alastair Campbell, reputedly chided the Admiral for being "gloomy". He retorted: "I don't tell people what they like to hear." His attitude irritated Mr Blair, who decided in October 2002 to get rid of him, but realised it would look bad to sack a defence chief so soon before going to war.
Michael Williams, a Foreign Office Middle East specialist, warned Mr Blair in September 2002 that removing Saddam could lead to "turmoil" due to tension between Sunnis and Shias. Mr Blair is quoted in the book as replying: "That's all history, Mike. This is about the future."
Mr Blair wrote privately to George Bush as early as December 2001 about the possibility of "regime change", the book says, and during a visit to Mr Bush's Texas ranch in April 2002, promised to "support military action that would bring about regime change". But he did not tell the Cabinet because he "didn't trust them", Mr Bower alleges.
In public, Mr Blair persisted in saying that no final decision had been made. According to Mr Bower: "No other Prime Minister had ever planned to start a war while distrusting his chief of defence, the Cabinet Secretary, the Foreign Secretary (Jack Straw), the Defence Secretary (Geoff Hoon) and most of his Cabinet."Mr Blair's habit of bypassing the Cabinet, preferring to operate through his chief of staff, Jonathan Powell, was not something new, according to Lord Turnbull.
But, aside from Robin Cook, who resigned, most of the Cabinet appeared content not to know what was planned.
The book also probes the relationship between Tony Blair and Wendi Deng, former wife of Rupert Murdoch. It suggests one cause of the Murdochs' break-up was that Mr Blair stayed overnight at their California home when Ms Deng was there, but did not mention this when he met Mr Murdoch the next day. Mr Bower quotes the American billionaire Tim Collins, one of the Tony Blair Foundation's former backers, as saying: "The Wendi Murdoch affair put me off. The real man was revealed."
Register for free to continue reading
Registration is a free and easy way to support our truly independent journalism
By registering, you will also enjoy limited access to Premium articles, exclusive newsletters, commenting, and virtual events with our leading journalists
Already have an account? sign in
Register for free to continue reading
Registration is a free and easy way to support our truly independent journalism
By registering, you will also enjoy limited access to Premium articles, exclusive newsletters, commenting, and virtual events with our leading journalists
Already have an account? sign in
Join our new commenting forum
Join thought-provoking conversations, follow other Independent readers and see their replies