Tony Blair: Labour could lose two more elections if it drifts further to the left
Party members who say their hearts are with the left-wing leadership candidate Jeremy Corbyn should 'get a transplant,' said Blair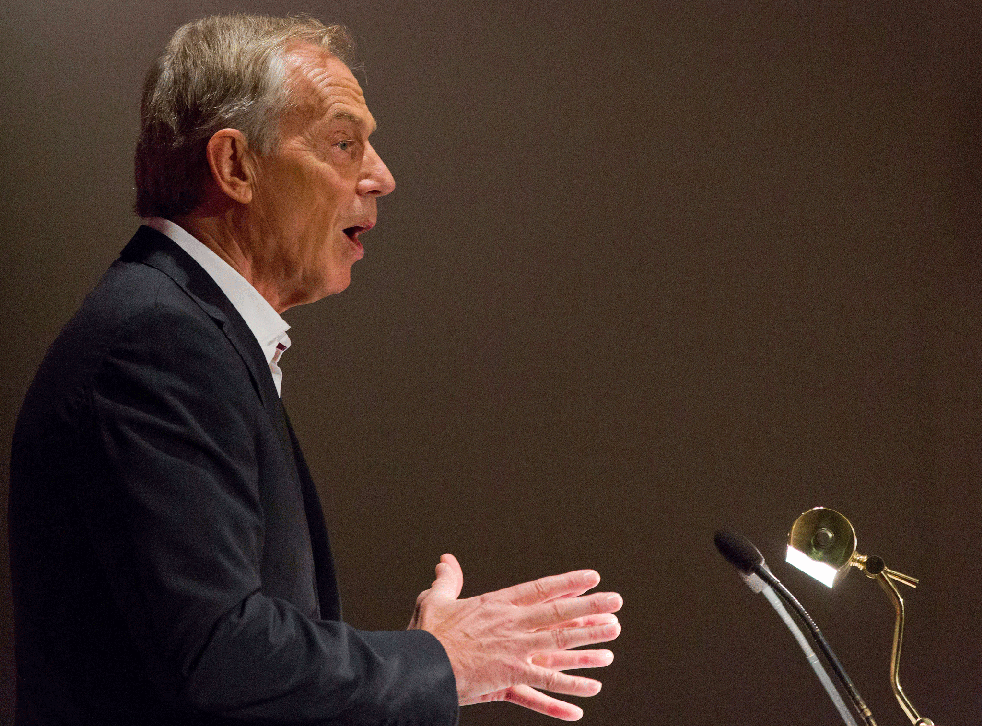 Tony Blair entered Labour's post-election debate with a stark warning that the party could lose another two general elections if it drifts further to the left.
The former Prime Minister, who won three elections, angered his Labour critics by declaring that those party members who say their hearts are with the left-wing leadership candidate Jeremy Corbyn should "get a transplant."
In a speech to the Labour modernisers' think tank Progress, Mr Blair suggested he would rather the party lost the next election than won it on "an old fashioned leftist programme." He said: "Even if I thought it was the route to victory, I wouldn't take it."
He conceded that the party had to "move on" from New Labour but told it: "Don't move back." He added: "If we do, then the public won't vote for us, not because our thoughts are too pure but because they're too out of touch with the world they live in."
Mr Blair raised the prospect of Labour being in the wilderness for 20 years, recalling that it lost four elections before it modernised and won a landslide under him in 1997. He argued that Gordon Brown lost the 2010 election after diluting the New Labour brand and that Ed Miliband did worse at this year's election after moving further away from it. Despite that, he said, some were arguing for a further shift to the left. He dubbed this "the electorate is stupid" strategy.
He said: "We win elections when we had an agenda that was driven by values, but informed by modernity; when we had strength and clarity of purpose; when we were reformers not just investors in public services; when we gave working people rights at work including the right to join a union but refused unions a veto over policy when we understood businesses created jobs, not governments; and where we were the change-makers, not the small 'c' conservatives of the left."
Mr Blair declined to offer public support to Liz Kendall, seen as the Blairite candidate in the leadership election, joking that an endorsement by him might not be helpful. But he opposed Tom Watson becoming deputy leader. He was accused of taking part in a 2006 coup aimed at forcing Mr Blair to stand down in favour of Mr Brown. Mr Blair said it could be important for the deputy to be a woman and to "get away from machine politics."
Referring to the "transplant" comment, Mr Corbyn hit back at what he called Mr Blair's "silly remarks". The left-wing standard bearer said: "Yes we did the 1997 election; we lost support consistently after that and he led us into a disastrous illegal war [in Iraq.]"
In a speech setting out his economic policy, Mr Corbyn said the rich should pay higher taxes. If the deficit has been cleared by the 2020 election, he said Labour should not run a current budget deficit but should "borrow to invest in our future prosperity."
The Islington North MP argued: "Paying tax is not a burden. It is the subscription we pay to live in a civilised society. A collective payment we all make for the collective goods we all benefit from: schools, libraries, street lights, pensions, the list is endless."
Mr Corbyn said: "Increased tax receipts and lower benefit demand are a better way forward than shutting local libraries and attacking the working poor. If there are tough choices, we will always protect public services and support the most vulnerable. Instead we will ask those who have been fortunate to contribute a little more."
Join our new commenting forum
Join thought-provoking conversations, follow other Independent readers and see their replies