Tony Blair: My deal with Gaddafi stopped Isis getting its hands on chemical weapons
If it hadn't been for the 2004 'deal in the desert' Gaddafi's stockpile of weapons would still be in circulation, former PM claims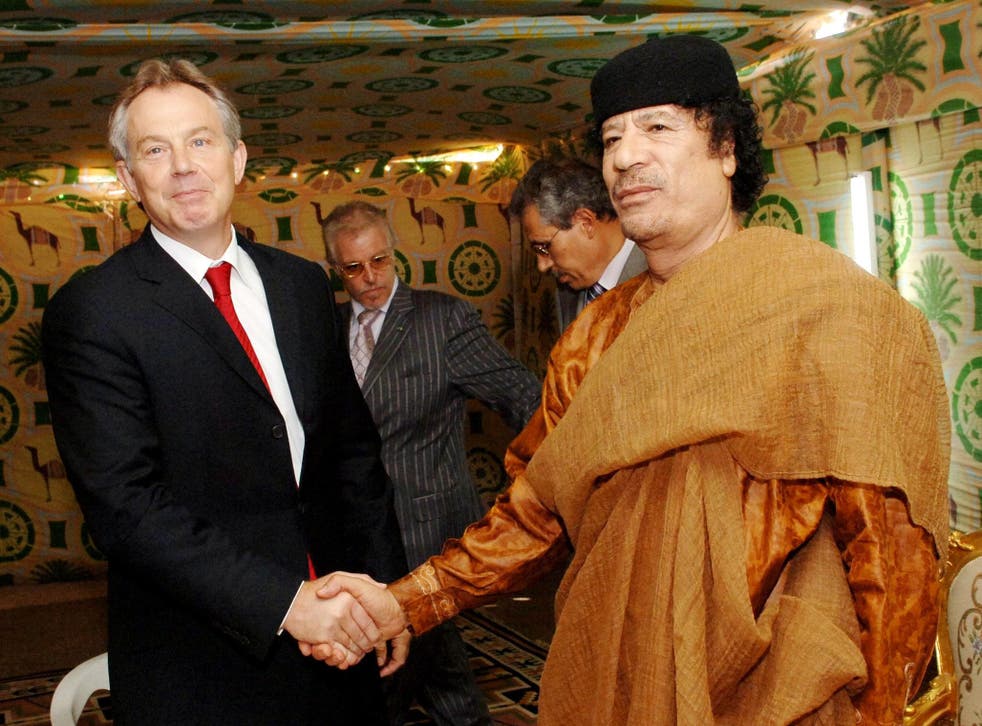 Tony Blair has said Isis would have acquired chemical weapons had he not stepped in to thaw the West's relations with Colonel Gaddafi.
The former Prime Minister made a staunch defence of his 2004 'deal in the desert' with the Libyan dictator, where he offered the support of Western oil companies to help extract Libya's natural resources in exchange for giving up its weapons of mass destruction.
Appearing before MPs on the Foreign Affairs Committee as part of their inquiry into the UK Government's policy towards Libya, Mr Blair argued that Gaddafi's stockpile of chemical weapons could still be in circulation had he not decided to break nearly two decades of impasse between the West and LIbya, following the 1988 Lockerbie bombing and the country's support for terrorism.
These weapons would have undoubtedly found themselves in the hands of Isis, Mr Blair said, considering the terrorist group's widespread presence in Libya since the 2011 revolution that overthrew Gaddafi.
He said the decision to bring Gaddafi in from the cold a decade ago remained "important" in the present day.
"Otherwise, we would have had a situation where Libya was continuing to sponsor terrorism, was continuing to develop chemical and nuclear weapons and would have remained isolated in the international community," Mr Blair said.
"I think it is important that we brought them in from the cold, as it were, and important also in today's context because I think - particularly if we had still had the residue of that chemical weapons programme in Libya today, given the state of Libya today and given the presence of Isis there - it would have constituted a real risk, even today."
He admitted that his decision to engage with Gaddafi had been "difficult because of the nature of the regime and the individual we were dealing with".
"But on the other hand, I think it was worthwhile, because of the protection of our security and because of the broader interest of trying to engage a country like that in a process of change," he added.
Tony Blair: A career of controversies

Show all 11
Mr Blair was critical of the 2011 Arab Spring, insisting that "evolution is better than revolution".
"Who knows what would have happened if the Arab Spring had not erupted. It may have been a more peaceful evolution," he said.
The former Labour Prime Minister also revealed that he was given Mr Cameron's permission for a series of phone calls to Colonel Gaddafi in 2011, when he warned the dictator to leave Libya before French and British air strikes began, which gave rebels the cover to take hold of the country.
He told the Committee that the phone calls, revealed in a recent biography of Mr Cameron, took place within a 24 hour period and were aimed at getting the then Libyan dictator to "a safe place".
Join our new commenting forum
Join thought-provoking conversations, follow other Independent readers and see their replies