Douglas Carswell's Ukip defection may be first of many, Tories fear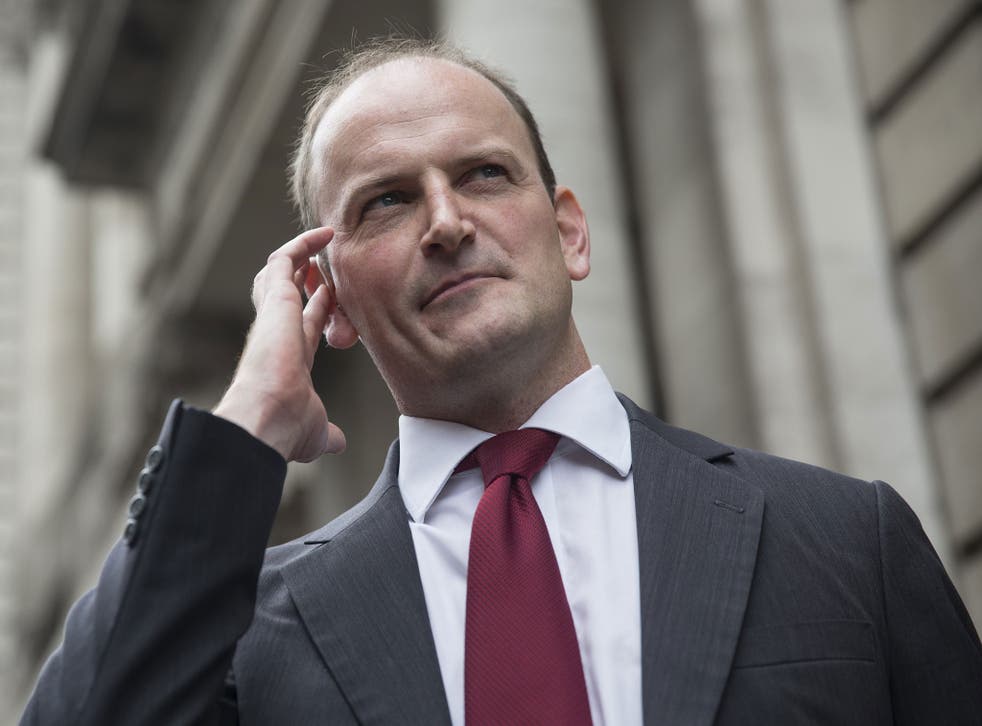 Senior Conservatives fear that more of their MPs will defect to Ukip after Douglas Carswell stunned Westminster by jumping ship to Nigel Farage's anti-EU party.
Tory whips were anxiously ringing round the "usual suspects" tonight in an attempt to head off further defections after the party leadership was caught on the hop by Mr Carswell's unexpected decision, which was kept a closely guarded secret.
It was a huge setback for David Cameron on his first day back at work after a family holiday in Cornwall. He is now under intense pressure to say he is prepared to recommend an "out" vote if he fails to win a good enough deal for Britain before the in/out EU referendum he has promised in 2017. Mr Carswell said pointedly that the Prime Minister's policy was not "sincere", claiming he wanted to secure "just enough" to pretend change was happening in the EU but was not "serious about real change".
Mr Cameron faces two months of turmoil over Europe. Mr Carswell announced that he would resign immediately as MP for Clacton and force a by-election in which he would stand under a Ukip banner. It will be held in October, possibly on 9 October, casting a shadow over the Tory conference which ends on 1 October.
Mr Carswell, who had a majority of 12,068 at the last election, is the odds-on favourite to retain his seat, which would be a body blow to the Tories seven months before the general election. Ukip is strong in seaside towns with large retired populations, and Clacton is seen as one of its best prospects in the country.
Tory sources said they would "throw the kitchen sink" at the by-election, as they did when they saw off Ukip in the Newark by-election in June. Mr Carswell faced an unexpected obstacle when Roger Lord, Ukip's candidate in Clacton, refused to stand aside.
Fears of Tory defections will increase after official figures showed that net migration jumped to 243,000 in the year to March, a rise of 68,000 driven mainly by larger numbers of EU nationals coming to the UK. It left Mr Cameron's pledge to reduce net migration to below 100,000 in tatters.
Tory officials insisted there was "no sign" of a "domino effect" in which other MPs joined Mr Carswell. But some Eurosceptics are bound to be considering their options. Ukip hopes to attract more MPs before the general election and, possibly, a second wave after the election if the party wins a handful of seats to establish a Commons base.
Mark Pritchard, former secretary of the 1992 Committee of Tory MPs, said between 10 and 15 Tories were known to have been in discussions with Ukip in the past but warned that they might well ensure a Labour government if they changed parties.
Writing in The Independent, Mr Farage reveals that he first spoke to Mr Carswell about joining Ukip 18 months ago. Although Mr Cameron's 2013 pledge of a referendum stopped defections, he started "speaking seriously" to Mr Carswell a few months ago. The Ukip leader was "absolutely thrilled and delighted" by the MP's decision, saying that forcing the by-election was "the most honourable and decent thing that I have seen in my political lifetime".
Mr Farage wrote: "The Clacton by-election is of huge significance not just to the future of Ukip but to the whole of British politics. It will indeed be our high noon."
Mr Carswell, one of about 100 Tory MPs who want Britain to leave the EU, is highly respected at Westminster and some Eurosceptics may be reluctant to campaign against him in the by-election. A passionate advocate of "direct democracy," he has championed giving voters the right to sack their MPs by being able to force a by-election – a process known as "recall".
Zac Goldsmith, Tory MP for Richmond Park, urged his party not to be "tribal" towards Mr Carswell, saying he was a "big fan" of "one Parliament's greatest champions for reform". Mr Goldsmith said of the defection: "It could be damaging, but it could also serve as a wake-up call on certain issues. If the Government had been more decisive and acted with greater clarity on issues like recall, I suspect this defection could have been easily avoided."
Mr Cameron described Mr Carswell's decision as "deeply regrettable and counterproductive", arguing that only a Tory Government could deliver an in/out referendum. He said: "Obviously I'll want to make sure [there is] a very strong Conservative campaign in that seat, so they can be properly represented in this Government, and hopefully the next."
In Ukip's sights: potential targets
Nadine Dorries
MP for Mid Bedfordshire
Majority: 15,152.
Lost Tory whip after appearing on ITV's I'm a Celebrity… Get Me Out of Here! but was later reinstated. Has said some of her constituents feel a "huge amount of empathy with Ukip" and hinted at standing on a joint ticket with the anti-EU party.
Michael Fabricant
MP for Lichfield
Majority: 17,683.
Was the first senior Tory to advocate an electoral pact with Ukip and suggested that Nigel Farage should be made a minister. Sacked from his party post in April.
Jacob Rees-Mogg
MP for North East Somerset
Majority: 4,914.
Has rebelled against Tory leadership in 31 votes since 2010, and called for an electoral pact between the Conservatives and Ukip.
Peter Bone
MP for Wellingborough
Majority: 11,787.
Backbencher who hates the Coalition, regularly attacks Nick Clegg, and has rebelled in 79 Commons votes since the Government was formed.
Philip Hollobone
MP for Kettering
Majority: 9,094.
Has voted against party leadership 153 times since 2010 – more than any other Tory MP. He said in 2013: "I think we could end up with a situation where in selected seats, where the Conservative candidate or Member of Parliament is in favour of leaving the EU, they [Ukip] would endorse him in those seats."
David Nuttall
MP for Bury North
Majority: 2,243.
Outspoken right-winger. Has said it would be "beneficial" if the Tories and Ukip could agree a "common programme" in order to unite the right in British politics.
Join our new commenting forum
Join thought-provoking conversations, follow other Independent readers and see their replies