Tory activists prefer Clegg to most of their own Cabinet ministers
Poll shows Coalition's honeymoon is continuing, but members warn Cameron against too many concessions to the Lib Dems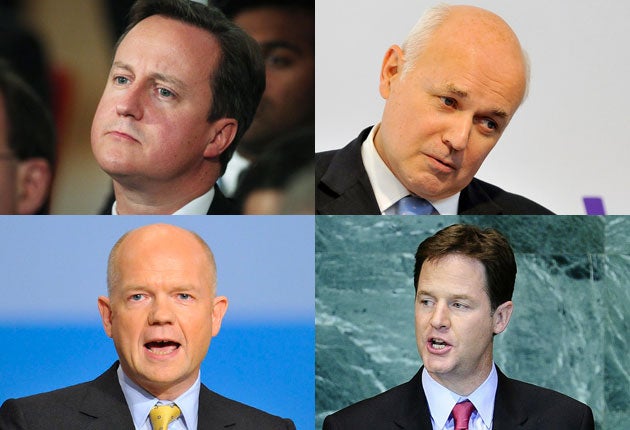 Conservative Party members believe that David Cameron is making too many policy concessions to the Liberal Democrats in order to hold the Coalition Government together, according to a survey for The Independent.
Although Tory activists believe the Coalition is a good thing for Britain, they fired a shot across Mr Cameron's bows, warning him of trouble ahead on Europe, human rights, sentencing, university funding and taxation – all areas where Tory and Liberal Democrat policies are at odds.
The survey of 1,727 party members, carried out by the ConservativeHome website, revealed six out of 10 believe Mr Cameron is making too many concessions to the Liberal Democrats. Some 71 per cent regard as "not acceptable" the Coalition's decision to drop Tory proposals to repatriate powers from the European Union, while 64 per cent want a referendum on whether Britain should leave the EU.
On other likely concessions to the Liberal Democrats, two out of three (64 per cent) of Tory members say it is not acceptable to water down their party's plans to reform the Human Rights Act and 51 cent oppose the Justice Secretary Kenneth Clarke's plans to make less use of prison for offenders. A similar proportion object to the introduction of a graduate tax, a move favoured by senior Liberal Democrats.
Some 46 per cent of Tory members say a looser cap on immigration would not be acceptable, while 43 per cent object to the decision to delay Tory plans to reward marriage in the tax system and 40 per cent to the shelving of inheritance tax cuts.
The good news for Mr Cameron is that his party members seem to be swallowing any doubts they had about him now that he is Prime Minister. For the first time in a ConservativeHome survey, he has the highest satisfaction rating among senior Tories, replacing the Foreign Secretary, William Hague, and the Work and Pensions Secretary, Iain Duncan Smith, who topped the website's poll after the May election.
Nine out of 10 Conservatives regard Mr Cameron as "a natural prime minister". However, 88 per cent think he should have won a majority in May and the poll suggests he would face a rebellion if he tried to forge an electoral pact with the Liberal Democrats at the next election. Ninety-three per cent of Tory members believe their party should aim for an overall majority.
For now, they are broadly happy with the partnership with the Liberal Democrats. Eighty-four per cent think the Coalition is a good thing for the nation, while 12 per cent do not. A smaller proportion of Tory members (65 per cent) regard the Coalition as a good thing for the Conservative Party, while 25 per cent do not. There is confidence that the Coalition will last. Forty-three per cent of Tory members believe the Government will serve a full five-year term; 28 per cent think it will survive for almost a full term; 15 per cent for between one and two years; 12 per cent between two and four years and one per cent for less than a year.
Nick Clegg, the Liberal Democrat leader, is remarkably popular among Tory activists, 82 per cent of whom believe he is "not like most Liberal Democrats" and is "working positively with the Conservatives". Indeed, more Tory members are satisfied with the Deputy Prime Minister's performance than they are with that of 12 Tory ministers. He ranks 12th place in ConservativeHome's popularity league table. The Education Secretary Michael Gove has slipped down the table from third to seventh place since May, while Mr Clarke has dropped from fifth to 14th place. The Communities Secretary, Eric Pickles, has jumped from ninth to fourth place.
As the Tory conference in Birmingham opened yesterday, some right-wing MPs expressed the view that the "Lib Dem tail is wagging the Tory dog", saying that Mr Clegg's party should remember that it only had 57 MPs to the Tories' 307.
Mr Hague sought to reassure the doubters, telling the conference that creating the Coalition was "right" and was in the national interest. He suggested that a minority government "muddling through" would have been the "choice of irresponsibility".
Mr Cameron told the BBC's Andrew Marr Show that the Coalition "requires people to be reasonable". He said Mr Clegg "is intensely reasonable and rational and we work very much together in a partnership government to reach the right conclusions."
According to the survey, 69 per cent of Tory members believe that Ed Miliband will be easier to beat at the next election than his brother David. They are relaxed about attacking the new Labour leader as "Red Ed"; only 22 per cent think that would be a silly way to describe him.
Cabinet ratings: Net satisfaction rating (percentage of Conservative Party members satisfied with performance minus per cent dissatisfied)
1 David Cameron 82 per cent (4th in May)
2 Iain Duncan Smith 81 per cent (1=)
3 William Hague 77 per cent (1=)
4 Eric Pickles 75 per cent (10)
5 George Osborne 74 per cent (5=)
6 Theresa May 69 percent (7)
7 Michael Gove 67 per cent (3)
8= Liam Fox 60 percent (11)
8= Philip Hammond 60 per cent (9)
10 Andrew Lansley 54 per cent (16)
11 Sir George Young 51 per cent (12)
12= Nick Clegg (Lib Dem)50 per cent (14)
12= Lord Strathclyde 50 per cent (15)
14 Ken Clarke 48 per cent (5=)
15 Jeremy Hunt 46 per cent (13)
16 David Willetts 43 per cent (17)
17 Baroness Warsi 42 per cent (18)
18 Owen Paterson 35 per cent (21)
19 Francis Maude 33 per cent (25)
20 Oliver Letwin 32 per cent (19=)
21 Patrick McLoughlin 31 percent (23)
22 Caroline Spelman 30 per cent (19=)
23 Danny Alexander (Liberal Democrat)28 percent (26)
24= Andrew Mitchell 27 per cent (24)
24= Cheryl Gillan 27 per cent (22)
26 Michael Moore (Lib Dem) 12 per cent (not in Cabinet in May)
27 Vince Cable (Lib Dem) -7 per cent (27=)
28 Chris Huhne (Lib Dem)-12 per cent (27=)
Source: ConservativeHome
Join our commenting forum
Join thought-provoking conversations, follow other Independent readers and see their replies