Tory bullying scandal: Examining whether the Conservatives' youth wing has a future after the debacle
Simon Usborne asks young Conservatives whether the  stench of sleaze and scandal can ever be shaken off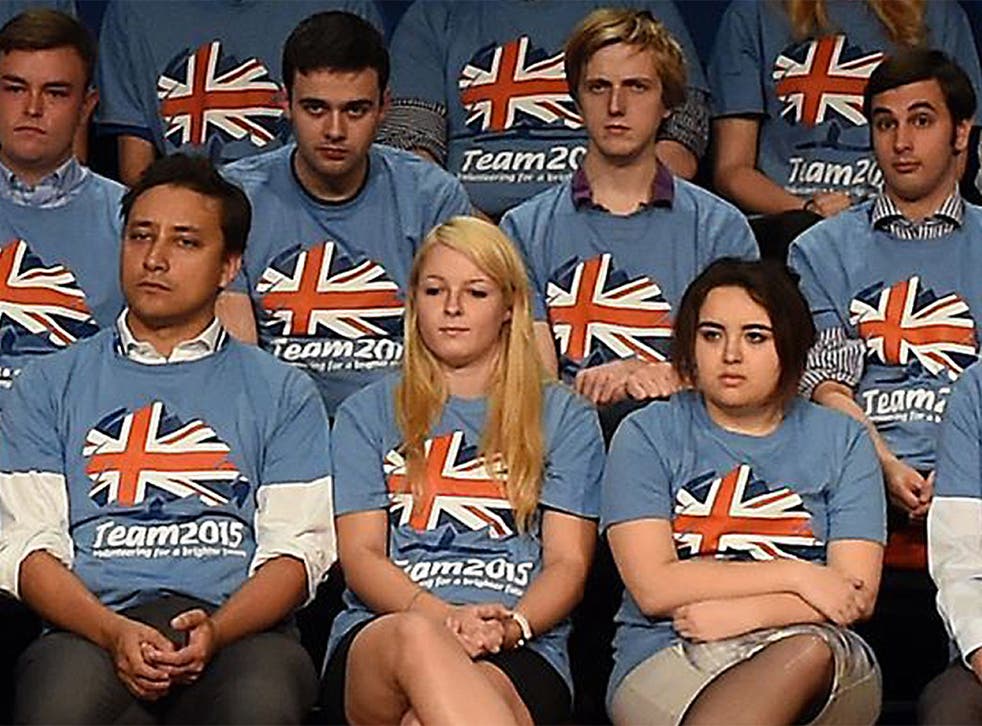 This should be a happy time of year for the Tory youth wing. Still triumphant after victory in May, members have watched a rabbit emerge from George Osborne's hat and an opposition party saw itself in half. But as Christmas party season approaches, Conservative Future has little appetite for fun - or any sense of a future at all.
"In a year we should be celebrating and looking forward we're being dragged down by scandal and sleaze and we're all being tarnished," says Liam Walker, the chair of the branch of Conservative Future in Witney, David Cameron's constituency. "It's been utterly horrible to watch and morale among members is just terrible."
Even by the standards of a youth wing with a historic reputation for fierce factionalism, the past few weeks have been shocking. The resignation of former party chairman Grant Shapps on 28 November followed mounting allegations of bullying, blackmail, and sexual assault against one of his chief activists, Mark Clarke, who denies any wrongdoing, and the death of Elliot Johnson, a young campaigner and journalist.
Clarke, whose "RoadTrip" election campaign relied heavily on young party members, is himself a former chair of the youth wing and has controversial links to its current leadership. Except that Conservative Future has no leadership. Its national executive has been suspended after it emerged, among other things, that its chair Alexandra Paterson had had an affair with Robert Halfon, the MP and party deputy chairman.
Moreover this week the Conservative Future website disappeared, and now directs visitors to the man party site. Its Twitter and Facebook accounts have been disabled. The group's 15,000 members, many of whom do not recognise the kinds of behaviour that have rocked their party, are in a confused state of despair.
"It was nice of them to tell us," Walker says of the digital disappearing act. "Through all of this we've had only one email from Feldman outlining the procedure of the investigation but that's it… The website going and the National Executive being suspended, it's like they are saying, 'there's nothing to see here' but there is, and thousands of us are left in limbo only to read about things in the press."
Tory HQ is focussed on damage limitation in its grown-up ranks but it abandons young members at its peril. Shapps was only willing to take a chance on Clarke, despite his already bad reputation, because he realised how much the party needed energetic activists to plug holes in its ageing, shrinking activist core. Clarke promised a short-term fix, at a cost that has since become painfully clear.
UK news in pictures

Show all 50
Some in and out of Conservative Future are calling on the party to scrap it entirely, as it did in 1986 to silence its notorious forerunner, the Federation of Conservative Students. One member who did not wish to be named described Conservative Future, which includes any Tory party member aged under 30, as over-complicated, with a structure that encourages ambitious people to play dirty politics.
Another leading figure in an urban branch of Conservative Future disagrees, and says that a revived, reformed youth wing is vital, not just for its campaigning power. "There need to be better safeguards but I think if you don't have a youth wing in the party you risk ending up with a third party claiming to represent us," he said. "The party then loses control, and loss of control is the problem here not the solution."
Lord Feldman had already launched a review of how the party works before the current scandal, and is due to report back in February. Conservative Future will feature heavily. Until then, the group doesn't look like a nice place to be. "It's tough being a young Tory at times, it's VERY competitive," writes The Blue Guerilla, an anonymous political blogger who has followed it since 2008. "There is much skulduggery… it's meant to be fun but the nature of young people means it gets out of hand at times."
So why would anyone want to get anywhere near it? "I was 16 and grew up in a village not far from Witney with nothing for young people to do," Walker says. "So I lobbied the parish council, campaigned, and got a BMX track built. It was always about community for me."
During his A-levels, Walker visited Westminster with his MP before he became the prime minister. "I was in awe of the place," says the 25-year-old son of a secretary. "My family aren't political and this was a completely new world for me. I suppose before long you get sucked in."
Energised by the 2010 election, Walker joined the party in 2011 and hasn't looked back. Despite the recent revelations, he is quick to reject the youth politics stereotype of a nursery for pole climbers and back stabbers, as well as the dated "Tory Boy" caricature. "It probably does look weird from the outside, especially at the moment, but we're just a group of people who care about politics," he says.
A female member of a university branch of Conservative Future estimates that fewer than half of members have real designs on big power. "Some get involved because they're studying politics and want some hands-on experience, while many others like me just believe in the Conservative message and want to support it," she says.
Alexandra Paterson was the 12th chair of Conservative Future since William Hague combined different Tory youth groups in 1998. While most have remained in politics in some way, only two have become MPs. They include Ben Howlett, who accused his party last month of turning a blind eye to "institutionalised bullying" in its ranks.
Despite the vacuum at the top of Conservative Future, regional branches are trying to continue their work and honour the dedication to the party of Elliot Johnson. Liam Walker is looking forward to his branch's Christmas Curry night at Curry Paradise in Witney later this month, where the mood will be reflective. Beyond that, and assuming it still exists, he plans to run for the chairmanship of Conservative Future. "I want it to be something better," he says.
Join our new commenting forum
Join thought-provoking conversations, follow other Independent readers and see their replies