Tory Eurosceptics to defy David Cameron again by demanding referendum on Europe is held on the same day as general election
PM tells Conservative MPs he will not make any more concessions over EU vote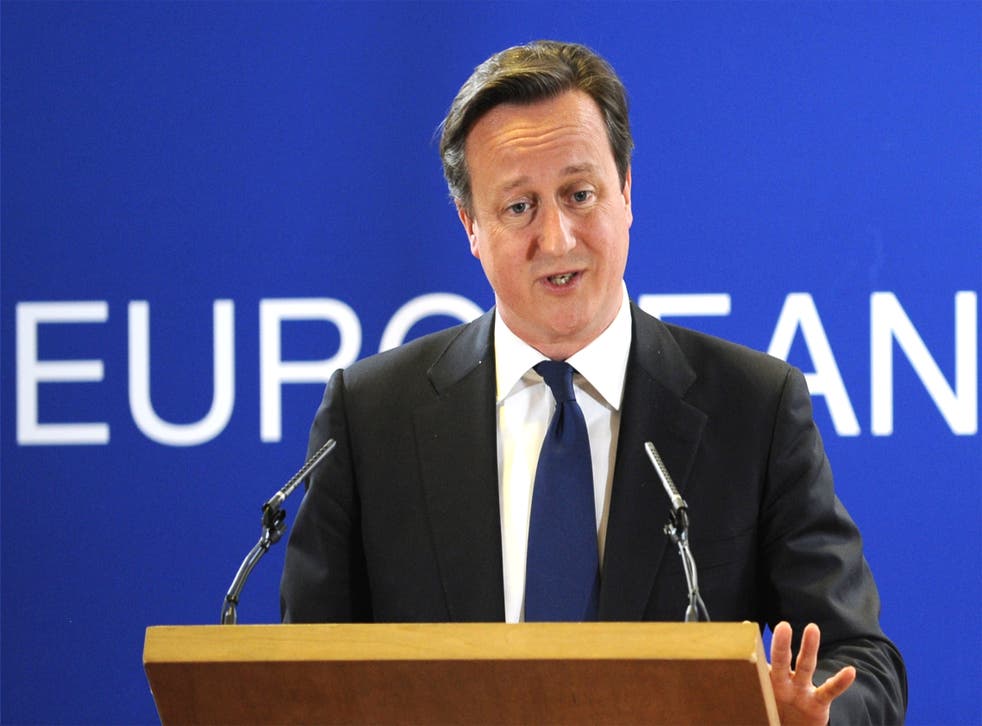 Conservative MPs are to defy David Cameron again by demanding that a referendum on Europe is held on the same day as the next general election.
The Prime Minister declared that he would not be budged from his promise to hold an in/out referendum by the end of 2017. But despite his attempts to draw a line under recent Tory divisions on Europe and gay marriage, his Eurosceptic MPs are already planning their next moves to force him to firm up his pledge.
They have virtually written off the prospects of a Private Member's Bill guaranteeing a 2017 referendum becoming law. Labour and the Liberal Democrats are determined to block it and few backbench Bills make progress without cross-party backing. Although James Wharton, a Tory MP, will press ahead with his Bill, some Eurosceptics are already describing it as a "dead duck."
Instead, senior Tories will urge Mr Cameron to bring forward the referendum to May 7, 2015, when the next election will be held. They believe that this would boost the Tories' prospects at the election because they are likely to be the only party offering a vote on Europe.
Although legislation would be required, the Eurosceptics want the Prime Minister to bring in a government Bill and challenge Nick Clegg to vote it down. They argue that an election day referendum would unite the Conservative Party.
Mark Pritchard, MP for The Wrekin and a former secretary of the 1922 Committee of Tory MPs, favours such a referendum. He said: "I still believe we can still win the next general election under David Cameron as we continue to deliver on cutting the deficit, reducing immigration, turning the corner on the economy, and delivering a Bill for an EU referendum. However, any Bill should be both deliverable and credible".
He added: "There is much the Government is doing right – and far more that unites than divides us as a party. We all need to put the last few difficult days behind us and focus on taking the fight to Labour."
Allies of Mr Cameron are worried that changing course on the referendum date would fuel Labour claims that he is "weak" and being pushed around by his backbenchers.
The Prime Minister told BBC Radio 4's Today programme: "It doesn't matter the pressure I come under from outside the Conservative Party, or in Europe, or inside the Conservative Party, this policy isn't going to change. The question isn't going to change. The number of referenda isn't going to change. The date by which we hold this referendum isn't going to change. The fact is it's the right policy for the country."
Mr Cameron said: "That is the boldest, clearest, most straightforward policy on Europe that any party leader has had for 30 or 40 years. So it's that sort of leadership, that sort of clarity that's required.
Mr Clegg told journalists the Coalition would last until 2015 despite a "difference of opinion on Europe" between its two parties. He said the Tories' position on Europe was "shifting fast". He did not "understand why they were tying themselves in knots trying to move the goalposts" when there was already legislation in place to ensure a referendum if there were any major EU treaty changes. However, that law would trigger a referendum if more powers were transferred from the UK to the EU. Mr Cameron wants to repatriate some powers from Brussels to Britain.
The Deputy Prime Minister said: "Anyone who is war-gaming about what may or may not happen in my party is wasting their time. I am going to be leader of this party up to, through and beyond the next general election. The Lib Dems, despite all the predictions to the contrary, have proved to be the calmest, most resilient and most united party in British politics today."
Mental health sufferers put at disadvantage
People with mental health problems are unfairly disadvantaged by the Government's system for assessing their capability to work, High Court judges have ruled.
The decision in the Upper Tribunal affects hundreds of thousands of Britons who suffer from poor mental health, learning difficulties and autism. A judicial review was brought by two anonymous welfare claimants, who said the procedure used to decide who qualifies for Employment Support Allowance (ESA) was discriminatory.
Under the current system, the burden is placed on the claimant to gather evidence from a professional, such as a GP or social worker, which can be a struggle for those with mental health problems.
A DWP spokesman said the department intended to appeal.
Emily Dugan
Join our new commenting forum
Join thought-provoking conversations, follow other Independent readers and see their replies